Don't miss this incredible opportunity to meet the human rights activists we are taking action for as part of the Write for Rights campaign.
About this event
Amnesty International Australia, Aotearoa New Zealand, and Japan invite you to join the fight for LGBTQIA+ rights in Ukraine.
On Wednesday 10 Nov, we are coming together as a global movement to take action for Sphere NGO, a Ukrainian organisation championing LGBTQIA+ and women's rights that is being targeted by hate groups.
Hear directly from Anna Sharyhina and Vira Chernygina, the founders of Sphere, about the current situation of LGBTQIA+ rights in Ukraine and how you can make a difference.
No one should ever be targeted simply for who they love. But when they are, the attackers must be brought to justice. Join us, and millions of Amnesty activists around the world, in calling for Sphere's attackers to be held accountable.
An AUSLAN interpreter will be present at this online event.
Sphere NGO
Sphere have been championing LGBTQIA+ and women's rights since 2006, and are among the oldest organisations of their kind in the country. Founded by activists Anna Sharyhina and Vira Chernygina, they provide a safe space for women and LGBTQIA+ people in Kharkiv, Ukraine's second largest city.
Although Ukraine is considered one of the most progressive post-Soviet countries on LGBTQIA+ rights, it's still failing to address the growing rate of hate crimes. As groups targeting LGBTQIA+ people have proliferated across the country.
Sphere have suffered numerous discriminatory attacks. These groups have set upon Sphere's supporters and premises, urinating on their walls, smearing faeces on the doorknobs, breaking windows and chanting homophobic slogans at them. There have been dozens of attacks like these. Anna and Vira report them to the police, but no one is held accountable.
In 2019, Sphere organised Kharkiv's first Pride ever. Despite threats and intimidation, Sphere created a hugely successful event attended by up to 3,000 people. But the police failed to protect marchers from violence, instead joining in by hurling homophobic abuse. Anna and Vira say that police inaction in the face of constant attacks has left Sphere and their supporters in a permanent state of fear.
"I want our attackers to be held accountable in accordance with the law," says Anna.
Take action for Sphere
You have the power to save lives. Stand in solidarity with the LGBTQIA+ community in Ukraine and take action for Sphere now:
Invite your friends to this event (see share button at top of page)
Australia
Join Amnesty's National Rainbow Network: rainbow.group@amnesty.org.au
Aotearoa New Zealand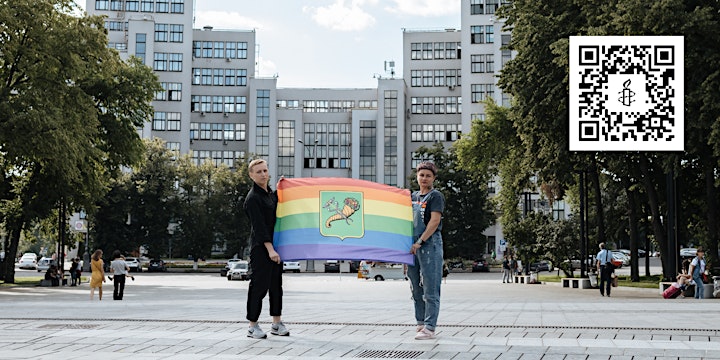 Write for Rights
Sphere's case is part of Amnesty's 2021 Write for Rights campaign.
Write for Rights is a moment when Amnesty's global movement of ten million people in more than 170 countries comes together as one to take action and challenge injustice. From 2,326 letters in 2001 to 4.5 million letters, tweets, petition signatures and more in 2020, W4R supporters have used the power of their words to unite behind a common purpose – backing people no matter where they are in the world.
Together, we've helped transform the lives of more than 100 people over the years, freeing them from torture, harassment, or unjust imprisonment. When everyday ordinary people like you challenge injustice we move closer to a world where human rights are enjoyed by all.
Organiser of Defending LGBTQIA+ Rights: A Conversation with Sphere NGO