Full day workshop that will equip you with the right skills to grow your business idea or existing business.
About this event
Learn how to GROW your business idea or your existing business.
Hear about what works and what doesn't. Learn from the experiences of successful entrepreneurs.
First up start the day with our opening event - a breakfast with the refreshing, award-winning Abbey Cameron who is taking on the food industry with her innovative products. Breakfast registration: https://www.eventbrite.com.au/e/deep-dive-into-growing-businesses-women-and-business-breakfast-tickets-61557229330
Then join us for this great Deep Dive with 4 interactive workshops where you will take away plans to grow your business idea or your existing business - that you can action straightaway!
About our presenters
Gerard Doyle is a three-time international startup founder with 20+ years of digital experience.
Rosie Odsey is an experienced digital marketer, project manager and prolific writer of quality material.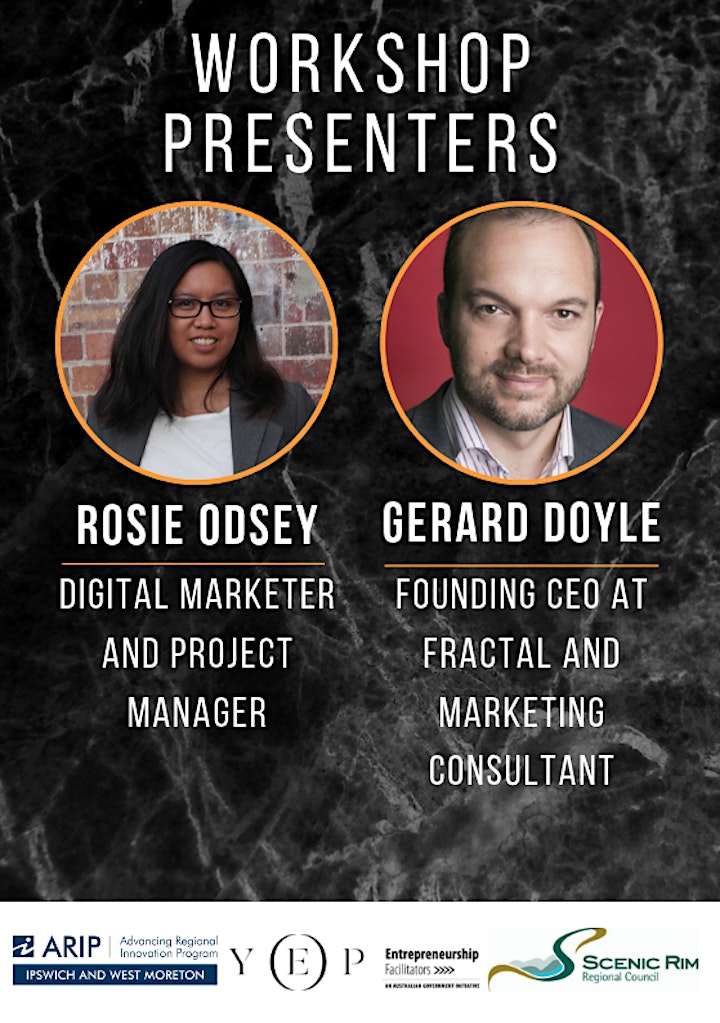 PROGRAM
Session 1 – Get clear about your message: confused customers don't buy
Session 2 – Fast growth Social Media for Business
Lunch (included)
Session 3 – Become a content generation machine: a hands-on workshop to set up the systems you need
Session 4 – DIY SEO strategies and tactics to rank your business on Google
Brought to you by:
Y(E)P Ipswich Entrepreneurship Facilitator as part of QSBW (Queensland Small Business Week)
Supported by Scenic Rim Regional Council and ARIP Ipswich & West Moreton (Advancing Regional Innovation Program).
Any further questions? contact Anne-Marie on 0410 658 470
About Us
Y(E)P is a free service with the objective of encouraging entrepreneurship and in the Ipswich and surrounding regions. The service is funded by the Australian Department of Employment.
- We aim to inspire, educate, and connect entrepreneurs to help them start or build sustainable and rewarding self employment.
- Our passion is supporting people 45 and older, however, our services are available to anyone who would benefit from working with us, or from attending our events.
- If you have an idea for a business, or you have reached a stumbling block in your business, we offer 1:1 mentoring through our Entrepreneur Facilitator.
- Our small group workshops, meetups, full day workshops and networking events help local entrepreneurs learn, network and overcome entrepreneurial problems.
Organiser of Deep Dive into Growing Businesses