An Astrofest lecture with Professor Gretchen Benedix, followed by time to explore out-of-this-world visualisations in Curtin HIVE facility.
About this event
Join us in the Curtin HIVE during Astrofest 2020, with Professor Gretchen Benedix explaining how machine learning is helping to transform understanding of our nearest planetary neighbour Mars.
Decoding the Surface Age of Mars
Time Session 1: 6:00pm – 7:00pm
Time Session 2: 7:30pm – 8:30pm
Please note: Limited seating. Please only register for one session, as the content is repeated. Tickets are free for this event, but only available for those 13 years and above.
This lecture is part of Astrofest 2020. If you register for Astrofest at astronomywa.net.au by next Thursday 27th February, you will be in the draw for some great prizes!
Impact crater cataloguing is an important tool in the study of the geological history of planetary bodies in the Solar System. It helps scientists understand the age of surface features and helps the geologic mapping of surface processes.
Crater catalogues are developed, by painstakingly counting each crater on the surface of a planet, to gather the data. The current published database for Mars contains hundreds of thousands of craters for diameters larger than 1km, all counted manually by hand - which is a very repetitive, time-consuming task for any human. It would be virtually impossible for a human to count the number of small craters.
See how scientists like Prof. Gretchen Benedix, are using advances in machine learning to automatically count small craters, significantly reducing cataloguing time and enabling an incredible map of the craters on Mars.
After Prof. Gretchen Benedix's talk, there will be time for ticket holders to ask questions and explore the Curtin HIVE facility, with out-of-this-world visualisations from Curtin researchers featured.
About Professor Gretchen Benedix
Gretchen is a cosmic mineralogist and astro-geologist using the chemistry, mineralogy, spectroscopy and petrology of meteorites to understand the formation and evolution of asteroids and other planets. She has worked at both the Smithsonian Museum of Natural History and The Natural History Museum in London as a researcher. She joined Curtin University in 2012 as a Senior Lecturer and was awarded a Senior Curtin Research Fellowship in 2014. She currently holds an Australian Research Council Future Fellowship.
Accessing Curtin University:
The Curtin University Bus Station is served by many services and the station is 5-10 minute walk from the HIVE.
If you are arriving by car, parking on a Saturday is free. Please see the campus map for the closest parks to the John Curtin Gallery building 200A.213.
https://properties.curtin.edu.au/maps/docs/curtin-campus-map.pdf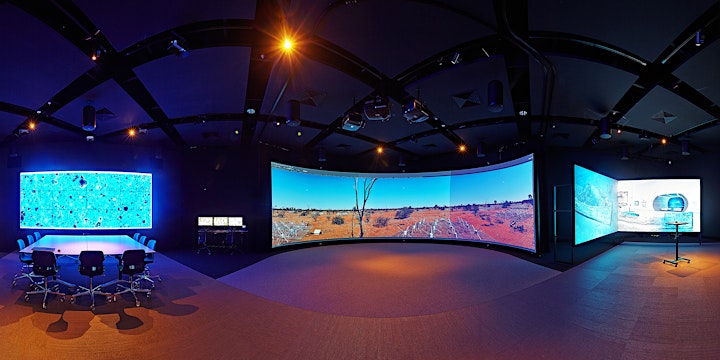 Organiser of Decoding the Surface Age of Mars
About Curtin HIVE
The Curtin HIVE is an advanced facility established by Curtin University to serve the growing demands of researchers and industry for visualisation, virtualisation and simulation capabilities in Western Australia. The Curtin HIVE enables a new and improved capability in the interpretation, presentation and communication of research data. Learn more at http://www.curtin.edu.au/hive