Meet author, RPSCA Youth Award Winner and founder of GOSAC (Give Our Strays a Chance) and his puppy Otis.
About this event
Join RSPCA Youth Ambassador Dean Morris, aged just 18 years as he discusses his personal story of dedication and debut novel 'Saving the World, One Stray at a Time' .
At the age of 10 Dean started the award winning charity GOSAC - Give our strays a chance, the raise awareness and donations for animals in shelters and pounds. So far GOSAC has raised over half a million dollars and has helped save countless animals. Dean has assisted wildlife rescuers during the fire crisis and during COVID he has been helping struggling families care for their pets in order to keep families together.
Dean is a strong believer that everyone can change the world regardless of age, which is why he wrote his book 'Saving the World, One Stay at a time'. Dean will share his experiences and talk about how we can all make a difference as he inspires youth and adults to act.
Come along and listen to Dean's incredible story and meet his recuse dog Otis!
From NASA's Space Camp to an expedition in Mongolia while saving lives, Dean's story is one you do not want to miss.
Dean's Book will be available for purchase on the day.
______________________________________________________________________________________________________
* Spaces are limited and bookings are essential.
* Light refreshments will be provided.
* Dean's book will be available for purchase.
* This session is suitable for children and adults 10 years or older.
* Dean will also be attending the RSPCA Community Action Day at Withers Library on 16th November 2021 (10.30am - 12.30pm).
* More information about Dean can be found here: www.gosac.info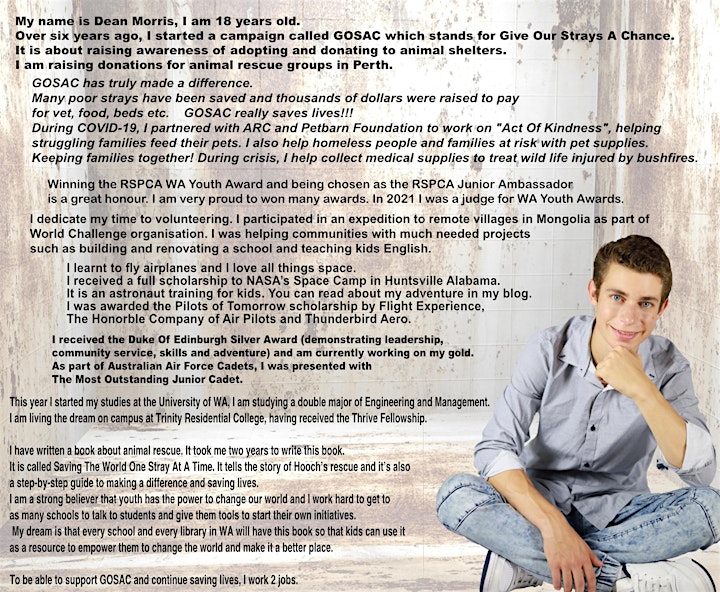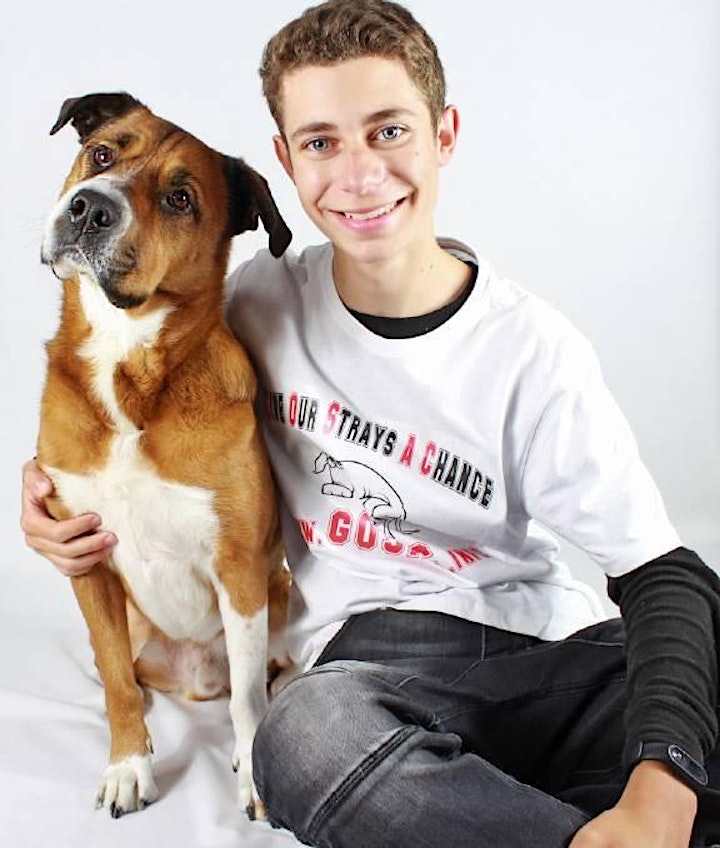 Organiser of Dean Morris: Saving One Stray at a Time
City of Bunbury Libraries
The City of Bunbury operates two public libraries in partnership with the State Library of Western Australia, providing resources and programs for self-directed and lifelong learning and the positive use of leisure. 
Bunbury Public Library is located on Parkfield Street in Bunbury and Withers Community Library is located on Hudson Road in Bunbury.
For more information about City of Bunbury Public Libraries please visit our website.