Deakin University - IDAHOBIT Human Library Event - Geelong

Wednesday, 17 May 2017 from 12:30 pm to 2:00 pm (AEST)
Event Details
Come and 'borrow' a human 'book' at our International Day against Homophobia, Biphobia, Transphobia and Intersex-phobia (IDAHOBIT) Human Library event on Wednesday 17 May, 12.30 - 2.00 pm in the Geelong Waterfront Campus Library.   
A Human Library is "..a place where real people are on loan to readers... a positive framework for conversations that can challenge stereotypes and prejudices through dialogue." *
Our Deakin IDAHOBIT Human Library event is designed to promote social inclusion through contact and understanding with staff and students who identify as being part of the LGBTIQ (lesbian, gay, bisexual, transgender, intersex and queer) communities.
Up for a new experience? Come along and 'borrow' a human
Our human 'books', aka Deakin staff and students who identify as being part of the LGBTIQ
(lesbian, gay, bisexual, transgender, intersex and queer) communities, are available to borrow for a 15 minute period. 
You can talk, listen, ask questions, and find out more about the personal story of your human 'book'.
This is not only a great chance to learn more about ourselves and the stereotypes and assumptions we all hold, but to gain a unique insight into the life and perspectives of another person in our human 'collection' here at Deakin.
Register now to reserve your 15 minute time slot.
Please feel free to bring a friend. Our human 'books' are happy to share their stories with two people at a time.
See also DUSA IDAHOBIT events.
Please note, this is an on-campus event for the Deakin community.
- - - - -
Human Books available for loan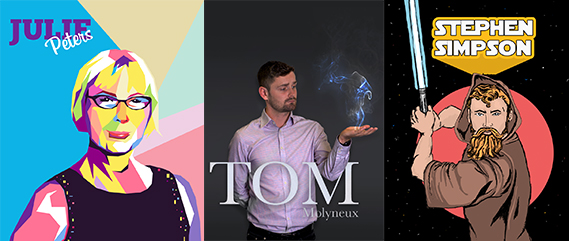 Julie Peters
The Art of Living in a Gendered World 
especially if you don't easily fit. 

We belong to multiple families - from our parents, siblings and children right
through to the 'Family of Sentient Beings'. LGBTQI communities are one of my
families even though I don't think of myself as L, B, G or T.

Rather I think of myself as me - Julie, who can only be defined by my story. 

But because of my particular life journey many see me as trans. And from the
early 90s, this has led me to share my story, as an educator,
activist and performer trying to demythologise trans. 

As part of my continuing exploration of the gendered world, I have recently
completed a PhD, aA Feminist Post-transsexual Autoethnography on Challenging
Normative Gender Coercion' (http://dro.deakin.edu.au/view/DU:30086469).

This dissertation aims to develop strategies trans and gender non-conforming
individuals can use to live healthy lives, increase agency and live
creatively. 

And because the exception proves the rule, shed some light on the normative
operation of gender in the social world.

Youtube: https://www.youtube.com/watch?v=zq2m7oQHLbk
Stephen Simpson
A long time ago in a galaxy far, far away (well, not that long ago and in a town called Geelong)…
It is a time of great adventure for the Celt, Stephen Simpson. He finds allegiances and familial ties in ever expanding and diverse environments. Scottish blood ties hold true and offer strength through noble ancestry.
Kinship is found not only with the family he was born to but in continuous bonds with the online World of Warcraft and gaming community. The Force is strong with this one and a lifelong obsession with Star Wars has brought many years of fandom.  
When not travelling to Azeroth or imagining ownership of the Millennium Falcon, Stephen can be found drawing, painting or studying numerous belief systems from across the globe. A Customer Service Officer at the Waterfront campus for over six years now, he offers constant support to his Deakin University family including the LGBTIQ community.
Tom Molyneux
"All the world's a stage, and all the men and women merely players" – William Shakespeare
I love this quote from the Bard, not only because it relates to my love for the theatre but because it forces one to think about the ephemeral nature of human existence.
"They have their exits and entrances," says Shakespeare, a short window in which to make a difference. How can we be helpful? What is the best use of our talents in the time we spend here? And beyond ourselves, how can we allow space for others to realise their true potential?
- - - -
* The Human Library™ .  You may also remember Deakin University Library's Human Library Pilot in 2015.
When & Where

Geelong Waterfront Campus - Library
1 Gheringhap Street
Geelong, VIC 3220
Australia

Wednesday, 17 May 2017 from 12:30 pm to 2:00 pm (AEST)
Add to my calendar
Organiser
Deakin University is strongly committed to the principles of social justice and fairness in education and employment. Equity and Diversity manages programs and delivers services  to nurture a university culture that supports diversity and improves opportunities for people from all backgrounds to access education and achieve their full potential.