Description
DEADHOUSE 2: Simmonds & Newcombe c

loses 30/11/19
True Crime Immersive theatre in the Crypt under St James' church.
Final week, 2 shows a night Tues-Sat, closes Sat 30/11
ONLY 19 TICKETS LEFT IN FINAL WEEK
DEADHOUSE 2: features 10 actors + a team of 15 creatives and crew.
Each session runs 60 mins twice per evening with no more than 30 people due to the size of the Crypt.
Click 'select a date' button above right to see dates & times available, then choose date & time that suits you..

SAVE 25% ON TICKETS see promo code below...


Simmonds & Newcombe Wed 20 - Sat 30 Nov 2019

Simmonds & Newcombe: The Deadly Run by Liviu Monsted, plays Mon-Sat from 20-30 Nov 2019

In 1959, two convicts, Kevin Simmonds and Les Newcombe, undertook an audacious escape from Sydney's notorious Long Bay Penitentiary, which led to the biggest police hunt in NSW history.

Their deadly run involved around 500 policemen, armed with guns, bulletproof vests and fast cars. Escaping from the central section of the gaol through a ventilation duct in the roof of the prison chapel, they spent their first night of freedom huddled in a freshly dug grave in Botany Cemetery.

Over the ensuing weeks and months these two mates sought to hide under the Sydney Showground grandstand, break into Emu Plains Prison Farm to steal a revolver and hide in a car buried in the bush.
You'll learn their fate and what happened with that bloodied cricket stump. This tale is a new addition to the DEADHOUSE collection. Wandaland and more are coming in 2020.
ADULT THEMES: Depictions of violence and death together with semi-nudity. A nurse will be present to assist any distressed patrons. PG recommended for patrons 12+. Those aged 12 to 18 must be accompanied by an adult.

ACCESS: This venue is flat and is accessed from the western courtyard off King Street, between Elizabeth and Macquarie Streets. We will meet there, then move down the tunnel and into side rooms. Disabled access is possible and there are disabled toilets. Email us to check if you're uncertain of your ability to move easily through this venue.
SAVE 25% ON TICKETS
To receive a 25% saving on tickets for Tuesday, Wednesday, Thursday evening shows. Click on 'select a date' at the top right, select your time and date, select ticket type and enter number of people, then click on blue 'enter promo code' top left, enter code dh2discount, your discounted price will appear, continue to payment.

Keep your ticket and claim cost as a tax deduction because our production company, Actors Anonymous Inc, is a Not For Profit registered as a charity.

YOUR GUIDE REVEALS THE SHOCKING TRUTH!
For many centuries in the northern hemisphere morgues were called Deadhouses because bodies could not be buried in the winter when the ground was frozen, so the dead were stored in Deadhouses until the thaw. Prior to 1972 our Deadhouse was the Sydney Morgue and Coroner's Court located in lower George Street. Our tales are derived from the thousands of cases that passed through that grim place.
Join us and immerse yourself in some classic Australian tales of true crime as you're guided through scenes that unfold before you in the crypt under St James' Church, the two hundred year old sandstone structure designed by early Sydney's renown convict architect, Francis Greenway.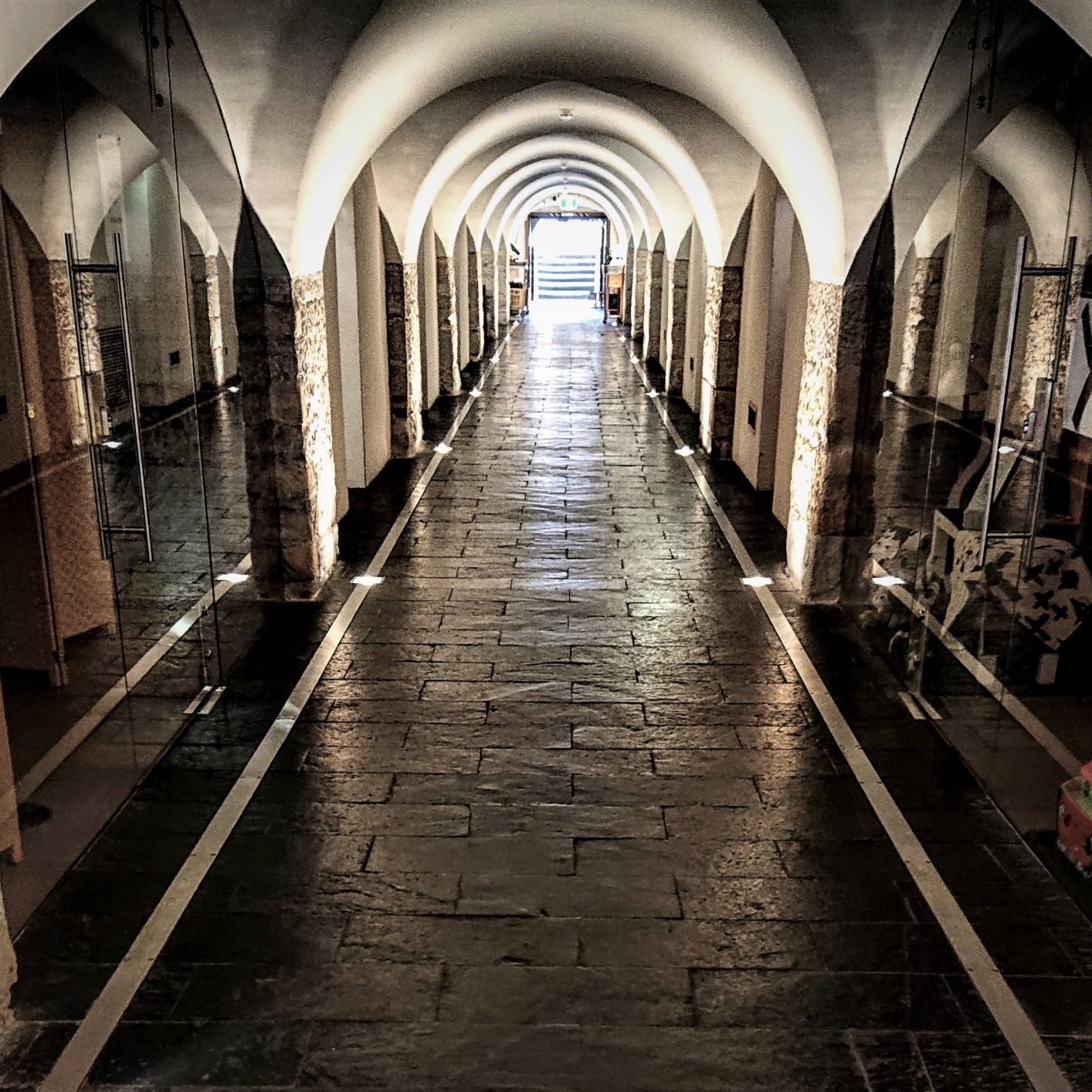 In DEADHOUSE 2, history, drama and true crime collide. You will move through the eerie neo-gothic tunnel and side rooms that comprise the crypt under St James' Church and be immersed in scenes depicting a notorious case.

DEADHOUSE 2 fund raising raffle

Another historical venue is part of our fundraising campaign to bring the DEADHOUSE production to Sydney audiences. This year, we are excited to offer an exclusive experience at the superb Hydro Majestic Hotel as our raffle prize. This fabulous $1,800 prize could be yours for just $10. Click link below to see details and buy tickets for our raffle and assist this original Australian theatre production.
https://www.eventbrite.com.au/edit?eid=74097207743
THE DEADHOUSE 2 TEAM
Executive Producer - Stephen Carnell
Producers - Amanda Asquith, Michael Dengler
Writer & Director – Liviu Monsted

Sound & Lighting Designer - Mehran Mortezaei
Costume – Sarah Jane Freeman (The Clothes Library)
Make Up – Dale Smoothy
Props plus – Lew McDonnell
Stage Managers – Farlie Goodwin, Pierce Nicholson
Assistant Stage Managers - Meagan Fitzpatrick, Clare Sheridan
Photography - Phyllis Wong @ Phyllis Photography
Graphic Design - Julia Park @ creativepark
Cast - Christopher Daw, Steve Donelan, Joanna Eve, Jordan Gallegos, Mary-Anne Halpin, Wendi Lanham, Steve Maresca, Chris Miller, Kyla Ward and Gregory J Wilken.
Why we're creating the DEADHOUSE Tales of Sydney Morgue collection.

Creating immersive theatre with a connection to place and Australian history has been an objective of mine since we staged We Are The Ghosts Of The Future in 2015 and DEADHOUSE Tales of Sydney Morgue Season 1 in 2018 at The Rocks Discovery Museum.

I've trained as a theatre maker, historian, tour-guide and event producer and this is my dream work. Combining innovative immersive theatre with true Australian crime stories in a real historic setting.

My flash of revelation for this production was a glance at the old Sydney Morgue. Over one hundred and twenty years scores of notorious cases passed through the Sydney Morgue and Coroners Court in The Rocks. These cases were loaded with high drama and potent content. This is the theatre I want to create.

We chose a collection of cases and writers to dramatise these tales of our city's gritty past. These will feature in the DEADHOUSE Tales of Sydney Morgue collection in Seasons 1, 2 and beyond.

Stephen Carnell - Executive Producer & Originator

Simmonds & Newcombe: The Deadly Run by Liviu Monsted

I wrote about Simmonds and Newcombe because I found their plight for personal freedom both relevant and humanly relatable. These two men were not excessively violent people, in many ways the pair seem to be the personification of normality, the everyman, two people trying to navigate the many social expectations of life and sadly failing.

In an era where conformity was paramount, Simmonds and Newcombe were a result of disillusioned youth fighting against the stone hard, and at times, corrupt weight of the law.

Though the two may seem unremarkable, they do show that the actions of individuals can lead to extraordinary changes. The treatment they faced in Grafton Gaol is a window into the cruel practices of the era.

Australia loves its underdog stories, perhaps because many consider themselves underdogs. Simmonds and Newcombe represents a longing we all have to be free.

Please immerse yourself, be excited and saddened by these dark historic true crime tales.
FAQs
Are there ID or minimum age requirements to enter the event
PG 12+ - 12 to 18 must be accompanied by an adult.

What are my transport/parking options for getting to and from the event?

Martin Place Station is one block away and St James Station is two blocks away.

Domain Car Park is about 500 metres to the east and is relatively low cost in the evenings.

There are bus stops a block away in Elizabeth Street and more along nearby Hyde Park.

Disabled Access

The Crypt entrance and floor is flat which enables access for persons who are unsteady or with disabilities.

Toilets

There are female, male and a disabled toilets in the crypt.
How can I contact the organiser with any questions?
Stephen Carnell (Producer) email scarnell@bigpond.net.au or call 0418 255 440

What's the refund policy?

24 hours prior to your session.

Can I update my registration information?

You can change your session time.

Is it ok if the name on my ticket or registration doesn't match the person who attends?

Not a problem, just advise the original name the ticket was booked under (it's on the ticket).

What can I bring into the event?

Personal items, no medium to large bags or backpacks.