DC COMIC ADVENTURES - Diamonds of Polesque themed Show - Sat 16th April
Description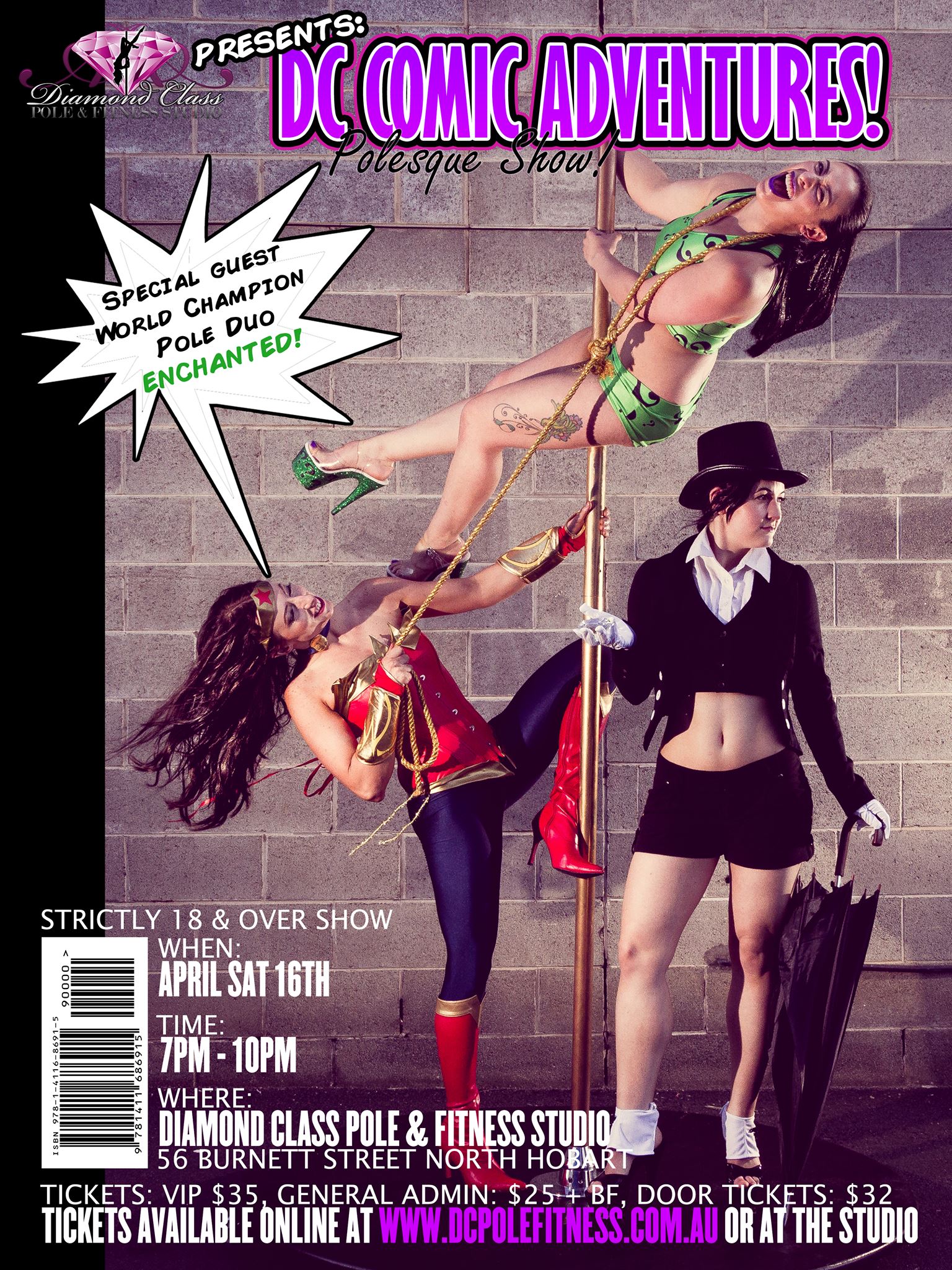 DC COMIC ADVENTERS - The Diamonds of Polesque themed show!
---
WHEN
SAT 16th APRIL
TIME
7pm - 10pm
WHERE
Diamond Class Pole and Fitness Studio
56 Burnett St, Burnett St, North Hobart
(ENTRY VIA SIDE DOOR ENTRANCE DOWN THE ALLEY WAY LEFT OF BUILDING)
STRICTLY OVER 18+ EVENT - Alchohol available across the bar as well as water, Red Bull and more.
---
TICKETS
ONLINE - dccomicshow.eventbrite.com.au
-VIP (seated close view) $35
-GENERAL ADMISSION (seated or floor cushion seating) $27.12
---
TICKETS
FROM DIAMOND CLASS RECEPTION (during reception hours) VIP $35 General Admission $27.12
Reception hours - Mon - Thurs 5.30 - 8.30pm + Saturdays 12 - 3pm
---
TICKETS
DOOR SALES $32 (first in first served providing tickets remain - (seated if seats left or floor cushions or standing)
---
DESCRIPTION
FEATURING SPECIAL GUEST WORLD CHAMPION DUO - ENCHANTED!!!! Famous for their theatrical styled doubles acro and Pole theatre... not to be missed!
The Diamonds of Polesque have a new theme for you this year! Last year it was Toybox themed and this year.... COMIC BOOK THEMED! DC standing for Diamond Class of course ;)
Be prepared to hold onto your seats as the Diamonds take you on a wild ride through the comic book World of 'Gotham City' and beyond! Expect Strong Heroic characters swinging around poles and saving the planet as these saucy women re-create comic book heros in a way never seen before!
Pole Dance, Burlesque, Dance, Theatre, comedy and acrobatics with Diamond Class Pole and Fitness Studio's performance troop 'THE DIAMONDS OF POLESQUE ' !
---
CONTACT US
PHONE: 0439481959
EMAIL: dcpoleandfitness@gmail.com
FACEBOOK : www.facebook.com/dcpolefitness