Day of the Dead Fiesta
Sat 5 November 2016, 3:00 PM – 11:30 PM AEDT
Description
The 5th annual DAY OF THE DEAD FIESTA hosted by Los Chavos!
A community celebration of Afro-Latin music and culture with live bands + interstate guests, DJs, performances, food & craft stalls, face painting, workshops and live art!
Come and experience the vibes and atmosphere of a Latin American fiesta at this family friendly event; get your face painted and learn a little about how vast and deep Latin culture is. Paint a skull, learn a dance or two and reflect on what's important as we mark the Mexican tradition of the Day of the Dead by enjoying the best in life!
Things kick off in the COURTYARD from 3pm with music and dance performances. Then things heat up as night falls and we open the MAIN HALL from 6pm to our hand picked line up of live bands that span the gamut from Latin jazz & reggae, West African pop, Brazilian Roots and New Orleans Funk & Spanish guitar.
Featuring:
Los Chavos - Brass Knuckle Brass Band - Mandacaru (MELB) – Solquemia (MELB) - Zambezi Sounds Canberra and ClaveMania PLUS Dance performances and sets by Raio De Sol Samba Band and The Groove Warehouse Steel Drum Band.
The main event will finish at 11:30pm but for those who still want to party we have a great AFTER PARTY which will be very close to the Ainslie Arts Centre in the CBD where we can dance, sing, jam and be merry until the early morning.
=========================

DAY OF THE DEAD FIESTA tickets have two options:
ADULT TICKET
This is General Admission ticket to the whole event (3pm – 11:30pm + after party). Includes all daytime activities and all bands in the Main Hall. It's especially for those fiesta-loving fiends who want to sweat it out on the dance floor until late, or those that only want to catch a few bands. Come early, come late, this ticket is for everyone!
DAY TICKET
This is a Daytime Only ticket for those who DON'T want to see the bands in the Main Hall (starting 6pm). Activities in the courtyard won't stop at 6pm, but the focus will be on the bands inside. For families with little ones who need to be in bed sleeping, this option is especially for those sun light lovers who want to enjoy the activities centred in the outdoor courtyard where there will be special short acoustic performances, craft stalls, workshops and community vibes. We also have Day Kids & Day Family options.
NOTE: If you have a Day Ticket (or Day Kids/Day Family) and would like to see the bands in the Main Hall from 6pm, you can purchase entry on the night for $15, BUT ONLY if there are tickets left; there is limits on audience numbers in the Main Hall so don't leave it to chance if you want to see the bands!
PRICES
ONLINE/PRE-SALE:
$30 – Adult Ticket
$20 – Day Adult
$10 – Day Kids (under 15yrs)
$50 – Day Family (2 adults + 2 kids)
AT THE DOOR:
All tickets will be $5 more than pre-sale prices listen above.
After party only tickets will be $5 at the door
MORE DETAILS & UPDATES:
Day of the Dead Fiesta – Canberra [Facebook Page]
Day of the Dead Fiesta 2016 [Facebook Event]
Day of the Dead AFTER PARTY [Facebook Event]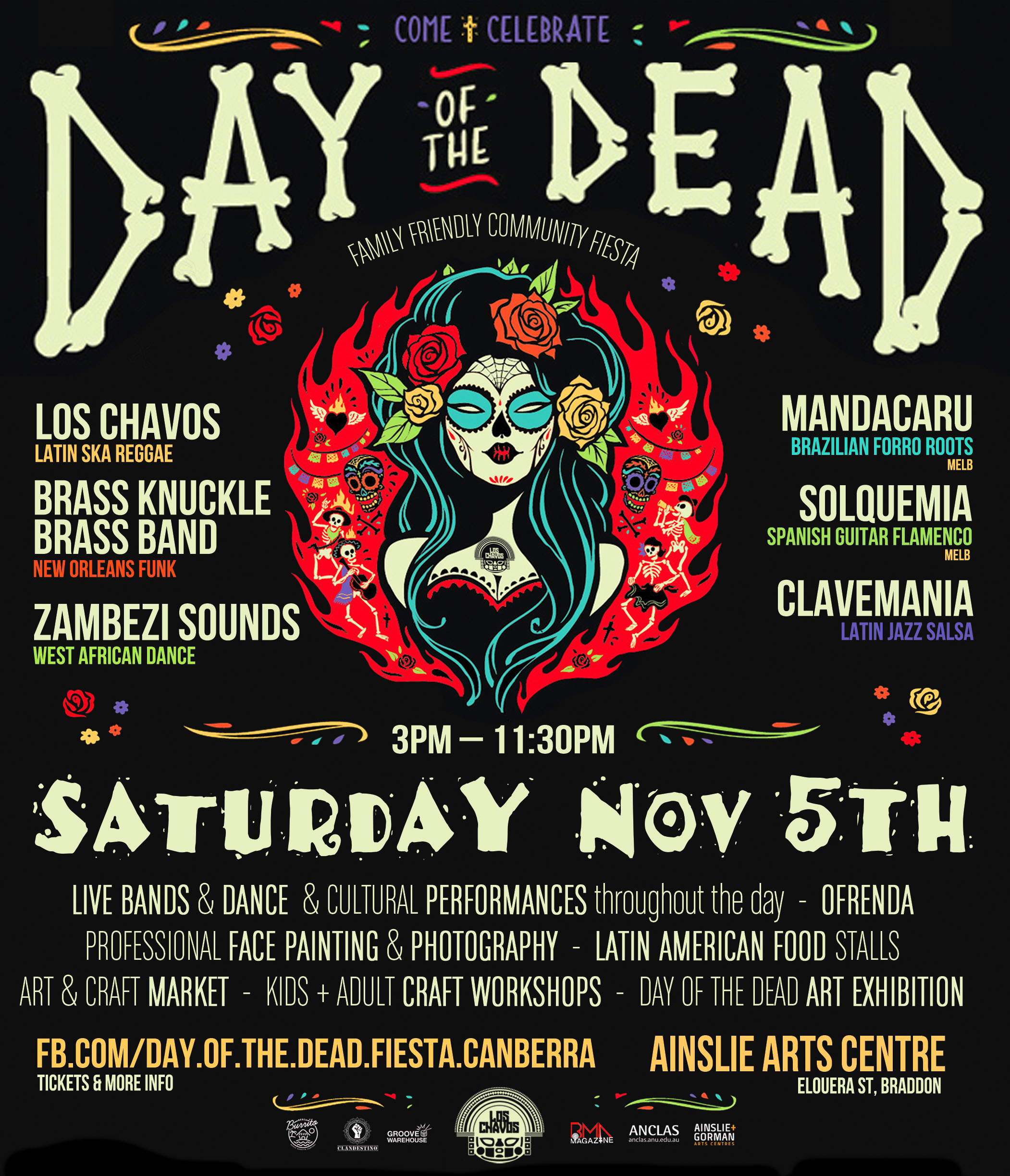 FAQs
What is the refund policy?
Refunds may be issued prior to the event at the discretion of the organiser. No refunds will be issued after the event has taken place, unless required by applicable consumer legislation. 
Can I pre-book without paying a booking fee?
If you wish to avoid booking fees but would still like to book ahead, please call the Ainslie and Gorman Main Office on (02) 6182 0000 to book over the phone using your credit or debit card. The office is open 9am - 5pm, Monday - Friday. Unfortunately phone bookings cannot be made outside these hours.
In-person cash or card sales during business hours are also welcome. The main office is located at Gorman Arts Centre, 55 Ainslie Avenue Braddon.