Description
Experience the vibes and atmosphere of a Latin American Fiesta at this family friendly celebration of music, dance, art and the amazing tradition of "Dia De Muertos" over one huge day!
We are VERY excited to be bringing you some unique LIVE MUSIC + CULTURAL PERFORMANCES and MARKET + FOOD stalls & an amazing KIDS PIÑATA + FACE PAINTING.
FINAL BANDS LINE-UP
The AmaSonics - Psychedelic Tropical Latin Cumbia
Afro Moses Ojah - Afro Reggae Dance
Los Chavos - Latin Ska Cumbia Rock
Brass Knuckle Brass Band - New Orleans Jazz Funk
FunkyTrop - Afro Latin Funk
Rumblr - Spanish Psychedelic Inca Rock
Raio de Sol Canberra Community Samba Band
Hit 'n' Miss - West African Percussion
DJ Randy Castilla - Strickly Old School Latin Vinyl
FINAL PERFORMANCE LINE-UP
Karina Salgado. Actress - Katrina Performance + MC
Colombian Cultural & Folkloric Organisation - Afro Latin
Mexico Lindo Canberra - Mexican Folkloric
Capoeira Senzala Australia - Afro Brazilian Martial Arts
Subsdance Dance Studio - Afro Brazilian

Finally we have, as always, a traditional OFRENDA ("altar") which is always a part of Day of the Dead Celebrations in Mexico and around the World. This year we'll be RAISING FUNDS and taking donations for the Playing For Change Foundation's Mexican Baja Musical Arts Initiative in Tijuana, Mexico. This program uses free music education as fuel for positive change in impoverished communities. Details here.
Get your face painted and learn a little about how vast and deep Hispanic culture is - eat some "Pan De Muertos" and reflect on what's important as we mark the Mexican tradition of the Day of the Dead by enjoying the best in life!
As always there will be an amazing AFTER PARTY from 11:30pm - LATE - this year we are very stoked to take over the new and imporoved Smith's Alternative and have programmed some Afro Latin Vibes all night with FunkyTrop performing live and Latin Vinyl Specialist DJ Randy Castilla - DETAILS HERE.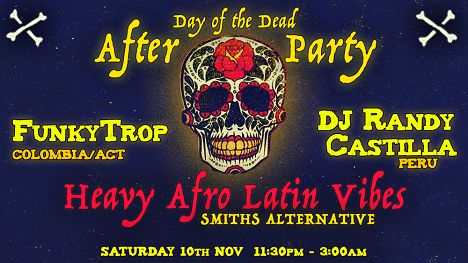 Official Day of the Dead Fiesta 2018 - Facebook Event HERE.
MARKET + FOOD STALL HOLDERS - APPLICATION FORM : https://goo.gl/dnWJTh
VOLUNTEER CALL OUT - APPLICATION FORM : https://goo.gl/trZwS1
Presented by Day of the Dead Fiesta - Canberra with the support of the Australian National Centre for Latin American Studies, Clandestino Events and Ainslie and Gorman Arts Centres, The Mexican Embassy Canberra, The Canberra Zombie Walk, Mexico Lindo Canberra, La Empanada, BMA Magazine, ArtSound FM 92.7, Impact Comics.