Location
Kenjin
247 Brunswick Street
Fortitude Valley, QLD 4006
Australia
Don't be upset by the results you didn't get from the work you didn't do. Change your dating destiny with this live ladies workshop.
About this event
Dating is so expensive! Financially, mentally, and emotionally.
Don't spend another $1,200 a year on dating app subscriptions and then multiple $300 therapy sessions to get over the dates. Those costly profile "boosts" and subscription fees all add up... leaving you feeling emotionally empty.
According to a Dating.com survey, 75 percent of singles on dating apps intend to spend more than $100 on a meal, and 55 percent are willing to spend between $500 and $999 on a trip to meet their new potential partner in person.
But then you come home and binge eat to distract yourself from the shock and misery of how your date turned out to be a catfish or how your date dropped some other kind of deal-breaking shocker into the conversation. Don't spend another $75 next weekend on strong alcohol and an Uber just to escape.
Before draining any more of your precious financial, mental, and emotional energy, come to this workshop and discover the most meaningful ways to invest in your dating life.
What will you get from this workshop?
Hi Ladies! This live in-person event is for women only and will focus specifically on taking ownership of your dating destiny by designing it yourself here in this workshop.
Are you a man (or identify as one)? Tell Cyndi here so she can organise an event just for men or for both men and women - whatever you want.
Are you female and really want to attend this event but need it on a different date? Tell Cyndi here so she can organise it.
Come for a 4-hour event in Fortitude Valley, in Brisbane, Queensland, starting at 11:30 am on Saturday 21 May. It's a change-your-dating-life workshop with Cyndi McCoy, your personal coach and author of The Science of Personal Coaching.
This workshop is based on Cyndi McCoy's theory and new upcoming book, "The Human Relationship Dashboard", described as "the only boundaries book you'll ever need". At this event, you are going to develop a 28-day life-changing dating boundaries strategy to level up your game.
Cyndi also hosted a successful online boundaries workshop that received a great 4.6/5 star rating on Udemy, and she has further developed her theory so you can apply it to your dating life.
"Dating boundaries" are simply the things you personally share or don't share with dates and potential dates; they're the things you choose to do or don't do as well as things you say or don't say. We're going to cover all of these dating boundaries in the workshop and how to use them to empower you.
Here's a list of what you will get out of this experience:
Identify your key motivation in life through one of Cyndi's coaching hacks and learn how to use it to supercharge your decisions in every area of life and dating
Complete a boundaries health check for your dating life and the people you date (based on a unique system in Cyndi's upcoming book "The Human Relationship Dashboard")
Design a customised 28-day boundaries strategy for your dating life
Create an accountability plan to help you make your 28-day strategy happen more powerfully
Feel the solidarity and sisterhood in a room full of girls who are in a similar boat as you when it comes to dating, and enjoy a couple fun life coaching exercises together as well as individually
Free invitation to a private accountability group on Facebook of girls who attended this event
Show up in your dating life with the powerfully attractive confidence of a girl who knows what she wants
Unlimited coffee, tea, and water during the event, and each ticket comes with one mouth-watering fine-dining meal on your lunch break, served in a take-away container to make it quick and easy to clean up and get back to the fun (other drinks available for purchase from bartender)
Seats are, of course, limited.
What do people say about 24:7 Friend coaching?
This workshop is hosted, designed, and managed by a personal coaching business called "24:7 Friend" and its Founder, Cyndi McCoy. Here's what others have to say about the results you get with 24:7 Friend. Press play below.
What will you need to bring?
Your mobile phone is required to participate in this live workshop. During this in-person event, Cyndi will be asking you questions that you will reply to via text, confidentially, safely, and directly to her own private and personal mobile phone.
Bring to the event your decision on which one of these four categories of dating situations you'll focus on improving (yes, you'll focus on ONE of your choice in this workshop): (1) Potential dates (people you consider dating but haven't met in person yet), (2) First dates (people you meet in person for the very first time), (3) Second or third dates (people you have gone on a couple dates with), or (4) Someone you're dating ("dating" in this case means someone you go on dates with or someone you're in a relationship with, but it can also include those unclear "situation-ships")
Your lovely self dressed in something that makes you feel great about yourself (whatever that means to you, it's up to you)
Your hopes and dreams for your dating life carefully carried with you to the event in your precious heart
If the lovely tasty meal you see in the menu below does not seem like enough, maybe you'll want to bring an extra snack with you
Bring ID and some kind of vaccination proof to the event because it's required by law or else the venue gets fined a lot of money
A good night's rest the night before so you feel great at the event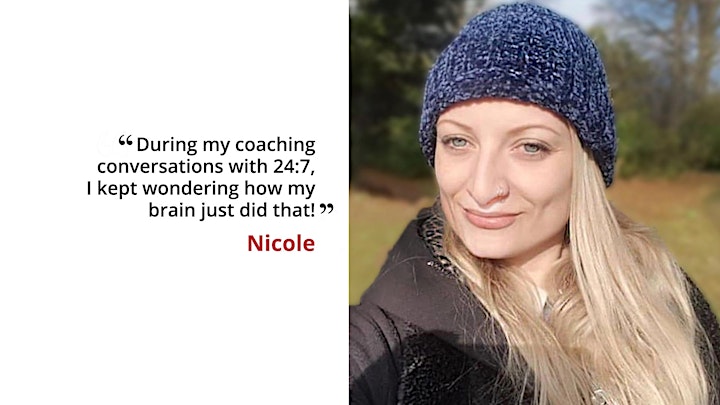 Where is it and how do you get there?
Girls, we're doing this event nightclub-style but during the daytime. It's at a fine-dining Japanese restaurant that is also a nightclub with nightclub lighting and everything, all in the heart of Fortitude Valley. This venue is right across the road from the train station and there are several car parks around, too.
Take the train in! It's so easy. If you prefer to drive, here are a few parking options within a few minutes walk of the venue:
Secure Parking - Valley Metro Car Park, 52 Alfred St, Fortitude Valley QLD 4006, Phone: 1300 727 483
McWhirters Car Park - 13 Warner Street, Fortitude Valley (Entry via Warner or Ballow Streets)
Metred (Metered) street parking - but this is so last resort! We don't want you missing workshop time to feed the metre every hour or two. It's a last resort.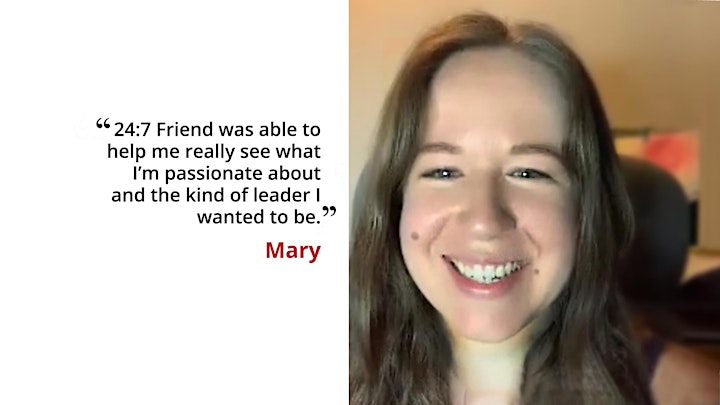 What food and drink are provided?
We will serve you one of three gorgeous, tasty little dishes in take-away containers so you can easily clean up and get back to the workshop. Your choice of one of these dishes below is included in your ticket purchase.
Unlimited tea, coffee, and water are included in the price of your ticket
A bartender will be there for you to buy any drink, energy drink (Red Bull), or soft drink you wish
Which one of these three dishes would you like?
When you complete your registration and ticket purchase, you'll indicate your food order and any dietary restrictions there in the form.
Here's the first option.
Cold Green Tea Noodle Salad (buckwheat based), pickled carrot, pickled cabbage, sesame, radish and Pickled Ginger Juice Dressing (served on the side) also served with your choice of one protein option: Tofu, Tetaki (seared) salmon, Sashimi Kingfish (cured), or Tetaki (seared) beef. (see below photo)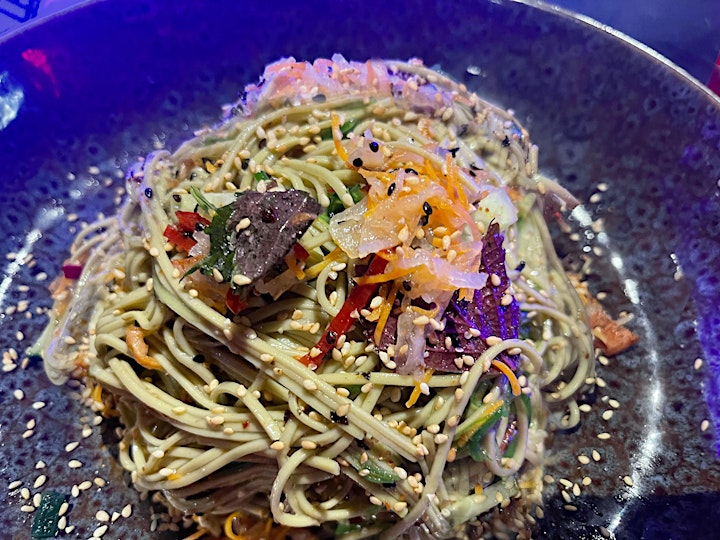 Cold Japanese Salad and Sesame Soy Dressing (served on the side) also served with your choice of one protein option: Tofu, Tetaki (seared) salmon, Sashimi Kingfish (cured), or Tetaki (seared) beef. (see photo below)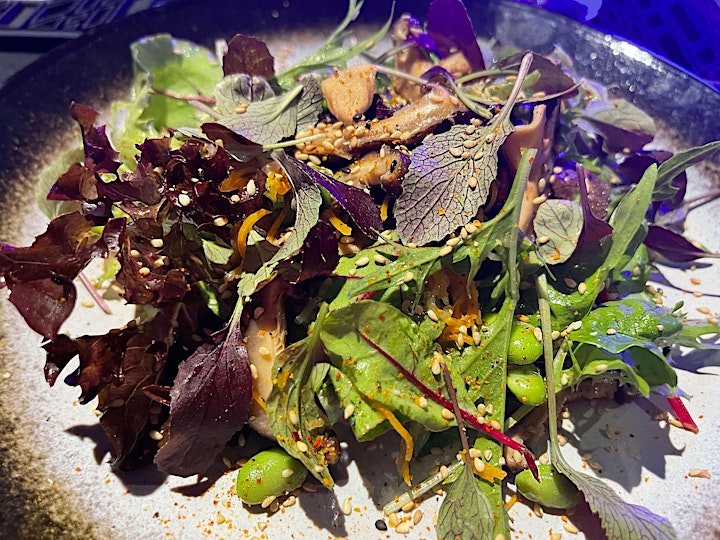 Cold Udon Noodle Salad with Edamame Beans and Soy Dressing also served with your choice of one protein option: Tofu, Tetaki (seared) salmon, Sashimi Kingfish (cured), or Tetaki (seared) beef. (see photo below)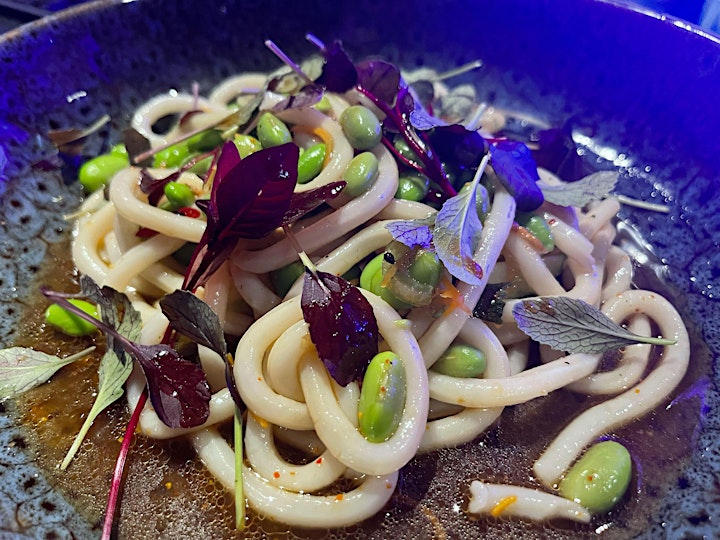 About your personal coach, Cyndi McCoy
Some quick facts:
Author of The Science of Personal Coaching (available on Amazon.com) and upcoming The Human Relationship Dashboard
Professionally trained personal coach and human relationship boundaries specialist
Professionally trained singer as well as occasional songwriter with original music published on Spotify, Apple Music, and other digital retailers
Creator of an online boundaries workshop rated 4.6 out of 5 stars
Podcast host of Misses Impossible and more shows coming soon
Overall analytical nerd who studied one year at University of Oxford (intentional name dropping, sorry)
Born in New York City, grew up in New York State, left New York City in 2013 to visit Australia and never returned, now a dual citizen of Australia and the United States
Lover of crypto, gym & muscles, God, atheists, love itself, personal development, miracles, and dancing wildly alone in her apartment (this list not in order of importance)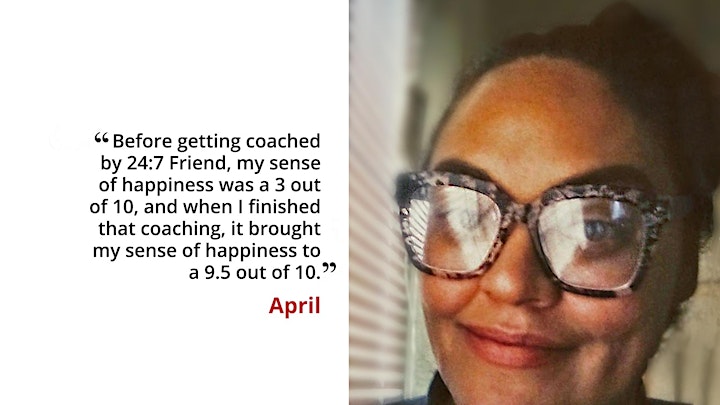 Note to ticket purchasers: Just to be safe considering the ever changing nature of the pandemic and unexpected events, there is always a small chance of changes to our event date and/or location. We certainly do not plan any changes, but should an emergency or unexpected change occur, we will contact you and provide the new location and/or date, and at that time, you may choose whether to apply the value of your ticket toward a future 24:7 Friend event or toward 24:7 Friend personal coaching services.
What are you waiting for? Don't waste another moment.
Secure your ticket and join us on Saturday 21 May live in-person, Fortitude Valley (Brisbane).
Here's the video from our advertisement