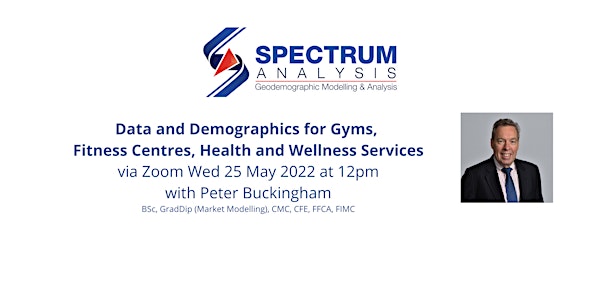 Data & Demographics for Gyms, Fitness Centres, Health Wellness 25 May 12pm
Learn more about data and demographics for gyms, fitness centres, health and wellness services with Peter Buckingham
About this event
🎫 Please register even if you cannot attend live so you can receive a copy of the recording
🚀 Data and Demographics for Gyms, Fitness Centres, Health and Wellness Services - with Peter Buckingham
🕐 Online Wednesday 25 May 2022 from 12:00pm - 1:00pm Melbourne, Australia Time (GMT+10).
➡ Speaker
Peter Buckingham BSc GradDip MktMdl CMC CFE FFCA FIMC is the Co-Founder and Managing Director of Spectrum Analysis Australia Pty Ltd, a boutique provider of quantitative geodemographic modelling, facts, data and analysis services based in Surrey Hills, Melbourne, Victoria, Australia.
https://spectrumanalysis.com.au/about-us/team/peter-buckingham
➡ Learn about
✔2021 Census and what Data to expect
✔ ABS Data
✔ Population Forecast to 2032
✔ Reasonable Drive times
✔ Territory or an Exclusion Zone
✔ Socio Economic Index for Areas SEIFA
✔ Making strategic decisions based on facts and data
➡ Who this event is for?
✔ Franchise Owners and Operators
✔ Gyms, Fitness Centres, Health and Wellness Services Professionals
✔ Members of professional associations in the gyms, fitness, health and wellness industries
✔ students of related disciplines
✔ shopping centre and commercial real estate owners
✔ anyone else with an interest in the topic
➡ Follow Spectrum Analysis Australia on social media now!
✔ LinkedIn
https://www.linkedin.com/company/spectrum-analysis-australia-pty-ltd
✔ Facebook
https://www.facebook.com/spectrumanalysisaustralia
✔ Twitter
https://twitter.com/spectrumanlysis
✔ YouTube
https://www.youtube.com/channel/UCMer7ZAqj2cf8fL15eiCkXQ
✔ Website
https://www.spectrumanalysis.com.au
✔ Monthly Email Newsletter
https://spectrumanalysis.com.au/resources/newsletters
➡ Share the love
You are welcome to share this invitation with colleagues, friends and your LinkedIn Connections (once you register on LinkedIn, you can then invite your Connections directly)
🎁 Special Gift for attendees
There will be a special gift available for people who attend live.
▶️ Upcoming and Past Spectrum Analysis Australia Events
✔ Access to the slides and recordings free of charge
https://spectrumanalysis.com.au/resources/presentations
📘 Pre-Reading
https://spectrumanalysis.com.au/services/gyms-fitness-centres-health-or-wellness-services
🎟 Register now for Zoom Link
https://spectrumanalysisaustralia7.eventbrite.com.au and add it to your digital calendar