Description
Vitality Junction presents a Meet and Greet with Cyndi O'Meara in Newcastle on Friday 28th of October.
You'll be supporting Hands On India

which supports the bodies and futures of the rock-breaking communities of Siliguri, India via 'hands on' healthcare, plus the funding of 7 x schools and 2000 x Women's Empowerment Groups.
Cyndi O'Meara, nutritionist and founder of Changing Habits will be answering your questions about her super-successful 'What's With Wheat' (a life-changing documentary about the silent global growing epidemic of gluten intolerance). Cyndi is in town for her 'A Day With Cyndi' Event which is happening at Newcastle University on Saturday 29th October – click the registration link for more details about this separate event.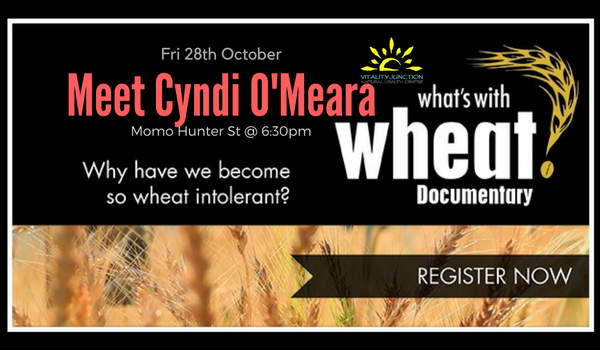 Why Watch 'What's With Wheat'?
More and more people are diagnosed with coeliac and non-coeliac gluten sensitivity than every before! You have to ask the question, WHY! Cyndi O'Meara, went on a global quest to find out the reason why! She could not understand why after millions of years of eating wheat, that we now have this growing epidemic of wheat and gluten intolerance.
14 experts, including Dr Perlmutter, Sarah Ballantyne, Dr Terry Wahls, Dr Natasha Campbell-McBride, Pete Evans, and others, weigh in on the subject and provide chilling answers.
Tens of thousand of people are suffering with ill health and don't realise that it is a result of the food choices they are making. 'What's With Wheat' is a hard-hitting investigation into the growing epidemic of wheat and gluten intolerance, and why after eating wheat for thousands of years, it has been linked to so many modern day health problems.
Our wheat has changed dramatically; it doesn't even resemble what it used to look like. Not only are we seeing more wheat and gluten sensitivity, but there is also a strong connection between gluten and autoimmune diseases.
What's With Wheat answers the following questions:
– How is our wheat now grown?
– What is added to the wheat?
– How differently is our food now processed?
– How much wheat we are consuming as a society?
– Why wheat is now added to other foods and cosmetics?
– Why wheat is so addictive?
Cyndi O'Meara, founder of Changing Habits, is all about educating people about using real foods for better health. This is a must watch for anyone who is concerned about their health, or the health of a family member or loved one and thinks that wheat could be the problem.
To get the message out there far and wide, there will be a screening on Friday 28th October at Momo Newcastle (227 Hunter Street, Newcastle) at 6.30pm.
Cyndi will be answering questions from 8.30pm (after the screening).
Tickets are $20 for SCREENING ONLY or $40 For Screening + Meal ~ with all proceeds going to Hands On India – a foundation committed to providing educational opportunities and to promote well-being to children in India.
We are looking forward to the screening and looking forward to seeing you there also.
** All prices quoted include GST