Description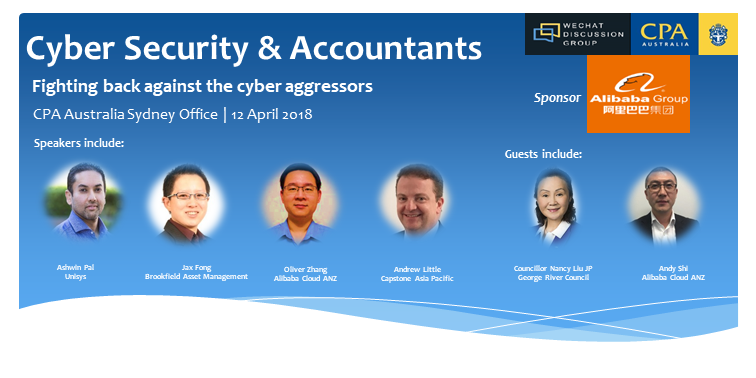 OVERVIEW
Cloud accounting, online payments and other technologies have made our life much convenient than before, however, they have also prompted new problems including cyber risks to individuals and businesses.
Australia's businesses face major threats in cyberspace. A frightening range of malign forces are pitched against them, and they have many harmful motives - fraud, personal identity theft, intellectual property theft, industrial espoinage, service disruption, physical damange, blackmail and more.
Robust data security was legislated in Australia under the Privacy Amendment (Notifiable Data Breaches) Act 2017, which makes it mandatory for businesses to report eligible data breaches from 22 February 2018.
Come along to our 12 April event to listen to Cyber security experts to discuss what non-IT people especially accountants can do to prevent themselves and their businesses from cyber crimes.
---
On the Panel:
Andrew Little - Managing director, Capstone Asia Pacific

Andrew Little is an experienced Technology Risk and Advisory professional and is Managing Director of Capstone Asia Pacific. Prior to his role at Capstone he was Partner EY Risk Advisory. He has over 25 years of experience in providing a range of Technology Risk, Strategic Risk and Internal Audit services.
Andrew has also been a board member of ISACA Sydney for 5 years and Board member of ISACA in Singapore for 2 years.
Ashwin Pal - Director, Cyber Security, APAC, Unisys

Ashwin Pal is currently the Director – Security Services – APAC at Unisys, a global information technology company. Ashwin has over 19 years' experience in the IT security industry. Working previously at PwC, Computerland and Gen-i, Ashwin has built expertise in designing complex security architectures and driving organizational security programs
Jax Fong - Senior manager, IT Audit and Risk, Brookfield Asset Management; Director, ISACA Sydney

Jax Fong is currently working as Senior Manager IT Audit and Risk at Brookfield Asset Management, and she is a director at Information Systems Audit and Control Association (ISACA Sydney) Chapter. Jax has 13 years of IT Audit and Risk experience in a number of industry sectors in Australian and overseas. She worked in Deloitte, CBA, NSW Audit Office, NSW Department of Finance & Services and BGIS before joined Brookfield Asset Management.
Oliver Zhang - Lead Solutions Architect, Alibaba Cloud ANZ

With broad experience in applications, server, storage, networking, virtualization, and cloud services, Oliver works with enterprise customer in ANZ to architect and implement critical systems and solutions. Oliver is leading the smart city initiative in NSW, QLD and NZ.
Guests:
Andy Shi - Business Development Director, Alibaba Cloud ANZ
Andy has been in the ICT industry for over 15 years and during that time has held multiple senior roles spanning sales, marketing, project management, technology and innovation. Andy had rich experience and knowledges in cloud computing, big data, project management, telecommunications, contract and commercial.
Councillor Nancy Liu JP - George River Council
Event is proudly sponsored by Alibaba