Cyber Attack Tabletop TTX - Improving Cyber Resilience in Higher Education
Our leading experts will guide you through an interactive cyber crisis simulation (TTX) in the Education Sector - What's your next move?
About this event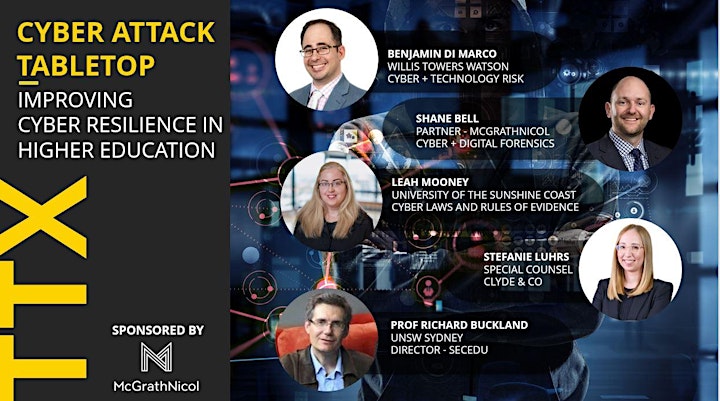 Your organisation has been attacked. They demand a ransom.
What is your next move?
The AUSCL Australian Society for Computers + Law, SOUL Society of University Lawyers, Willis Towers Watson, SECedu, ACS and CAUDIT have teamed up to create the first of its kind interactive cyber attack Table Top Exercise (TTX) to help cross disciplinary teams within Universities develop cyber resilience. The event will enhance your understanding of critical cyber incidents and improve your ability to respond to the cross functional challenges created by a complex cyber crisis.
We thank McGrathNicol for their sponsorship of the event and participation by two of their leading experts in cyber security, data breach, IR and digital forensics - partners Shane Bell and Darren Hopkins.
A big thank you to the Australian Computer Society also for providing the platform and IT support for the event.
About this event
Data security incidents demand agility and responsiveness from senior leaders as they navigate complex areas of the legal, regulatory and stakeholder risk. This event will help attendees explore and practice their "resilience reflexes", and provide insights on good decision making that can be applied directly to a real crisis. The event will by a broad group of cross functional experts, who will share insights and help guide attendees as they work through the scenario and consequential dilemmas.
Who should attend?
The event is designed for all stakeholders involved in the management of cyber risk, in particular Insurance and Risk Managers, CISOs, General Counsel, IT and InfoSec personnel, Financial Officers, Human Resources, Communications and Operational Managers and their advisers.
About your co-hosts
AUSCL The Australian Society for Computers + Law is one of Australia's leading interdisciplinary inter-generational think-tank promoting sustainable law, technology and society through open dialogue, its leading education program and its Policy Lab.
SOUL The Society of University Lawyers is a not-for-profit association of in-house university lawyers. Its mandate is to promote the exchange of information on legal matters affecting universities and tertiary education generally.
Willis Towers Watson is a leading global advisory, broking and solutions company that helps clients around the world turn risk into a path for growth. With roots dating to 1828, Willis Towers Watson has 45,000 employees serving more than 140 countries and markets.
SECedu is empowering the next generation of cyber security professionals through education. Led by Professor Richard Buckland, SECedu is the leading Australian network of educators and professionals. Founded as a partnership between UNSW and Commonwealth Bank. SECedu aims to address the growing need for cybersecurity professionals in today's digitally invested world, by building industry capacity to battle the menace of cyber intrusions, identify theft, malware attacks and a host of other online perils.
CAUDIT The Council of Australasian University Directors of Information Technology is an incorporated not for profit association owned by the Australasian universities and a number of major Australian research organisations. The Council supports Member Representatives and their teams through the provision of a broad range of services, fostering collaboration, leadership and good practice among its members. Members are represented by the most senior IT person in their organisation - generally their Chief Information Officer, Chief Digital Officer or Director, IT. CAUDIT's purpose is to support each other in leading the application of digital capabilities to transform education and research. A big thank you to Greg Sawyer from CAUDIT for his expertise and support for this initiative.
Our speaker bureau
In alphabetical order. For speaker detailed bios please click on the links provided
Benjamin Di Marco - Cyber and Technology Risk Specialist, Willis Towers Watson (ANZ) - Specialist in cyber risk, privacy, technology law, financial insurance and dispute resolution. He has acted in over 200 data breaches providing triage, privacy, strategic and claim support to companies. Connect with Benjamin
Darren Hopkins - Partner, McGrathNicol Forensic. Specialist in cyber security, privacy, digital forensics and technology-led investigations. Qualified investigator and forensic technology practitioner of over 20 years experience. Connect with Darren
Richard Buckland - Richard is Professor in CyberCrime Cyberwar and Cyberterror at the School of Computer Science and Engineering UNSW, Visiting Professor in Educational Design at the National University of Malaysia UKM, and Grand Challenge Visiting Professor in CyberSecurity at Taylors University. Connect with Richard
Stefanie Luhrs - Special Counsel, Clyde & Co. Specialist in cyber, professional insurance lines and D&O, including data breaches, regulatory investigations and incident response. Connect with Stefanie
Shane Bell - Partner, McGrathNicol. Highly regarded cyber security and digital forensic specialist engaged by major corporations and SME organisations. Connect with Shane
Leah Mooney - Senior Legal Officer, USC. Leah is an experienced data breach coach and cybersecurity and privacy lawyer in the higher education sector. She lectures a Masters course on cybersecurity, privacy and evidence and provides expert commentary to media outlets on cybersecurity and privacy developments. Connect with Leah
We look forward to you joining us. Be sure to subscribe to AUSCL's mailing list for invitations to future events by clicking on this link
Organiser of Cyber Attack Tabletop TTX - Improving Cyber Resilience in Higher Education
Inspire. Connect. Reimagine
The Australian Society for Computers and Law (AUSCL) is one of Australia's leading interdisciplinary think-tanks on issues arising at the intersection of technology, law and society. It is a registered Australian non-profit charity with a charter to advance education and advocacy. Our mission is to: Inspire new thinking and informed discourse, Connect professionals across disciplines and together Reimagine the future.