Learn the art of cyanotype blueprinting & take home two pieces of your own unique artwork. No artistic skills required
About this event
Learn the art of Cyanotype Printing ~
Absolutely no art skills required.
Originating in the 1840s ~ Cyanotype is a photographic printmaking process widely known as the term "blueprint" which was mostly used for large architectural & mechanical drawing reproduction.
Blueprints are created using equal ratios of Potassium ferricyanide and Ferric ammonium citrate(green) and a photographic negative or film positive placed onto a UV (ultra violet) light-sensitive sheet of paper. Areas where light does not hit sensitized material remains white.​
Instead of utilizing photographs ~ Stephanie favors a much longer method in achieving her unique blueprints.
Before cutting and placing onto the prepared surface , Steph draws her designs onto translucent paper. Once the sun works her magic and the paper left to dry ~ Stephanie takes a white ink pen and adds a little more ornamentation, making each cyanotype a truly original artwork.
This is the exact method everyone will learn in this 5 hour workshop.
Every student will walk away with two unique artworks to frame for your home.
Size A4 and A3
Includes all art materials.
Cuppa tea & snacks provided.
Investment ~ $120
Bookings are absolutely essential ~
Very limited so please book ahead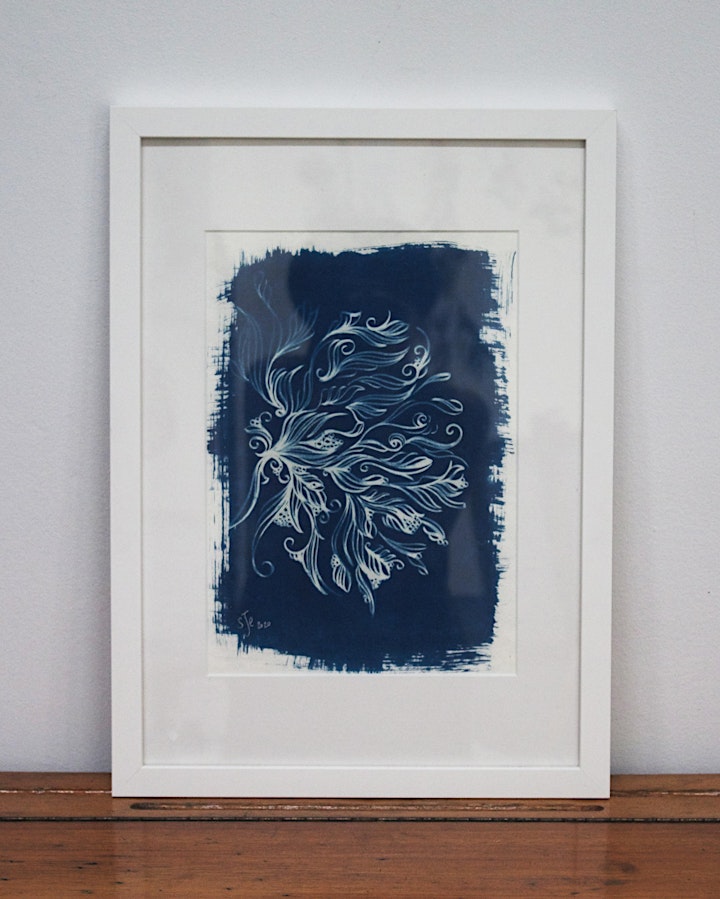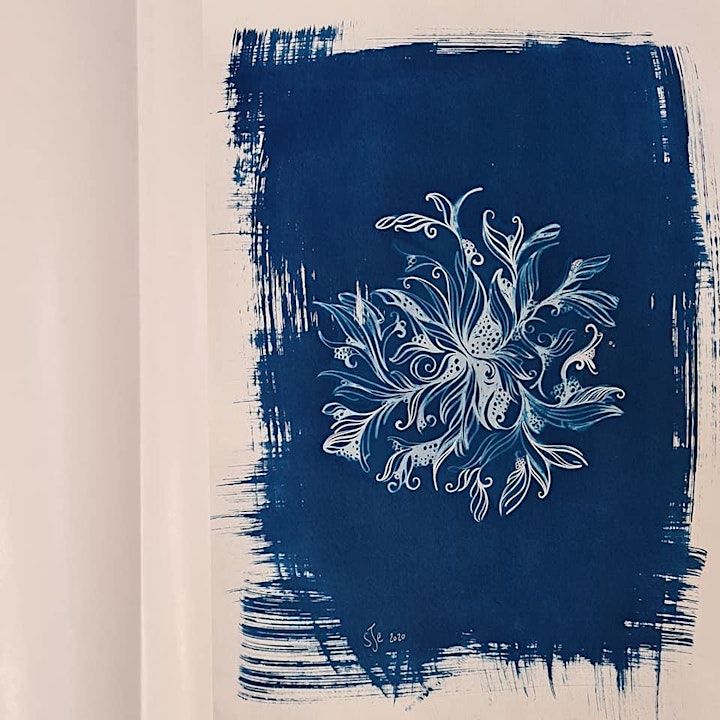 Organiser of Cyanotype Printing Workshop
Stephanie June Ellis has been working as a professional artist for the past 10 years and is a qualified colour therapist .
Her creative practice aims to transcend viewers beyond the physical world and encourage a wider vision of awareness through spiritual and enchanted themes. By exploring symbolic references, she plays amongst geometric and organically formed abstract patterns influenced by vibration, energy, light.

From an early age Stephanie found herself in the midst of an overbearing fast paced life, consuming her mind and body into depletion. It was only through art that she was able to listen, observe and find peace within her struggles.
With each gesture, stroke and colour, she found the space to allow things to come and go and trust her inner vision.

As a result of her own healing journey, Stephanie went on to complete a diploma in Colour Therapy. She now facilitates guided meditation & creative workshops which provide non-invasive techniques aiming to bring balance & harmony in all areas of life.

For now, Stephanie currently resides between Australia and Bali, deepening her daily self practice and engaging with local communities offering a safe space for people to visually express themselves, adorn their homes and their bodies, to contemplate spirituality, to heal, reframe, transform and relate.