Event Information
Refund policy
Contact the organiser to request a refund.
Eventbrite's fee is nonrefundable.
A Customer Journey Map, helps you to understand customer expectations, so you can create a personalised experience that resonates with them.
About this event
By creating a customer journey map, you gain valuable insights into your customers wants and needs, which helps you to tailor your customer experience, so they get what they actually want and expect.
It also assists in understanding the different types of customers and their purchasing styles, so you can adjust your buyer experience and create a customer purchasing journey that makes sense and gives them a good experience.
In a nutshell a customer journey map, gives you valuable insights in to your customers and helps you understand them better.
Learning Outcome: By the end of this training session, you will understand the concept of:
Why is your Customer Journey Map Important to your business?
Key elements of a Customer Journey Map
How to develop a Customer Journey Map for your business
Steps to developing your Customer Journey Map
Bayside BEC Customer Persona Template
Bayside BEC Customer Journey Map Template
Example of a simplified application of a Customer Journey Map
This is an interactive session with time allocated within the workshop for you to start and ask questions about our worksheets and tools.
As part of this workshop you will also receive the following tools:
The Bayside BEC Journey Map Template
The Bayside BEC Journey Map Checklist
The Bayside BEC Marketing Persona Checklist
About your Presenter Marion Di Benedetto
As a business advisor and serial entrepreneur, I am passionate about problem solving in a business and communication context. My main strengths lie in simplifying communication and marketing strategies. I enjoy working with large corporates and small start-ups alike, assisting my clients in the creation of successful campaigns and businesses.
As a workshop facilitator, coach and mentor, I take pride in challenging people, accelerating their growth and helping them achieve their full potential. I started my first real/official business (Sierra Marketing) in 2007.
My experience working as an agency, growing my business and participating in the growth of my client's businesses in changing market conditions, has taught me and keeps on teaching me a lot of valuable lessons that I love to share with my staff, business partners, clients and students.
I have been part of the G20 Young Entrepreneurs Alliance since 2013. I believe that entrepreneurial thinking is a force that stimulates progress and I like to encourage the people I work with to harness the power of entrepreneurial thinking to achieve overall personal and business success and live their best life.
About Digital Business Solutions
A Digital Business Solutions webinar for small businesses.
This webinar is delivered under the Australian Government's Digital Business Solutions Program (ASBAS) . By attending you acknowledge agreement with the terms and conditions as outlined here.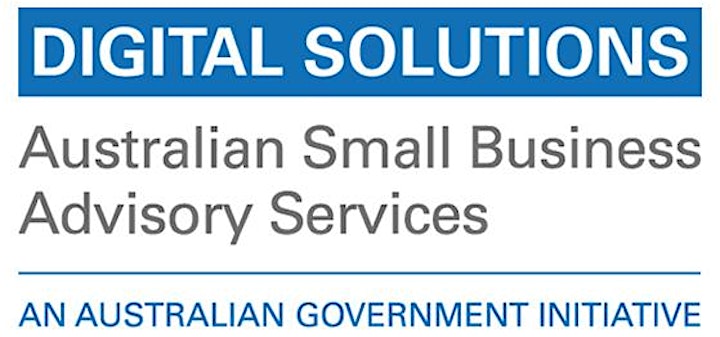 Date and time
Location
Refund policy
Contact the organiser to request a refund.
Eventbrite's fee is nonrefundable.