Description
Understanding the people your problem touches, your potential customers
This workshop teaches the tools and techniques of customer discovery as well as why this is critically important for every start-up. Attendees will understand customer personas, how to talk to customers to find out what they really think and how to plan this phase of work.
- ALL ARE WELCOME TO ATTEND -
About the Facilitators:
Karen Platt - A senior leader across multiple disciplines including Customer Experience, Innovation, Marketing, Product Management, New Product Development, Sales and Operations. With a 10 year track record in Customer Experience, Karen supports organisations discover customer needs and insights that can translate into design and delivery of products and solutions that meet customers needs.
Karen has led change in complex environments to build organisational wide commitment to customer centricity and innovation delivering significant improvements for customers and the business. Karen's strength lies in her ability to translate complex information into a narrative to inspire action within the organisation and implement improvements with measurable results.
Karen currently leads a start-up fashion business focused on creating a clothing range for women in business. She also consults on strategy, customer experience and change management to the corporate and not for profit sectors.

Michelle - Leveraging her 20 years' experience in creative leadership roles across a myriad of diverse industries and after 13 years in her last agency, Michelle most recently co-founded a startup. Hatch is focused on helping organisations understand and use the power of new and emerging technologies to create deeper connections and broader opportunities for their businesses.

As a strategic storyteller, experience maker and creative solution designer, Michelle partners with businesses to help them build deep insight to create meaningful connections with their people, partners, communities and customers. Whether building brands, creating communities or engaging people in new ways of thinking, working or being as part of business transformation, Michelle employs her skills in creative strategy, change communication and design thinking, to facilitate a deep understanding of the people at the heart of business challenges and innovate solutions that will inspire the action needed for success.


Program:
Registration/Networking - 5:30pm - 6:00pm
Introduction & Welcome to Country - 6:00pm - 6:05pm
Workshop - 6:05pm - 7:30pm

Light Refreshments Provided


MQ Incubator Go Program
The Incubator's Go Program is designed to help you grow an initial idea into a sustainable venture. Running over a 10 week iterative period, each week explores a different theme, starting with idea generation and ending with a pitch competition. It consists of weekly practical workshops and events to give a good awareness and understanding of each key step along the entrepreneur or innovation journey. You can follow the entire 10 week program, coming to all of the workshops and events, or you can dip into the particular themes you are interested in. Become a member and stay updated will all of our events - mq.edu.au/incubator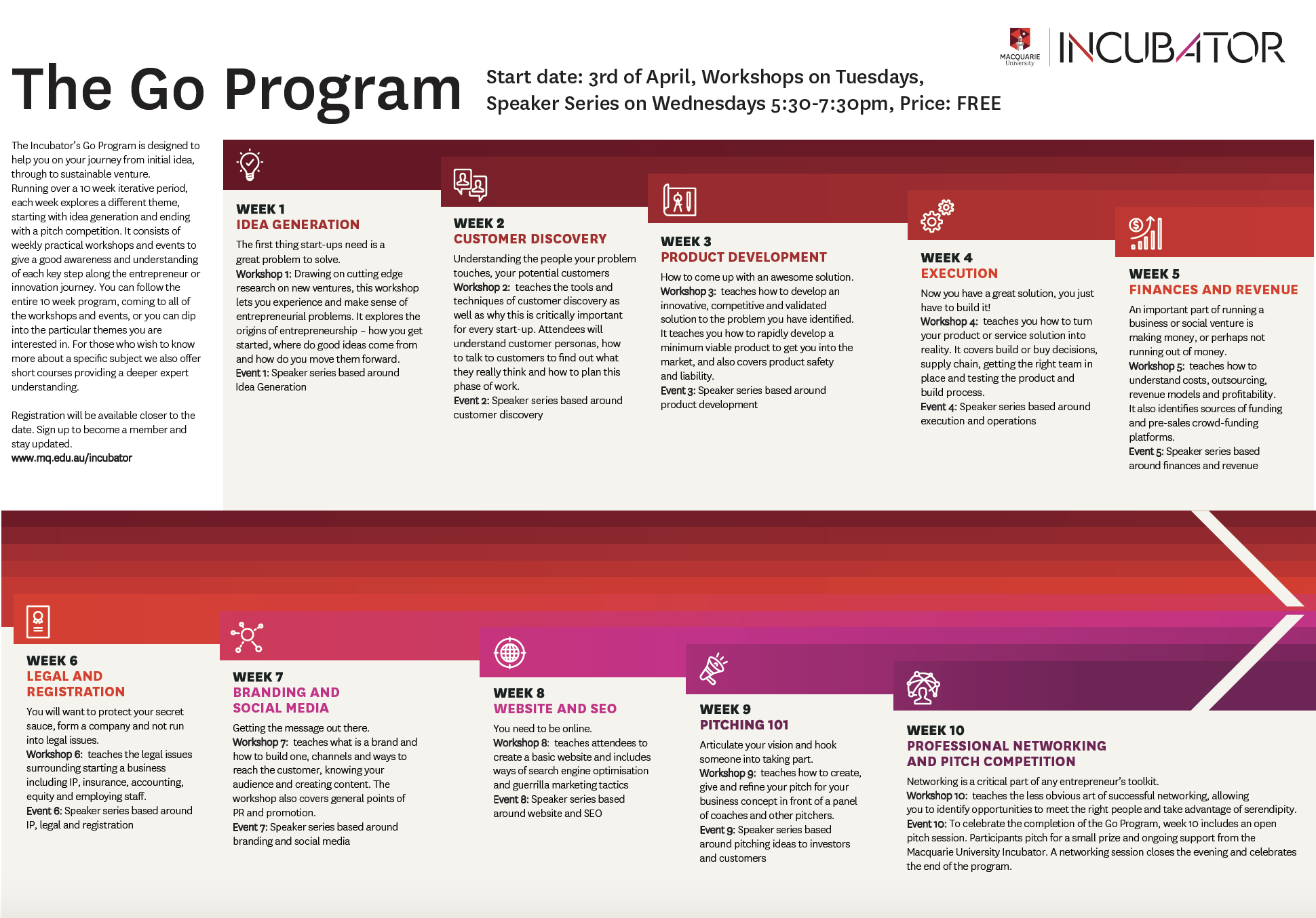 Stay Connected!
Join our Meetup Group
and like our Facebook Page