Location
The Holroyd Centre
11-17 Miller Street
Merrylands, NSW 2160
Australia
Cumberland City Council is partnering with Homelessness NSW to bring together stakeholders to workshop latest trends in Homelessness.
About this event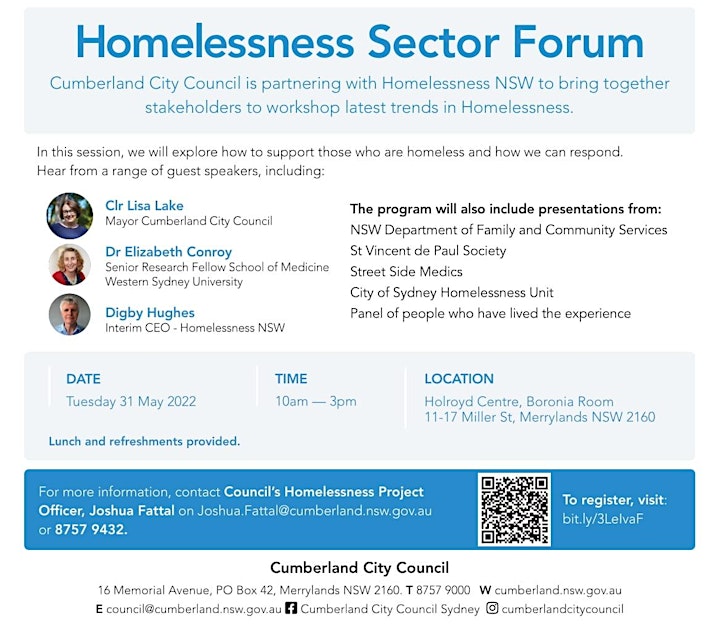 The Homelessness Sector Forum will provide attendees from both Public sector and Not-for-Profit sector with the opportunity to discuss the latest trends of Homelessness including:
How to effectively deliver services that are culturally inclusive and appropriate
Discuss the roles of Local and State Governments
Implement strategies to build pathways out of homelessness
Workshop ideas for a protocol to engage with rough sleepers and early intervention and prevention approaches.
In this session, we will explore how to support those who are homeless and how we can respond. Hear from a range of guest speakers, including:
Clr Lisa Lake - Mayor Cumberland City Council
Dr Elizabeth Conroy - Senior Research Fellow School of Medicine Western Sydney University
Digby Hughes - Interim CEO Homelessness NSW
The program will also include presentations from:
NSW Department of Family and Community Services
St Vincent de Paul Society
City of Sydney Homelessness Unit
Panel of people who have lived the experience
Date: Tuesday, 31 May 2022
Time: 10am - 3pm
Location: Holroyd Centre, Boronia Room
11-17 Miller St, Merrylands NSW 2160
Lunch and refreshments provided
Homelessness NSW is a peak not for profit organisation that works with its members to prevent and reduce homelessness across NSW. Homelessness NSW advocate and provide leadership on homelessness issues across NSW and to support effective service delivery to those who are homeless or at risk of homelessness.
For more information, contact Council's Homelessness Project Officer, Joshua Fattal on Joshua.Fattal@cumberland.nsw.gov.au or 8757 9432