Culture Kai // Try Japanese Festival Drumming (Taiko)!
Join JETAAWA for a fun, casual afternoon of having a go at taiko drumming and socialising with a friendly bunch of people!
About this event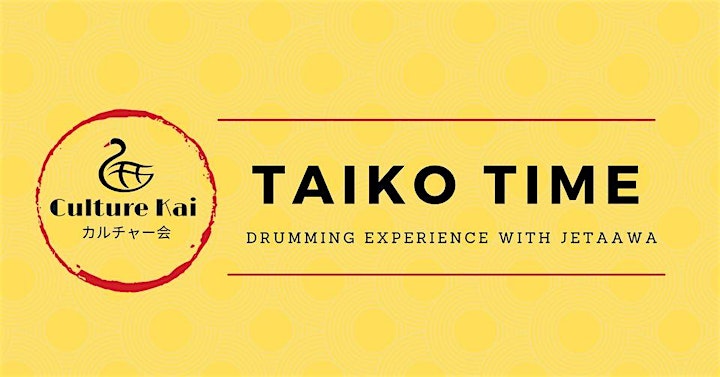 Introducing Culture Kai! This year, the JET Alumni Association of WA (JETAAWA) will be presenting a series of events to bring people together for a fun and informative social outing centring around Japanese cultural art, craft and custom.
We hope this is a chance for you to try your hand at something Japanese you may not have tried before and connect you with others those have a love or interest in Japan, locals who have lived in Japan and Japanese people currently living in Perth.
We welcome you to join us for our inaugural event!
Try Japanese Festival Drumming - great physical fun for anyone and everyone!
Saturday 29 May, 4pm - 6pm 
Hyogo Culture Centre (Tuart Hill)
JETAAWA Members only $5*; Non-members $10
Limited capacity - so get in quick!
This is a fun social gathering where our local taiko expert, Simon from Taiko-On, will be providing some drums to help you make some noise, get a free workout and perhaps gain a new hobby!
Drumming will last for about an hour with quiet moments to encourage you to have some interesting conversations with other participants.
This will be a casual, fun, social event aimed at helping you mix with other people with an interest in taiko and Japanese culture. BYO drinks and snacks.
SCHEDULE//
4:00pm - Arrive + mingle
4:20pm - Taiko session
5:20pm - Snacks + mingling
6:00pm - Head home or head out to dinner with the crew, if you're free
JETAAWA would like to sincerely thank Simon for donating his time and loaning his equipment and also the Hyogo Prefectural Government Cultural Centre for providing the venue free of charge for everyone!
TICKETS // *Please note the JETAAWA Member price is only for the member, not their family or friends (unless they are also members of the association!)
ABOUT TAIKO // Taiko Drumming encapsulates the spirit and rhythms of community festivals all across Japan, that are as diverse as colours of the autumn leaves. Over the last 60 years, performing groups have studied the colour and movement of Taiko from local Matsuri and brought them together on stage to introduce to audiences around the globe. Taiko is easily recognised for its stylised martial arts-like movements, simple powerful rhythms, and synchronised actions. In this 1hr session you will strive to beat the taiko with power and spirit of the ages and feel the deep reverberation of the ancient Taiko rhythms.
CODE OF CONDUCT // We want Culture Kai to be a fun and safe space for all participants and as such, ordering a ticket to this event means all ticket holders will abide by Culture Kai's Code of Conduct as outlined below:
Don't worry; there are four easy steps:
1. All Culture Kai participants have a responsibility to respect other Culture Kai members. Bullying or harassment in any form will not be tolerated.
2. All Culture Kai participants are expected to respect the venue where the Culture Kai event is being held.
3. All Culture Kai participants are expected to follow the instructions of event organisers (JETAAWA) and the organisations they partner with for events.
4. Have fun and try something new!
If you feel any participant is behaving inappropriately, or is making you uncomfortable, please feel free to report the situation to the JETAAWA members at the event or contact the President, Zena: president@jetaawa.com.
Organiser of Culture Kai // Try Japanese Festival Drumming (Taiko)!