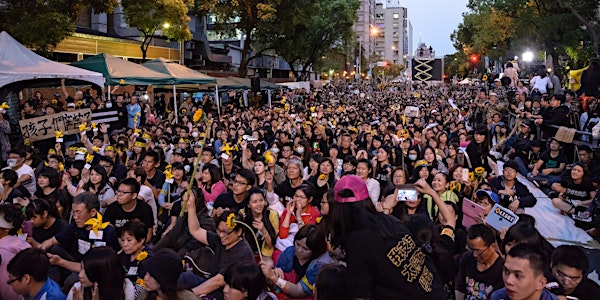 Culture and Political Change in Contemporary Taiwan Workshop
Event Information
Location
Seminar Room, Building 188, Fellows Lane
The Australian National University
Acton, ACT 2601
Australia
Description
The official end of Martial Law in 1987 marked a significant moment in Taiwan's process of democratization and the consequent period of rapid change. Now, thirty years later, the 2016 transition in government from the Kuomintang (KMT) to the Democratic Progressive Party (DPP) can also be understood as signifying a transformation in social, political and cultural relationships. In the wake of sustained protests against the KMT over issues such as democratic process, economic development and political sovereignty, the Tsai Ing-wen led DPP achieved an unprecedented electoral margin to take office. Tsai's becoming President also reflected the emergence of alternative sites of power. Facilitated by new technologies and approaches to political practice, these forces remain active today; continuing to influence both the legislative agenda and quotidian life. In doing so, they have helped to bring about an official and grass-roots negotiation of concepts such as trauma, democracy and justice, within the context of Taiwan's history. Taiwan has entered a period where the very meaning and identity of the island are being renegotiated.

Schedule
Saturday 19 May
9:00-9:30am Welcome Remarks
9:30-10:30am Session One: Class and Labour Politics
Chair: Graeme Read, PhD Candidate, Australian Centre on China in the World, ANU
Ho Ming-sho, 'The Changing Pattern of Politics of Working Hours in Taiwan: From Labor Union to Youth'
10:30-11:00am Morning Tea (participants only)
11:00am-12:30pm Session Two: Contentious Politics in Taiwan's Democracy
Chair: Nicholas Horton, Honours Student, ANU College of Law and School of Regulation and Global Governance (Regnet), ANU
Brian Hioe, 'Lingering Social Movement Structures From the Wild Lily Movement to the Wild Strawberry Movement'
Rowena Ebsworth, 'Power and Resistance in Taiwan's Youth Politics'
12:00-1:30pm Lunch (participants only)
1:30-2:30pm Session Three: New Media and Civic Engagement
Chair: Rowena Ebsworth, PhD Candidate, Australian Centre on China in the World, ANU
Shiau Ching Wong, 'Hacking, Forking and Modding Practices of Civic Engagement: g0v and the Civic Technology Movement in Taiwan'
2:30-3:30pm Session Four: Cross-Strait Interactions
Chair: Chen Yu-Hua, PhD Candidate, School of Culture, History and Language, ANU
Ian Rowen, 'One China, Two Taiwans: Political and Cultural Change in the Context of Cross-Strait Tourism'
3:30-4:00pm Afternoon Tea (participants only)
4:00-5:00pm Session Five: Gender Rights and Civil Society
Chair: Benjamin Penny, Senior Research Fellow, Australian Centre on China in the World, ANU
Jennifer Lu, 'A New Phase of the Civil Society in Taiwan: A Marriage Equality Movement with Youth Participation'
6:00-7:15pm Keynote Lecture
Freddy Tshiong-tso Lim, 'Metal Politics: From Stage to Congress' (RSVP essential)
Sunday 20 May

9:30-10:30am Session Six: The Changing Meaning of the Martial Law Period
Chair: Scott Pacey, Assistant Professor in the School of Sociology and Social Policy, University of Nottingham
Mark Harrison, 'From Taiwan Storyland to the Defiers: Representing the Martial Law Period'
10:30-11:00am Morning Tea
11:00-12:30pm Session Seven: The Dynamics of Political Marginalisation
Chair: Rowena Ebsworth, PhD Candidate, Australian Centre on China in the World, ANU
Elisa Tamburo, 'Rescaling Futures: Planning, Horizons and the Politics of Urban Relocation in Taiwan'
Graeme Read, 'Reclaiming this Land of Taiwan: Music and Politics of Youth Independence'
This workshop is generously supported by Ministry of Education, Republic of China (Taiwan).

Cover image
Students' mass protest during 2014's Sunflower student movement in Taiwan
Credit: Artemas Liu
http://www.flickr.com/photos/north_blue
Date and time
Location
Seminar Room, Building 188, Fellows Lane
The Australian National University
Acton, ACT 2601
Australia