Description
People from culturally and linguistically diverse backgrounds are well represented in entry level and mid-level jobs in Australian business, yet they are significantly under-represented in leadership roles.
Join our panel of leaders as we talk through their leadership stories and develop a better understanding of how business and organisations can benefit from fully utilising the diverse skills of diverse people.
---
ON THE PANEL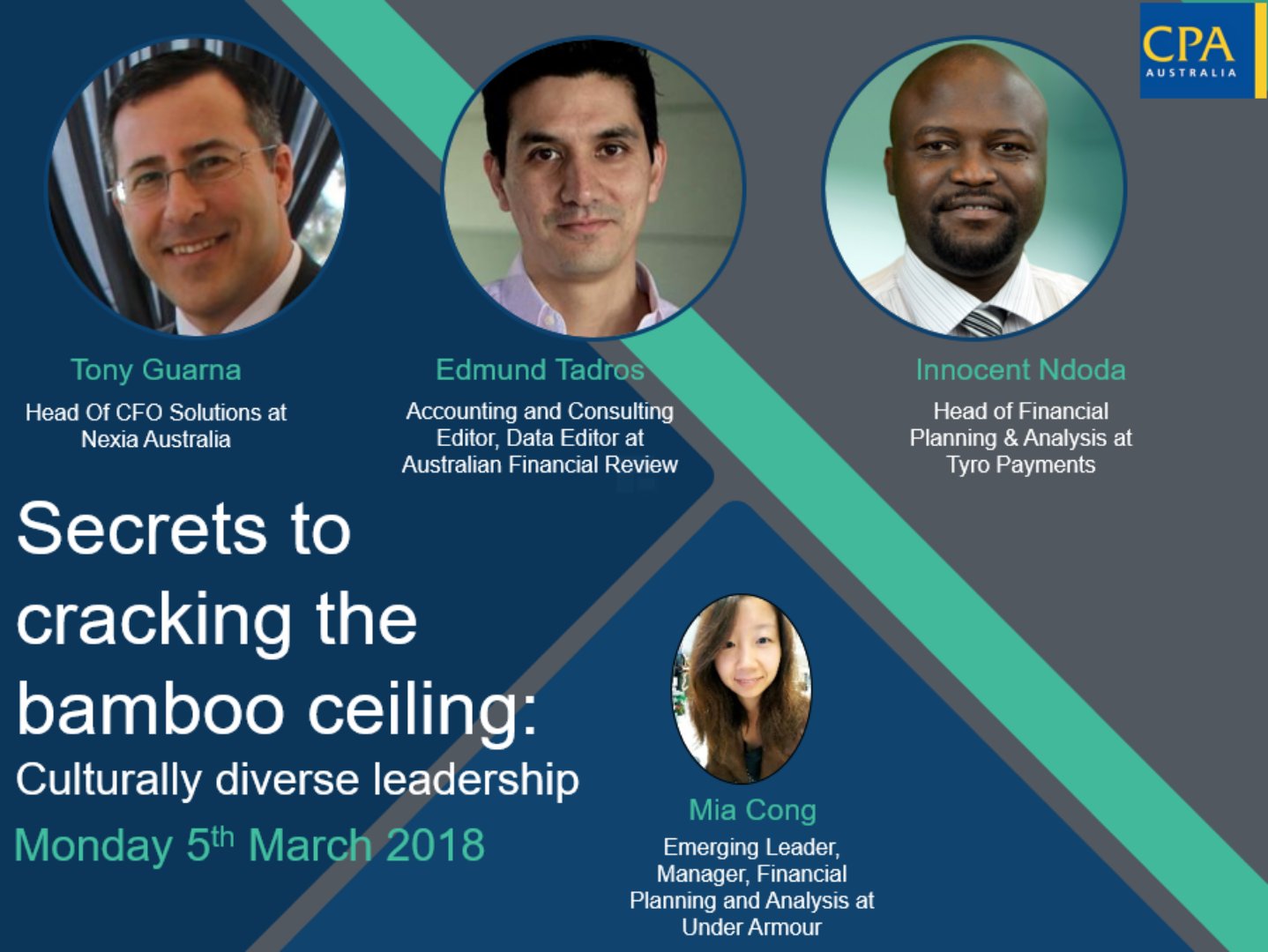 Edmund Tadros - Accounting and Consulting Editor, Data Editor, Australian Financial Review
Edmund is an award-winning journalist who covers accounting and consulting firms and is also the masthead's Data Editor for Australian Financial Review. His topics include how the firms operate, what it is like to work at the firms, the key players in the industry, the services the firms sell, what clients think and how clients use these firms. Here are two articles from Edmund's work.
"How Deloitte's Andy Lim operates in an Australian workplace"
"PwC splits with Deloitte, EY and KPMG on diversity targets"
Innocent Ndoda - Head of Financial Planning & Analysis at Tyro Payments
Innocent moved to Australia from Zimbabwe in 2006 at the ripe old age of 28, with the aim of enjoying the beaches of Sydney and moving back home after 2 years. Needless to say, he is yet to make the track back. He is passionate about working for companies that challenge the status quo, that operate in markets dominated by traditional, large companies. His goal is to help in the democratization of services that are usually reserved for the monied few. He has a growing interest in the emerging space of Fintech and believes that we are at the very cusp of reaching the previously unbanked billions of people in the 3rd world. His career has spurned from Deloitte, to Coffey International Ltd (where he was promoted to Group Reporting & Treasury Manager), to Nearmap Ltd (where he was promoted to Director – Financial Control) and now Tyro Payments, where he is currently the Head of FP&A. He has had experience in strategy formulation, financial control, financial planning & analysis, investor relations, treasury, tax, and has implemented a few systems along the way. He has two children and plays the occasional golf game whenever he can
Tony Guarna - Head of CFO Solutions, Nexia Australia
With over 15 years' experience in CFO / partnering roles, Tony is an accountant with personality. A leader that takes control of the entire financial, HR, and operational aspects of the business; researches and develops strategic plans and forecast modeling that deliver results; partners with CEO and business unit managers to drive sales and manage risks; technically proficient contract negotiator; mentors and challenges the finance team so they have direction, drive, and purpose
Mia Cong - Manager, Financial Planning and Analysis, Under Armour
Mia Cong is a passionate and driven professional who is always seeking out new opportunities and exciting challenges. She has over ten years' experience in all aspects of finance including accounting, tax services and FMCG along with retail and wholesale in both Australian and international companies. During working for an iconic Australia fashion company, she advanced from assistant accountant to team leader of six direct reports in three years. Moving on from this role Mia was picked as the first person in the finance team in the Australian office of international sportswear brand Under Armour, successfully building up policies and processes in all areas of finance enabling their retail expansion in Australia. Mia is currently serving as the Financial Planning and Analysis Manager for Under Armour Oceania and is dedicated to continuing driving the business forward. Outside her professional commitments Mia is also a respected leader with Toastmasters International, currently serving as the Chief Financial Officer for the Southern NSW and ACT district.
Prashant Rai - Finance Director, Objective Corporation Ltd, Panel Convener
Prashant commenced his career as a Cadet with KPMG at the age of 19. His first step away from chartered was in an Assistant Financial Controller with Starwood Pacific Hotels. He then transitioned from Hospitality into the Property and Infrastructure Consulting arm at Transfield Services Ltd.
By the age of 24, Prashant was leading a team of 12 as the 2IC to the CFO at a $100M ASX company. He has several years' experience in leading teams, successfully transforming finance functions and building long lasting alliances. He is currently the Finance Director at Objective Corporation and a Board Member at LEEP NGO.

Prashant's bio, in his own words:
"I strive to lead a best practice finance function, using a natural and genuine leadership style, with a passion for constant improvement"

His values: Respect, Empathy, Humility, Empowerment and always putting my team first.
"Everyone has a role within a team, and each and every contribution is absolutely critical to success. I love to inspire people to grow and become the best they can be. I have achieved this through a very positive mindset despite constant and challenging circumstances and encourage tolerance, particularly learning from mistakes."
"I have seen how diversity can become the strength of a team, and different perspectives, skills and personalities can create an amazing recipe for success. I feel highly satisfied when I am able to connect my team to work on something that is worthy of their time and talents."
"I believe in embracing change and always looking at ways to improve and learn new things. In this changing world, I still believe that it is important to plant the seed today to shape the future for tomorrow."
"Finally, I believe that true success is fostered around genuine relationships with the people you engage with. "
---
AGENDA:
6.15pm Prashant Introduction and Welcome
6.20pm Edmund: Diversity in leadership
6.30pm Tony: Uncovering the CFO myth…
6.40pm Panelist invited – Innocent, Mia, Edmund and Tony
Q&A Session
7.45pm Questions from Audience
8.00pm Close
---
Interested In Becoming a Registered Member?
Please register here:
http://www.cpawechat.org/register/