Event organised by the Student Representative Council of Torrens University Adelaide for celebrating cultural diversity on campus.
About this event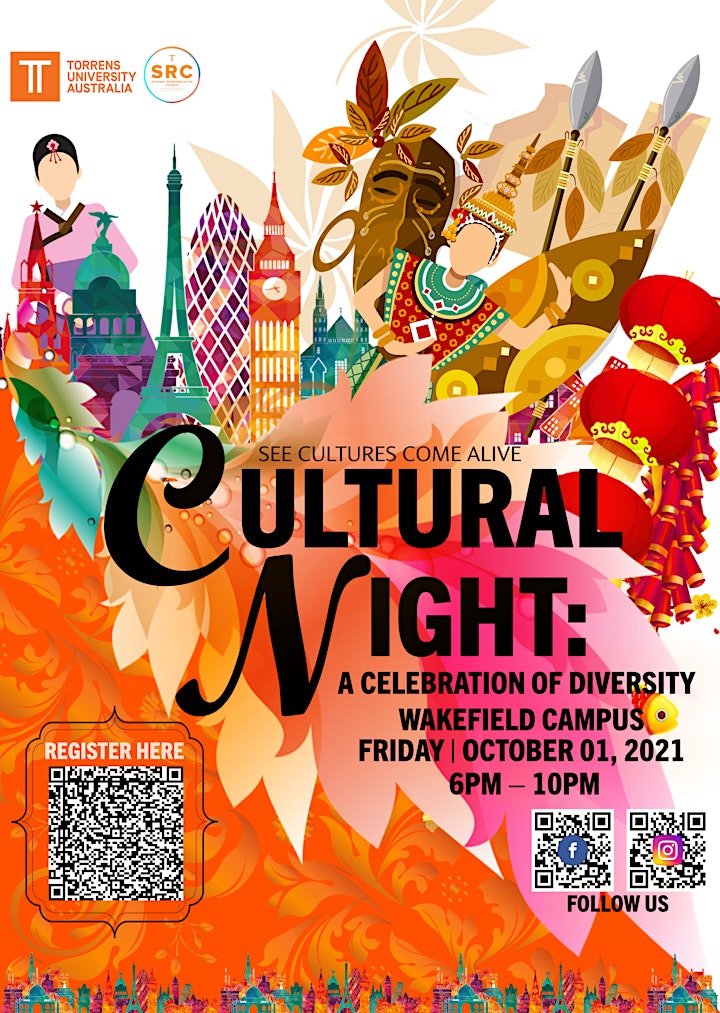 With well over 80% of the Torrens Wakefield Campus students being internationals, what better way to celebrate our diverse backgrounds and cultures than to come together on a special night like the cultural night!
The SRC team presents to you the best we have to offer with a multicultural and diverse team behind the initiation, planning, implementation, event execution, and closure of the event, you are in for a treat!
We have exciting and interactive activities planned for the night. Come and be immersed in a multicultural experience as you learn more about other cultures.
_____________________________________________________________________
Cultural Night 2021 - A Celebration of Diversity
Where: 88 Wakefield Street, Wakefield Campus
When: 18:00 - 22:00, 1st of October 2021
What: Come celebrate diversity with us and learn more about the different cultures we have at the Wakefield Campus. As always, we will be offering free food and drinks.
Students and staff are allowed to bring a plus one as long as they have registered prior.
Due to Covid-19 restrictions, proper arrangements will be set in place according to the current and latest updates. All attendees are required to complete a check-in process either Via QR code or manually.
All Participants are required to carry their Student ID / Staff ID.
During your visit to the event you are agreeing to the following:
Follow the safe-distancing rules (1.5 meters).
Maintain hygiene (Sanitising your hands before entry).
Please carry a student ID for verification of your booking. NO ID NO ENTRY.
All participants are required to scan the QR code when entering the premises.
Contact Tracing – In the event of a COVID positive case being identified, by law, we are required to share your personal information with SA Health for contact tracing.
If you or any family member or any of your close associates develop flu-like symptoms after your registration, please inform us immediately.
Wearing Masks is strongly recommended. Hand sanitiser will be provided on site.
We strongly recommend you follow SA Health's guidelines about COVID-19. Participation and visit to this event is entirely your responsibility. SRC Torrens Adelaide will not be liable or responsible or enter into any litigation concerning the health of visitors visiting this event.
SRC Torrens Adelaide reserves the right to update the Disclaimer.
At the time of registration, SRC Torrens Adelaide provided the most recent information available and the visitor/s accept that the content and/or the delivery of the event can change beyond the control of SRC Torrens Adelaide
SRC Torrens Adelaide cannot control all content published or disseminated at the event. You may find other delegates', or participants' communications, graphics, audio files or other information inappropriate, offensive, harmful, inaccurate, dishonest or misleading, and/or deceptive, however, you alone are solely responsible for your interaction with other delegates and agree to act responsibly and exercise caution, common sense, and safety while in attendance at the event.
Follow us on social media for updates:
Facebook: SRC Torrens Adelaide
Instagram: @src_torrens_adl
**If you have been asked to self-isolate, been in contact with someone who has COVID-19, returned from overseas, or have cold/flu-like symptoms, please follow the health regulations and stay home and keep isolating**
Organiser of CULTURAL NIGHT 2021 - A Celebration of Diversity