Event Information
Location
Visy Hub
80B Harvester Rd
Sunshine, VIC 3020
Australia
Description
Do you have an idea for a business but don't know what to do next?
Or maybe you'd like to own your own business but don't know what to do or how to start it.
Or maybe you have a business but need some help to understand your customers or how to make more money from it.
We're holding weekend hackathons in Dandenong, Broadmeadows and Sunshine to help you explore your ideas or develop your existing business.
You're welcome to come along to [Dandenong on 10-11 February] [Broadmeadows on 17-18 February] [Sunshine 24-25 February] or all of them! Just register for each one.
To register for Broadmeadows click below or click on Sunshine or Dandenong to register for those.
We'll let you know where the hackathons will be held closer to the date.
FREQUENTLY ASKED QUESTIONS
What does Cultov8 do?
Enterprising Partnerships has been funded by LaunchVic to hold a series of ten hackathons over 2 years for 300 1st generation (born overseas) young people aged 18-30 years.
What happens at a hackathon?
A hackathon is a once-off event which is run over one weekend.
Hackathons are where people with ideas for a business work in a room together to design solutions (hacks) for a certain issue. The idea could be in any industry – fashion, technology, hospitality, agricultural, medical, education. Our focus is helping you to use technology to assist your business idea to come to life. The ideas are up to you.
From Saturday morning until Sunday afternoon, you will meet other people, forms teams to work on an idea, be matched with professional business coaches (we call them Enterprise Facilitators) volunteer mentors, eat good food, have fun and pitch sessions where you tell other people about your idea.
The format for the hackathon will take you through every step of the process to come up with an idea and get it ready to become a business.
What happens next?
Ideas that come out of the hackathon can go into a twelve week accelerator program.
Teams or individuals involved in the Cultov8 accelerator will have free coaching by experienced entrepreneurs, free mentoring by experienced people involved in marketing, financial management, technology, branding and other services to help your business start up.
If you were born overseas and you already have a business but want some help with it, you are welcome to attend the Cultov8 accelerator.
What is an accelerator program? How long will it run for?
An accelerator program helps new businesses to get prepared for success.
Over 12 weeks our Cultov8 accelerator will work with teams from Cultov8 hackathons (and other hackathons) to consolidate and progress your idea/product or service to become attractive to further formal incubation, acceleration or investment.
The Cultov8 accelerator will provide Enterprise Facilitators, mentors, access to business networks, resources, knowledge and tools – all for free!
What commitment is required?
Hackathons
Each Cultov8 hackathon will be held from Saturday morning until Sunday afternoon.
You are able to come along if you are by yourself to form a team with others or if you are already part of a team and your team is made up of people who were born overseas, you are welcome to attend.
If you don't want to go ahead and run a business, you are still able to come to the hackathon.
They're fun and really interesting to be involved with as you'll learn how to come up with ideas, how to make sure your idea will have customers and how you can create a business from your idea. You will also learn skills such as how to develop a website or app.
If you want to turn your idea into a business, you can join the Cultov8 accelerator.
Accelerator
The Cultov8 accelerator will have a mix of online and face to face support with three full days over twelve weeks for teams to get together with their Enterprise Facilitator and other teams to learn more about running a business.
How much extra work is required?
The only work required for a hackathon is for you to attend! Over the weekend you'll form teams to work together on an idea.
Once the hackathon is over and you've decided that you want to turn your idea into a business, you will join the Cultov8 accelerator.
This accelerator will require you to attend an online webinar (meeting) for one hour once a week.
You will also be expected to attend three one day workshops which will be held on a Saturday from 9-5pm.
We know already when we will hold the Cultov8 accelerator Cultov8tion workshops so please contact us if you would like to know the dates.
If I complete this program where will it lead?
The hackathons are a weekend for coming up with ideas. If you decided you don't want to continue on to turn your idea into a business, then no further involvement is needed by you.
You will have had a great weekend, been well fed, met interesting people and learnt a range of new skills and ideas.
If you want to start or, if you were born overseas and want to continue a business you already have, you can join the Cultov8 accelerator program.
We want every team from the Cultov8 accelerator to be successful.
We will use our networks to help you, by the end of the 12 weeks, access longer term business incubator or accelerator programs.
If any of the teams are ready for investment into their business, we will also help you to find an investor.
Is there a financial commitment I need to make?
No. All hackathons and accelerator programs are free.
Can I catch public transport?
We are finalising our venues at the moment and, if you have registered, will let you know the location.
We expect that all our venues will be accessible by public transport.
The venue will also be accessible to people who are in wheelchairs or have walking frames.
What about food or places to worship?
All food will be halal and a range of dietary requirements such as vegetarian, vegan and gluten/dairy-free will be taken into account. We will have a prayer room available.
Is there adult supervision? Do they have credentials to work with young people?
Yes there is adult supervision. There will be at least 4 adults in the room at any time supervising participants.
As a parent or guardian, you are also welcome to attend at any time.
Although participants will be 18-30 years, all of the adults in the room have current Victorian Government Working with Children checks and are suitable to work with children.
Parents are always welcome to ring us on 0414 440 483 (Lynda).
What if I can't make a weekend?
You need to be able to attend the whole weekend hackathon from Saturday morning until Sunday afternoon so that you don't let your team mates down.
However, if you already have a business and you were born overseas, you are welcome to join the Cultov8 accelerator program from the first week.
For more information, please see www.cultov8.com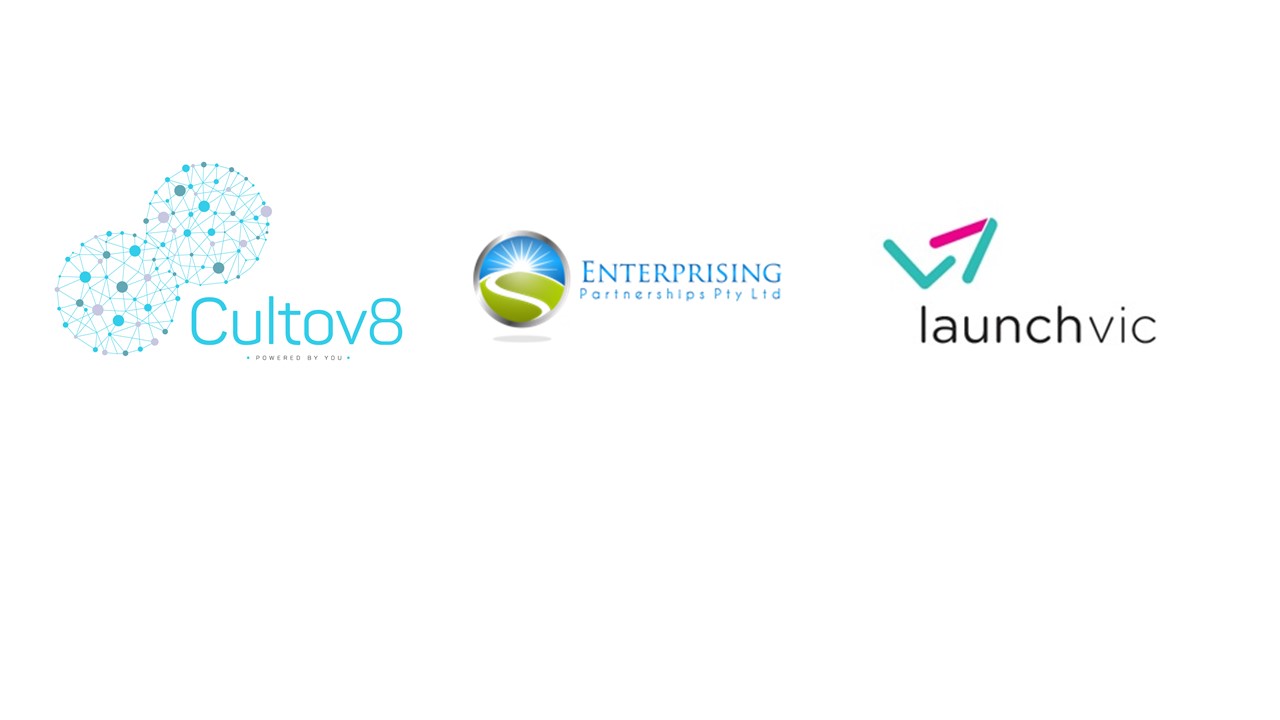 Date and time
Location
Visy Hub
80B Harvester Rd
Sunshine, VIC 3020
Australia