Cultivating a Leadership Mindset in Teenage Girls
About this Event
No Limits Consulting Pty. Ltd.
Presents: The Limited Edition Leadership Academy®
About this Seminar:
Positive academic outcomes depend on emotional strength. Emotions can make or break a student's academic achievement, work ethic, commitment and ultimately their success at school and in turn how they cope with life beyond school. Did you know creating a leadership mindset can foster and deepen that emotional strength to ride any wave?
Do you have a teenage girl who's gifted, talented and wants to make a mark in the world her own way?
There's many challenges that Globalisation, AI, Technology and the Gig Economy has placed on the future of work which has made it uncertain for our kids.
Is your daughter's school preparing her to join tomorrow's workforce?
Do you want to future proof your daughter's professional and personal life for success?
If you think that only optimising an ATAR mark is the pathway to success then think again. Employers are looking for our next generation to be self-driven leaders.
If you think sending your daughter to a Private School is the pathway to success then think again. Did you know that 1 in 3 students drop out of uni in their first year of those that attended Private School? It's not because they lack academic abilities, its the fact that they need to develop a "Leadership Mindset".
If you're school hasn't got a "Leadership/Entrepreneurship Program" as an option within their school curriculum/co-curricular activities then you're daughter is already behind.
If you're daughter is passionate about a STEMM career then this Seminar is a must for any dedicated parent and aspiring girl. I guarantee that the girls that attend my seminars are the few that I see will go the extra mile to become successful. Success doesn't happen over night, it comes with a certain attitude. That attitude is doing what 98% of others won't do.
Who this workshop is this for:
Parents - Who Place strong importance on the belief that "Education Brings Opportunities".
Want to Invest in their Daughter's Future Potential.
You want your daughter to have an advantage over others.
Want to foster confidence, courage and certainty to thrive against external influences (eg.bullying).
They want their daughters to reach their highest potentials sooner.
They want their daughters to be the leader of their own lives rather than being led by others.
They want to Instill a strong sense of "self-belief" and "self-love" that "what they believe, they can achieve".
Students – Consider Leadership Skills to be crucial to their Personal and Professional Development.
Want to have an advantage over other students to fast track their studies and career success.
Want to be recognised as having completed a Leadership Program as part of their co-curricular activities for Tertiary Submissions and/or future Employers.
Want to lead in their own unique way!
High Achievers that want more control over their Stress/Anxiety Levels to increase academic performance.
Quiet Achievers that want to bring out their Confidence.
Consider Lifelong Learning part of their plans.
Want to Thrive in the REAL WORLD.
What you will learn:
Why Leadership is the new Skill Tertiary Institutions and Employers are looking for in tomorrow's market.
What are the current challenges women are facing in the workplace today.
What are the 5 Steps to mitigate those challenges in your teenage daughter.
Benchmark yourself against the 5 Steps to becoming a Limited Edition Leader.
Schedule of Events:
6:00 - 6:15pm Arrival (Meet and Introductions)
6:15-7:15pm Main Topic: "Cultivating a Leadership Mindset in teenage girls" - Paula Dunn CEO & Founder, No Limits Consulting
7:15 - 7:30pm Q&A, Lucky Door Prizes & Event Close (Discussions)
Testimonials:
"I wanted to say thank you for the seminar last night. My 14 year old daughter, Anna, thought it was fantastic, and of great value to her. We had a great discussion over dinner afterwards about the nature of leadership, and how important it is – particularly for women.
Anna is really keen to have you visit her school and do a session with her classmates. After your talk she recognises that even if you don't want to be a leader in the traditional sense of the word, ie a 'boss', that leadership skills are something every young girl should develop and have on board to make the most of the opportunities they have in their life. Thanks again for sharing your knowledge and insights with my daughter. It was one of those learning moments that I don't think she will ever forget. "
Jo-Anne- Parent, Year 8 Randwick Girls High School (Gifted Class)
"For anyone looking to develop their self-confidence in their own way, Paula has helped me understand who I am, what I am passionate about and how to use my gifts to make a difference in this world, my way! Paula always told me that "I am my only limit" so whenever I feel scared about something, I make sure that I work through those fears with the tools that Paula showed me, so I know whether they are real or not. My old thinking would stop me from being my best self and to worry about what everyone else was doing, but now I know how to change my patterns. I'm now at UNSW studying Bachelor of International Studies/Law and loving the choices I've made" - Alison, 18 years old ex-client, Double Bay, NSW.
What you need to bring:
Eventbrite Ticket.
Pen and Note Pad.
Business Cards (if applicable) - For lucky door prizes.
Themes: Self-Driven Leadership, High School, Career Counselling, Women's Equality, Self-Development, Anti-Bullying, Diversity & Inclusion.
FAQs
Are there ID or minimum age requirements to enter the event?
Seminar is focused on Parents and Students aged around 15 years and over. Maturity Level required, however, at discretion of Parent. - Strong Themes - Bullying, suicide stats and how the real world operates.
What can I bring into the event?
Water bottles & snacks
Pen and Notepad
How can I contact the organiser with any questions?
Any questions please email Paula Dunn on paula@nolimitsconsulting.com.au or call 0411 836 242
Do I have to bring my printed ticket to the event?
Yes. Entry into the event will require proof of purchase. No Walk-Ins.
Is it ok if the name on my ticket or registration doesn't match the person who attends?
No. Unless previously requested in advance. Email: paula@nolimitsconsulting.com.au for permission.
Please note, there may be some photography and some filming of the presentation on the night. Any issues about this please inform Paula Dunn at time of entry. Thank you.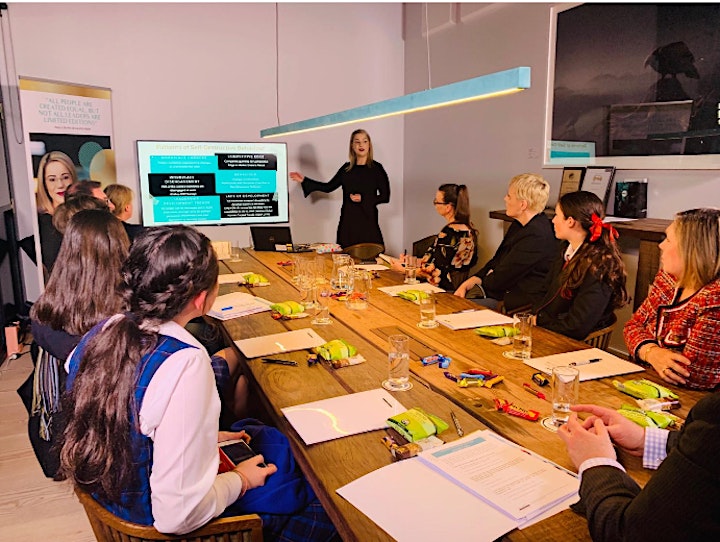 Date and Time
Location
Work Club Sydney Barangaroo
201 Kent Street
#Suite 6.01, Street Level
Sydney, NSW 2000
Australia
Refund Policy