Event Information
Location
LB3.323
LB Building (VMP BL 3 39324)
Burwood Campus, Deakin University
Australia
Description
CSaRO seminar: Corporate Political Sustainability Leadership with Associate Professor Ben Neville
Corporations appear to be increasingly speaking out on sustainability issues, attempting to influence public policy and initiate action. Examples of this phenomenon include the open letter by Business Backs Low-Carbon USA and Climate Action 100+ on climate change, public statements against President Trump's position on immigration and racism, and in support (or against) same sex marriage. This corporate political sustainability leadership (CPSL) is usually justified through business interest and as a response to perceived government failing. This working paper first begins by attempting to define CPSL and establishing it as distinct from similar concepts. Second, it seeks to provide a strategic framework for understanding the boundary conditions for managing CPSL, helping corporations determine whether they should lead or not. Third, while government is accountable for its political leadership through the democratic electoral process, corporations are not. This paper thus concludes by seeking to identify mechanisms for governing the 'democratic gap' of CPSL.

A light lunch will be provided.
Waterfront staff are invited to attend via VMP: BL 3 39324


Presenter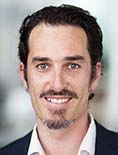 Ben Neville is an Associate Professor in the Department of Management & Marketing at the University of Melbourne. He teaches and researches broadly in the areas of corporate social responsibility, sustainable business, business ethics and ethical consumption, addressing these areas from ethical, strategic and critical perspectives. Ben is a Section Editor (Corporate Responsibility: Theory and Qualitative) at the Journal of Business Ethics and is an Editorial Board member of Business & Society. Ben is also the Director of the Asia Pacific Social Impact Centre at the University of Melbourne, Chair of the University's Fair Trade Steering Committee, and a member of the Executive Committee of the Melbourne Sustainable Society Institute.
Date and Time
Location
LB3.323
LB Building (VMP BL 3 39324)
Burwood Campus, Deakin University
Australia