Description
Crystal Therapy Workshop
Presented by Loretta Carraro, Reiki Master + Certified Crystal Practitioner at Nourished Energy


---

This 3 hour workshop has been developed to encourage you to feel more comfortable buying, selecting and using crystals for personal use or when buying gifts for others.

This workshop is perfect for those who may already have crystals and want to learn more, as well as for those who don't own any crystals but have been very interested in knowing more about them, but not sure where to start!
What we'll be covering at our Crystal Therapy workshop:

What is a crystal

How do crystals work

Metaphysical properties

Energy healing

How to choose a crystal

Learning to use your intuition

Crystals and Chakras

Where to buy crystals (and tell the difference between fake and real)

How to use crystals

Healing

Meditation

Protection

Manifesting

Feng Shui

Crystal gridding and sacred geometry

Creating a sacred space

How to care for your crystals

Top 10 crystals everyone should have


---
About Loretta Carraro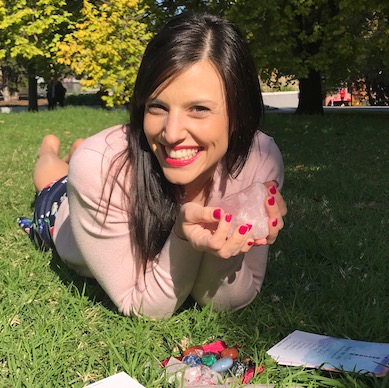 On the surface, Loretta looked like she was doing a superb job at juggling the demands of being a corporate professional, partner, mother, daughter, sister and friend. But what was missing from this equation was her own self-care and nourishment.
It was her own journey that was the genesis for Nourished Energy - a soul nourishing hub to empower and inspire women to live a fulfilling and meaningful life.
Loretta's philosophy is centred around working with clients to dig deep and extract the essence of who the person is, and then bringing that in the world. Put simply, she believes we do not need healing because we are broken, but to reveal the shining star we truly are.
Loretta doesn't have a one-size fits all approach or one modality that she deploys with her clients. Her corporate coaching and change management experience, wellness coaching, Reiki Master and Certified Crystal Practitioner all come into play to create a bespoke program that works for the individual.
Put simply, Loretta helps women reconnect with who they are and helps them navigate getting what they want in a safe and nourishing environment.


---
What's included
You'll receive a workbook, a small crystal grid and nourishing snacks and refreshments.

Crystals will be available to purchase on the day.


---
Are you a Nourish Melbourne Member? Click here to view your member price redemption code. Not a Nourish Melbourne Member and want to know more about saving on all things wellness in Melbourne, including member only prices to our events? Click here for details.