Crucial Conversations: Crucial Accountabilities with Geoff Flemming
Description
In 1990, the company's founders created an innovative and remarkably effective approach to influencing profound, rapid and sustainable change in behaviour. Combined with breakthrough training techniques, VitalSmarts produces dramatic improvements in productivity, safety and morale for organizations.
VitalSmarts teach leaders and managers two skillsets:
1. How to speak and up – hold difficult conversations that we tend to either avoid or hold badly. The art of being very candid yet respectful and compassionate.
2. How to hold people accountable in a way that has the person understand and fix the problem – not feel like they have been made the problem.
Geoff will introduce us to the principles and skills that enable each of us to hold that tough conversation we don't want to have and to understand how to hold others to account. Having introduced these principles and skills we will then have the chance to apply them in practice, and have a Q & A about these techniques.
OUR GUEST: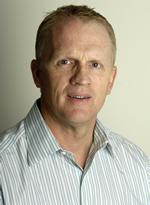 Geoff Flemming is the General Manager of VitalSmarts Australia /New Zealand. He and his team are currently helping organisations in every industry, including government and healthcare, to improve their performances through sustainable behaviour changes and critical cultural shifts. Geoff brings more than twenty years of experience in leadership development and performance improvement to the VitalSmarts global team. Specialising in building high performing leaders, Geoff and the VSANZ team help individuals, teams and organisations increase their effectiveness and generate great bottom line results. Geoff is a Master Certified Trainer in Crucial Conversations and a Certified Trainer in Crucial Accountability and Influencer Training.
VitalSmarts is an international business and operates under license in 40 countries around the world. Locally Geoff is responsible for Australia/NZ to distribute / deliver training products including their flagship 'Crucial Conversations'. VitalSmarts training is based upon their New York Times bestselling books Crucial Conversations, Influencer, Crucial Accountability and Change Anything.