Description
If you're keen to start a crime novel or are part way through a manuscript and need help to finish, this interactive course is ideal for you. It will combine input with practical writing exercises to help you learn the elements of a thrilling crime read. It will consider the essential ingredients in crime fiction (premise, character, setting, plot and pace), and provide tips on how to push through blockages and problem passages. While this course is focused on crime fiction much of it will be relevant to those writing in other popular genres.
Learning outcomes
How to develop convincing characters

How to plot and structure your story

How to make use of setting to enhance your story

How to improve the pace of your story and build suspense

How to push through blockages and finish your novel
Andrew Nette is the author of two-crime novels, Ghost Money and Gunshine State. Ghost Money was shortlisted in the 2010 Victorian Premier's Literary Awards in the category of 'Unpublished Manuscript by an Emerging Victorian Writer'. His short fiction has appeared in a number of print and on-line publications, including the anthologies, Phnom Penh Noir, Crime Scenes and The Obama Conspiracy: Fifteen Stories of Conspiracy Noir, the later of which is out via Three Rooms Press in October 2017. His online home is www.pulpcurry.com. You can find him on Twitter at @Pulpcurry.
This Gippsland Writers Group event has been made possible by Writers Victoria and the Grace Marion Wilson Trust, as well as through the support of the East Gippsland Shire.
---
Please consider becoming a member of the Gippsland Writers Group. Your membership fee enables the group to deliver more writing events in the Gippsland region. To join and for more information, email gippslandwritersgroup@gmail.com.
---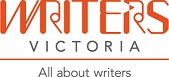 ---