8 sectors with 20 leading investors from around the globe. Your platform to discover the opportunity in the crisis.
About this event
During our Venture Investment Summit you will learn from the perspectives of leading investors in the global venture investment community.
As an investor, you make investments off the back of your thesis. You approach sectors, niches, and target opportunities relevant to your background, knowledge, experience, and networks. So when an event happens, which re-writes the playbook, you as an investor, are immediately aware of two things. There will be losers, and there will be winners.
They'll share with you the facts about their methods, insights on their investment criteria, and how they've overcome their challenges. You will learn how they are approaching the current situation and what types of companies they are looking for in the world post-coronavirus.
WHAT YOU WILL LEARN AS AN INVESTOR
Learn the perspective of other investors
How leading investors are protecting their downside, managing their troubled investments, supporting founders, and discovering the next star performers
What is an investor's thesis for the world post-coronavirus, and what moves they are making now to capitalise
WHAT YOU WILL LEARN AS A FOUNDER
What investors seek and how they support the companies they've invested into
Into which sectors and segments investors are looking to invest
How you can set yourself up for success in the post-coronavirus world
Tips on how other CEOs are managing the situation to survive or thrive
* PANEL SESSION *
Investment Trends and Themes During and Post COVID-19
Who should attend?
Sophisticated, Accredited Investors and HNW Investor
Funds managers
Professional Investors, Family Offices, Angels
Government
Corporate Finance and Industry Participants
Please see below for the speakers: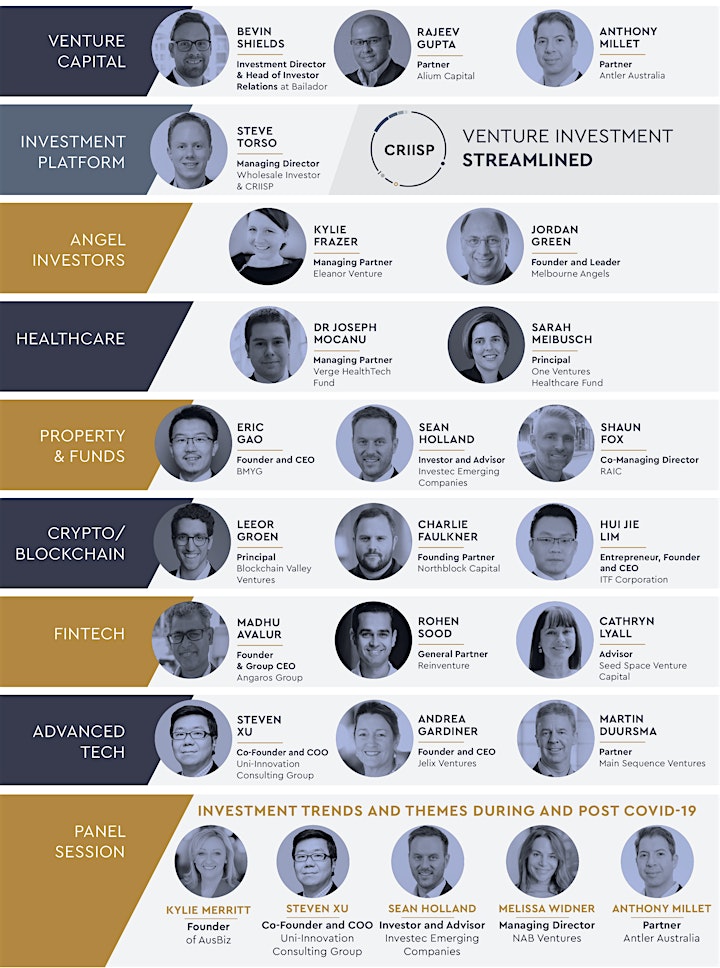 Organiser of CRIISP Venture Investment Summit
Wholesale Investor is the world's leading investment platform that connects innovative, emerging companies that are looking to raise capital with our active, engaged and growing ecosystem of over 31,000 high-net-worth investors, fund managers, family offices, PE and VC firms, government bodies, and international investors.
Follow us as we deliver the best in investment and deal making content and emerging growth companies to your part of the globe