Creativity Workshop: You've Got This

Wednesday, 16 September 2015 from 6:00 pm to 8:30 pm (AEST)
Event Details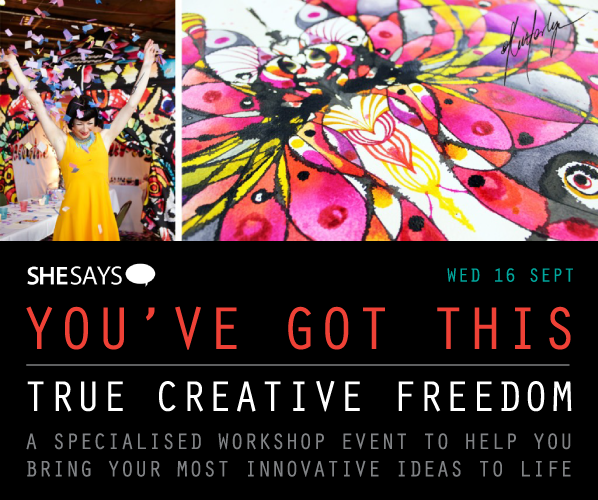 I've got what?
As women today it's easy to get caught up in the demands of the world and what it expects of you, and not realise how out of touch we are with that special something only we can deliver. So often we're told "You've got this", but what is it exactly that you've got?
In a first time collaboration with Artist Flutter Lyon, SheSays Sydney invite you to rekindle your sense of play in a specialised innovation and creativity workshop. This experience will be hands-on, magical, and completely unique, (not to mention fabulously fun).
No matter which side of the creative workforce you sit on: Creative genius, Client whisperer, Marketing star, Design whiz, Media guru or Master of all trades, this workshop will remind you how to draw from your own perceptions and experiences in order to colour your projects with authenticity, and to create from a deeper human perspective.
What can I expect?
You will be greeted upon arrival at 6:00 pm with a welcome drink. Our intro's will kick off from 6:15 pm so that we can get you stuck into the workshop at 6:30 pm.
We will be charging for tickets to cover the cost for materials.
This is an exception to the rule where all of our events are free for all.
Please note that tickets are strictly limited to just over 40 participants. If you miss out this time, you can contact Flutter Lyon to ask about organising a workshop in your workplace.
To give you a taste for the workshop and see Flutter in action watch this video
Our Artist
Flutter Lyon is an Australian contemporary artist who helps people see themselves. She is interested in the intersection between our personal, artistic and professional lives.
Flutter creates Ink-Pressings, hosts Personal Pressing Sessions and designs workshops that help you explore just that.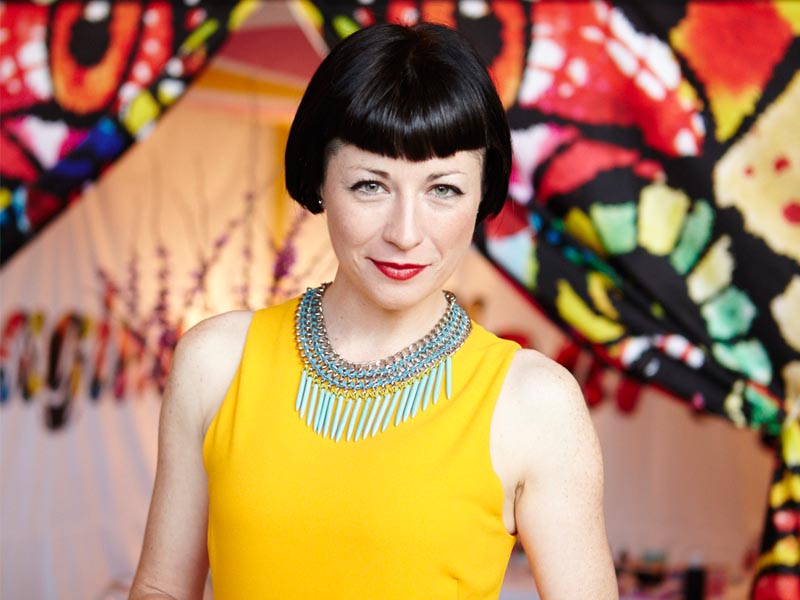 Flutter Lyon (Founder & Creative Director at Flutter Lyon)
Learn more about Flutter and her work:
Website // Facebook // Instagram // Twitter
We'd love to say a big thank you to...
Adobe, our sponsor
Adobe is the global leader in digital marketing and digital media solutions. Our tools and services allow our customers to create groundbreaking digital content, deploy it across media and devices, measure and optimize it over time, and achieve greater business success. We help our customers make, manage, measure, and monetize their content across every channel and screen.
Leo Burnett Sydney, our venue
Here are a few words from Sarah Palmer, Head of Talent Management:
Whatever we do, we strive to do with maximum impact. We believe ideas with impact will not only increase our clients' bottom line, they can also change the world.
As a boutique multinational, our positioning is unique because we walk like an independent with the backing of a helpful sophisticated global network. It's the best of both worlds, where our clients don't have to compromise on creative agility for scale and world-class expertise. We are a fully integrated multi-speed company covering all services including digital, social, shopper, design, content and strategy.
How we treat our people also has a direct impact on our clients and their results. Our goal is to attract the best talent in the industry and keep them. Our staff turnover is less than 1/3rd of the industry average. To do that, we are focused on three key priorities: PEOPLE. PRODUCT. PROFIT (in that order).
Tanqueray, our aperitif sponsor
Tanqueray London Dry Gin combines a rich, full flavour and bold, layered taste, crafted from a complex combination of only the best botanicals (juniper, peppery coriander, aromatic angelica root and liquorice), which have been selected and distilled to deliver an elegant and beautifully balanced premium gin since 1830.
Paula Vaz, our host
SheSays Sydney core team member has been working behind the scenes to organise this event. It's been her inspiration from day one of 2015 to give women the opportunity to play and rekindle that something special about us all.
We look forward to seeing you there!
Keep in touch
Sign up to get our monthly email and get the latest news, invites and inspiration:
shesays.sydney@gmail.com
When & Where

Leo Burnett
Ground Floor
26 Hickson Road
Millers Point, NSW 2000
Australia

Wednesday, 16 September 2015 from 6:00 pm to 8:30 pm (AEST)
Add to my calendar