Description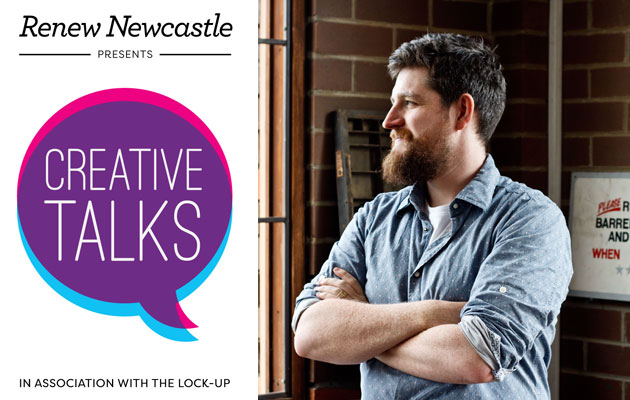 Renew Newcastle, in association with The Lock-Up, is excited to announce that Simon Hipgrave will join us for Creative Talks on Friday 02 October 2015.
ABOUT SIMON HIPGRAVE
Simon Hipgrave founded The Hungry Workshop, a combined design and letterpress studio. Their offering of design and letterpress means they're communicators that understand production, and printmakers that understand communication. Both areas positively impact and influence each other, bringing a deeper understanding of their clients' objectives to whichever task we apply our skills to.
The Hungry Workshop's focus on the craft of design and their creative approach to letterpress printing gives their work a unique aesthetic. All of which is underpinned by unwavering attention to detail, combined with strategic thinking.
WHEN

Friday 02 October, 2015.
8.30am breakfast and registration
9.00am talk by Simon Hipgrave
WHERE
The Lock-Up, 90 Hunter St, Newcastle.
COST
$5 per person, includes pastry, fruit and hot drinks and good company.
ABOUT CREATIVE TALKS

Renew Newcastle presents Creative Talks, a series of breakfast lectures by people who are making a living from their creativity. Taking place on a Friday morning each month a well-regarded creative will be invited to speak for 20 minutes about the lessons they have learned growing their creativity into a commercial success. This is followed by an audience Q&A and the opportunity to mingle with local creatives from a wide range of backgrounds, over a stand-up breakfast.
Meet, greet and eat at Creative Talks.
HOST & SPONSORS
Creative Talks is kindly hosted by The Lock-Up.
Breakfast is generously sponsored by The Newcastle Herald.
Creative Talks is made possible by the generous support of Newcastle City Council.
PAST TALKS
View past Creative Talks with speakers such as Ghostpatrol, Tess McCabe and Lucas Grogan here.
Organiser of Creative Talks with Simon Hipgrave
Renew Newcastle was founded in 2008 to find short and medium term uses for buildings in Newcastle's CBD that are currently vacant, disused or awaiting redevelopment, to bring activity and life to the city. 

These empty spaces have created a series of flow on effects related to reduction in crime, graffiti, vandalism and a decline in general amenity of the CBD. While long term prospects for the redevelopment of the CBD are good, in the meantime many sites are boarded up, falling apart, vandalised or decaying because there are no short term use for them and no one taking responsibility for them. 

Renew Newcastle seeks opportunities for creative people to innovate, test, develop and transform their enterprises and to activate and maintain these buildings until they become commercially viable or are redeveloped.

Renew Newcastle is not set up to manage long term uses, own properties or permanently devleop sites but to generate activity in buildings until that future long term activity happens.