The panel asks how can different creative practises and mediums offer epistemological alternatives to dominant understandings of disasters?
About this event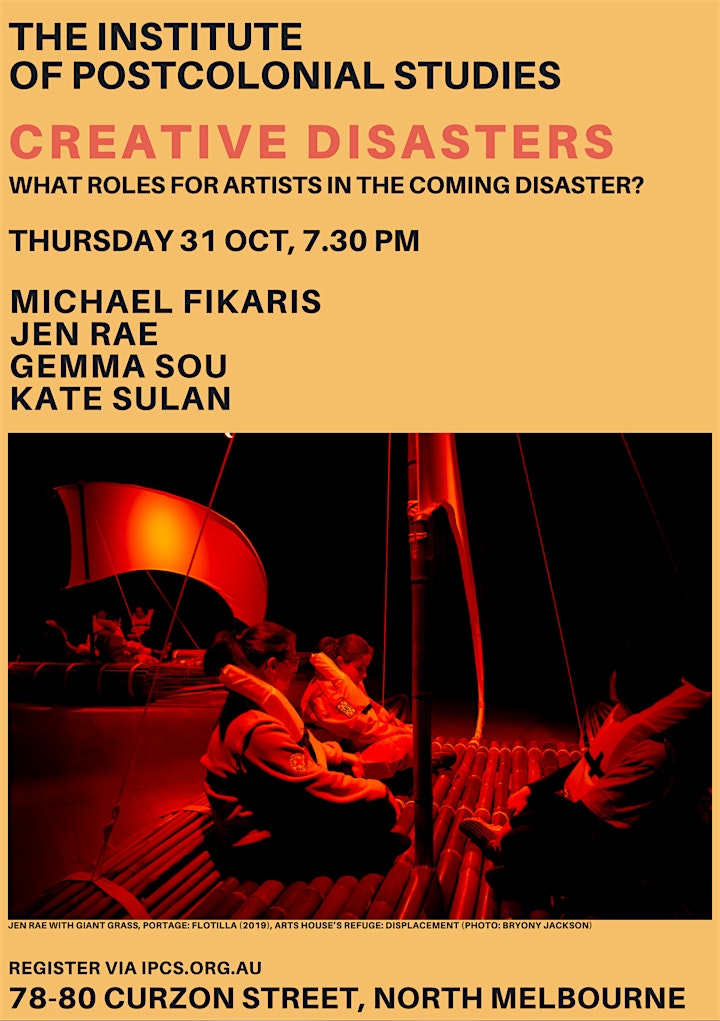 Creative Disasters
What roles for artists in the coming disaster?
The number of "natural" disasters are increasing globally. Yet, disaster research is often trapped in a reductive paradigm couched in paternalistic and technocratic language of "solutions", which are complicit with exclusionary approaches that re-entrench the very processes that exacerbate pre-disaster vulnerability. In addition, much of this research as well as mainstream media continue rely on colonial narratives that infantilize, dehumanize, and strip disaster-affected people of their identities.
The panel asks how can different creative practises and mediums offer epistemological alternatives to the dominant rhetorics through which disasters are framed, providing new vocabularies and imaginations for talking about the relationship between catastrophic events, histories, and processes of recovery. How might the arts help us to access alternative perspectives and human-centred understandings of disasters, which might provide spaces for disaster-affected people to exercise their political agency and voice to construct counter narratives to dominant discourses? The speakers will draw on their experience working with video games, graphic illustration, theatre, drawings and animation.
Michael Fikaris is a multi-disciplinary artist whose career has spanned nearly 20 years. As a freelance comic artist he has illustrated research projects for other people and worked locally and internationally with groups such as Refugee Art Project, Animatism Art and Polyglot. As a community driven project leader, Fikaris has been publishing comic artist anthologies since 2002 under the name Silent Army comic collective and in 2017 was awarded the Platinum Ledger Award for outstanding service to Australian comics.
Jen Rae is a Narrm (Melbourne)-based artist-researcher of Canadian Métis-Scottish descent. Her 15-year practice-led research expertise is in the discursive field of contemporary environmental art and arts-based environmental communication. It is centered around cultural responses to climate change, specifically the role of artists. Her work is engaged in discourses around food in/security, disaster preparedness and speculative futures predominantly articulated through multi-platform creative projects, transdisciplinary collaborative methodologies, and community alliances. Jen is the Director and Creative Lead of Fair Share Fare – where art, performance, disaster preparedness and cookery collide into positive disruption. Jen is a board member of the Australian Creative Recovery Network and the International Environmental Communication Association. She has lectured at the post-graduate level in socially-engaged art and performance at the University of Melbourne and Deakin University. (Photo credit – headshot by Emma Byrnes)
Gemma Sou is a development geographer based in the Humanitarian and Conflict Response Institute at the University of Manchester. She researches the everyday lived experiences of disaster-affected people – principally in the Caribbean, and the micropolitics of international development partnerships in postcolonial societies. She considers how these experiences can be communicated to the public in engaging, thoughtful and socially responsible ways. She just published a graphic novella ('After Maria: Everyday recovery from disaster), based on research about family recovery after Hurricane Irma in Puerto Rico.
Kate Sulan is a performance maker, director, dramaturge and facilitator. Kate is the founding Artistic Director of Rawcus an award winning theatre company comprised of an ensemble of 15 performers with and without disability. Kate is one of the artists working on the five year Refuge project at Arts House. Refuge explores the role of artists and cultural institutions in times of climate catastrophe, bringing together emergency management, artists, the community and local, regional and international partners. Kate has also collaborated with Back to Back Theatre over many years as co devisor, dramaturge and director. She has a passion for working with non-trained artists and fostering conversations between sectors. Kate's work embraces complexity and diversity and is underpinned by the desire to fuel dreams, accumulate questions, slow down time, invite reflection, challenge what is possible and celebrate humanity.