Creative Conservation and Conservation Cafe Double Feature: Drawn from
Description
Are you interested in the conservation of the Earth's biological diversity?
Interested in learning some or honing your artistic skills?
This month we are presenting a double feature Creative Conservation + Conservation Cafe and brings together our pre-existing art workshop series, and our talks from conservation professionals.
Conservation Café is a monthly event hosted by the Sydney Society for Conservation Biology to celebrate and learn about the incredible work being done by our region's conservation professionals and volunteers over a cup of coffee and a chat. Monthly guests will include a wide range of people interested in the conservation and study of biological diversity: resource managers, educators, government and private agencies, and students.
Workshop series "Creative Conservation" brings together the arts and the sciences by choosing a local artist and a natural theme.

Complimentary tea, coffee and snacks provided by Sydney-SCB with re-usable cups available for purchase towards our conservation projects.
Patrick Shirvington - DRAWN from
This September Patrick Shirvington will tell us about his work and how the arts can help us to connect with nature and conservation, then he will take us on an artistic journey of our own.
Patrick Shirvington is a practicing visual artist and member of The Drawing Research Network (DRN) UK, investigating his relationship to the natural world through drawing. Recently completing a Masters of Cross-Disciplinary Art and Design at UNSW; Patrick's main area of study is the nexus between art and the natural world, believing the process of drawing is fundamental to the cognitive process opening doors to the unseen. He has recently presented at the Second National EcoArts Australis conference and Drawing International Brisbane Symposium, Queensland College of Art (QCA). Through current research it is understood that drawing is a visible outline of intangible thoughts and as such allows us to play with these thoughts independent of the thinking brain. He believes this process can guide us on a new journey, enhancing knowledge and creatively visualising further enquiry. Patrick will present his findings and take us through some practical examples before engaging us in a drawing workshop.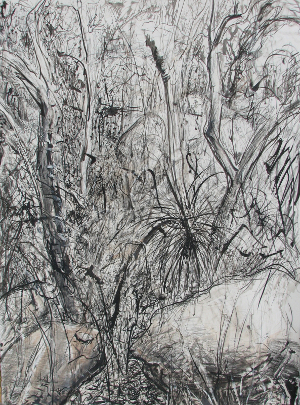 There is a maximum class size of 20, so get your tickets quick!
Price: Students $20, Non-students $35

All event profits will go to our local conservation projects.
Recommended Materials:
- 4B Pencil (Ideally Progresso brand)
- A3 visual diary
You can find more about Patrick at his website. Patrick's work has been selected in the Adelaide Perry Drawing Prize, the Archibald Prize, the Kedumba Drawing Award, Hazelhurst Works On Paper Award, Hutchins Art Prize Tasmania, Fleurieu Biennale Landscape Prize. His work is held in permanent collections with Macquarie University, Kedumba Drawing Collection, Hawkesbury Regional Gallery, Edogowa Museum Osaka, Japan and Arthur Boyd's Bundanon Collection. Patrick's work is represented in Sydney by Art Atrium Gallery, Bondi and is currently working on a children,s book with Dr Gordon Winch, one of Australia's best loved children's authors, looking at hidden species in the Australian environment.