Description
Your personalised wellbeing and mindfulness coach for less than $40 a week!
A unique group wellness program for inspired women who are ready to go beyond green smoothies and develop their own personalised roadmap to wellbeing.
Includes:
- 4 x 90 Minute Practical Group Coaching Sessions
- 1 x 30 Minute Individual Phone Coaching Session
- Coffee & Cake when we meet
- A Roadmap Workbook and Worksheets
- Email Support for the duration of the program
- Practical tools and tips to reduce stress based on mindfulness and yoga
- A gift bag full of goodies to help you on your way!
Wouldn't it be amazeballs to have your own unique plan to getting more energy, health and inspiration? One that cuts through the overwhelm and gives you clarity on what activities will help YOU start feeling more energized and inspired? One that helps you escape the stress cycle? One that goes beyond diet and exercise and focuses on the root cause of your problems? One that motivates you rather than makes you feel guilty?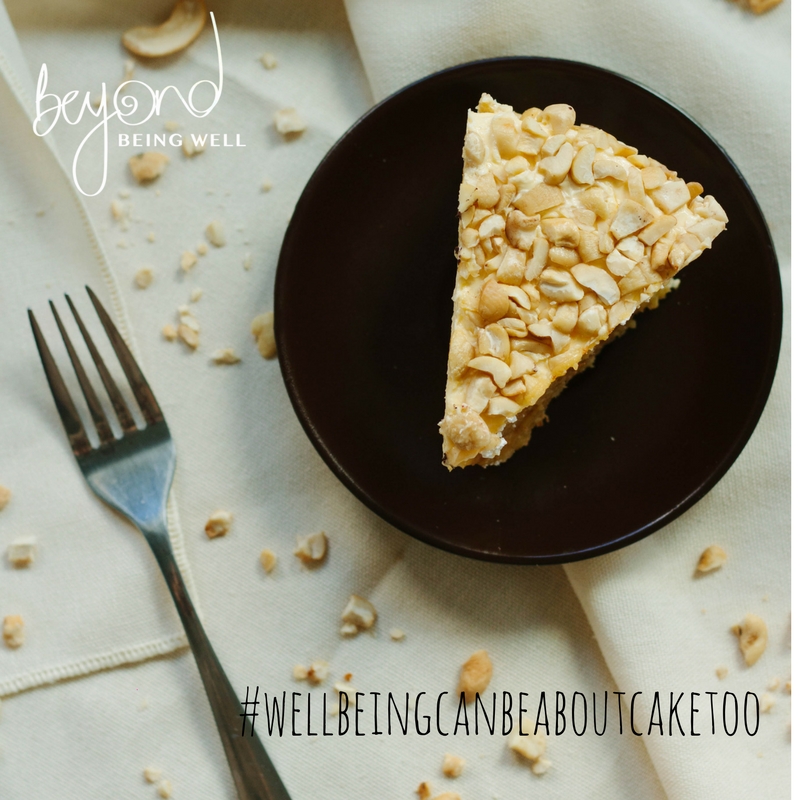 Join this beautiful 5 week coaching program for women who are ready to bid farewell to feeling sick, stuck, disconnected or overwhelmed. We'll meet every week for COFFEE & CAKE and together, we'll develop your own unique roadmap to wellbeing - a roadmap based on what your version of wellbeing looks like and aligns with your lifestyle, values and priorities. You'll learn how to:
- Connect with your real desires and goals using mindfulness techniques
- Escape the stress cycle using yoga, mindfulness and relaxation techniques
- Create your own roadmap to wellbeing that works to your strengths and supports your lifestyle - a reference point that you can return to again and again
- Work through mindset obstacles that you come up against using self compassion tools
- Appreciate and celebrate the little victories so you continue to be motivated long after the completion of the coaching.

You will finish the five weeks feeling more:
- Confident
- Calm
- Centered
- Clear on your priorities
- Energized
- Connected
- Inspired
- Motivated
- Tooled up.
Dates for the group coaching are: 17 & 25 September, 1 & 15 October. Individual phone sessions will be held on the week of 8 October (no group coaching that week).
This program is limited to 8 inspired ladies who are ready to go beyond conventional wellbeing wisdom to learn more about themselves, mindfulness and slow living so book your place today!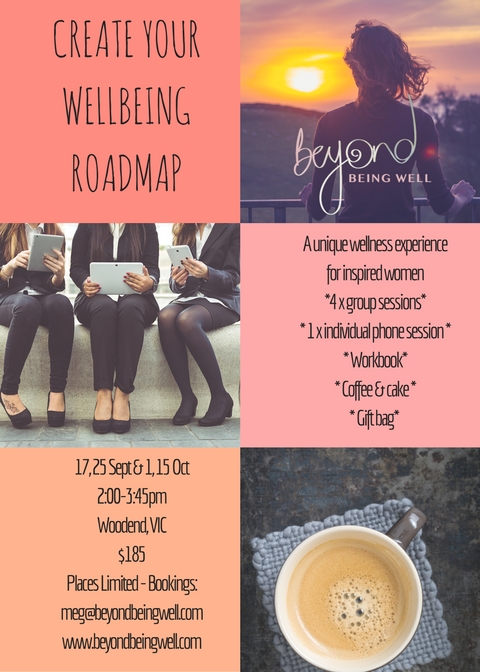 What people are saying about working with Meg:
'After having a difficult start to 2015 with both my health and work life, I found it almost impossible to see the positives and felt as if I wasn't able to turn my negative thinking around on my own. The longer that I felt like this the less likely and confident I felt in my abilities to turn to my thinking around. I felt I was just snowballing downwards. At the end of 3 months of working with Meg, I was beginning to feel happy and confident in myself again. I could see how much I had learnt from the negatives in my life and could appreciate what they had taught me. Most of all I felt more confident in my ability to deal with future difficulties in my life. Meg provided me with strategies that I otherwise wouldn't of thought of let alone tried. These are still strategies that I am using today, some every day.'
'At the start of the session I felt like I didn't know the direction I was going. I lacked clarity, but most of all I lacked the conviction in knowing I could change. I felt like I was having "an outer body experience" and not being present to enjoy the moments in my life. I now feel connected. I feel strong. I feel like I have been given the support, tools and mindfulness to know how to enjoy my life. I feel I have a deeper understanding and connection with myself. I feel - like the first time in many years - present in the moment. And the moment is great! Mindfulness training is common sense. However, what is amazing about it is that often self doubt creeps in over what we all know to be right. Meg is an amazing woman. She has a unique ability to understand on a deep level who you are as an individual, a woman and a person. Meg is able to learn what drives you and what your barriers to being present in the moment really are. Mindfulness is not "airy fairy" as many people may think. It is about connection. Connection to yourself and through that greater connection to who you are, you feel connected to those around you, to your work, to your passions. I have been absolutely amazed that with Meg's help and guidance, understanding myself, feeling less stressed and making informed decisions has meant so much. Her techniques, her compassion and understanding and her ability to connect with you is something that you don't experience very often with many people. She is truly one of a kind!'