Description
Welcome to VICTORIA ICG Coach and Connect 2018
Creating Your Ideal Average Year – with Fiona Ellis
TUESDAY 23RD January 2018 - 6.30pm til 8.30pm.
We are delighted to announce we have the amazing mentor, coach and trainer Fiona Ellis joining us for our first Victoria Coach and Connect of 2018. This event will be packed, so buy your early bird tickets now.
Ask yourself:
Are you committed to stop wasting yesterday's and draw the line in the sand?

Are you ready to evolve into the next best version of you?

Are you ready to create the best year yet by modelling excellence in 2018?
Yes? Of course!
Then keep on reading…
In 2018 ICG Coach and Connect is bringing you exceptional speakers who embrace our 2018 theme of PASSION & PURPOSE. These events provide a fantastic opportunity to get in the room with like-minded individuals and phenomenal speakers.
Introducing FIONA ELLIS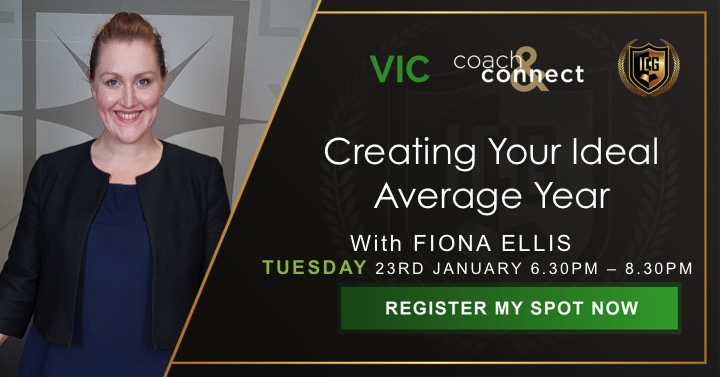 Fiona is a Professional Mindset, Strategy and Transformation Coach, as well as Facilitator and Mentor with TCI. Since starting her coaching journey 9 years ago, Fiona has over 3000+ hours of coaching and training experience with multi-national companies, small businesses and individuals with a passion for helping others drop their surface role, stop living everybody else's dream and start committing to living their own.
Fiona will be sharing with us:
Are you evolving, revolving or devolving?

Stop wasting yesterday's, draw the line in the sand. Nor more allowing what you should have done yesterday steal your progress today.

Decide and commit to your WILDLY IMPORTANT GOAL for 2018
---
When: Tuesday 23rd January 2018
Time: Registration 6.30pm for a 7pm start
Where: TCI HQ, 40/37-39 Albert Road, Melbourne VIC 3004
Tickets: To grab your early bird tickets NOW at $20 (plus $2.19 fee) or $25 cash at the door.
---
To make sure you never miss an upcoming event and check out everything ICG head over and join in the conversation by CLICKING RIGHT HERE

And remember, all ICG Coach and Connect events are open to you sharing amongst your networks with anyone you believe will gain value from being in the room.

See you there. Bookings open now.



Jane Cann
Victorian ICG Coach and Connect Leader
Are you a member of the ICG yet?

http://www.internationalcoachguild.com/