Sales Have Ended
Registrations are closed
Ohh No! Tickets have SOLD OUT. If you have any further questions, simply contact the organising team QUT Creative Enterprise Australia on 07 3337 7801 or email info@creativeenterprise.qut.com.au
Sales Have Ended
Registrations are closed
Ohh No! Tickets have SOLD OUT. If you have any further questions, simply contact the organising team QUT Creative Enterprise Australia on 07 3337 7801 or email info@creativeenterprise.qut.com.au
Description
Do you dream of being a YouTube star but don't know where to start? Maybe you already have a channel and you're just not getting the views? The hustle can be hard, especially when there's so much content already out there.
Create Queensland — YouTube Creator Day is all about cracking YouTube's best practices. Hosted by online video experts Farhad and Ant (Changer Studios), this workshop will teach you the tips & tricks to understanding YouTube. Learn how you can optimise your content and maximise your number of viewers — in one evening!
Create Queensland — YouTube Creator Day is not to be missed. Limited spaces available so be sure to secure your spot!
---
Order of Events
2:00 – 2:30pm Registration & nibbles
2:30 – 2:45pm Introduction
2:45 – 3:30pm Session 1: What YouTube Wants from You
3:30 – 4:00pm Nibbles/DrinksNetworking
4:00 – 4:45pm Session 2: Are you doing it right?
4:45 – 5:00pm Closing
5:00 – 6:00pm Networking drinks/dessert
6:30pm Guests depart
---
Content
Session 1
What YouTube wants from you
What YouTube really is.
Understanding Youtube's algorithms.
How can YouTube work for you?

Session 2
Are you doing it right?
Optimising your channel.
Creating valuable titles & thumbnails.
Developing content strategies.
Introducing top YouTube Creator and speaker.
About Changer Studios
---
About Changer Studios
Changer is shaping the future of short-form video content. Through their work with leading content creators and experts from around the world, Changer has developed unique insights and expertise in delivering successful online video strategies and engagement models.
Changer has developed world-leading insights into what it takes to succeed with short-form video delivering: strategy, creative, production, influencers, programming, optimisation, audience behaviour and channel management — all under one roof.
Changer is also home to the world-first YouTube Creator Incubator and the only video creator studio in Australia.
---


Speakers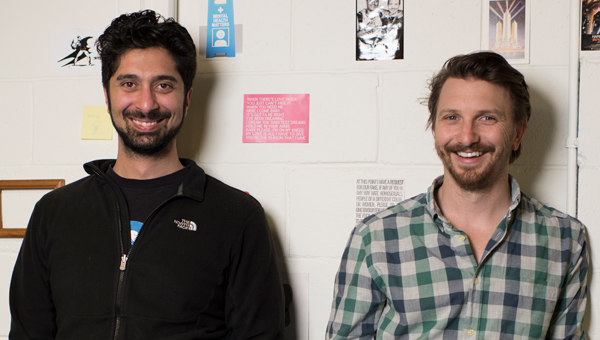 Farhad Meher-Homji & Ant McCormack
Co-Founders, Changer Studios
Farhad and Ant are experts in short-form online video content and are the brains behind Changer Studios.
Farhad and Ant help video creators and brands grow their online channels, create strong audience engagement and build value as their own media houses.
They have also collaborated with some of the leading online video minds from all over the world including the likes of YouTube, Gushcloud, NBC Universal, MGM and Little Monster Media Co.
---
On behalf of Create Queensland
This event is part of Create Queensland, Advance Queensland, and YouTube, along with QUT, Griffith University, QUT Creative Enterprise Australia, Trade Investment Queensland and Screen Queensland.