Create & Manage Net[work]s 3 Month Training Program (x4 Half Day Sessions)

Tuesday, 8 April 2014 at 8:30 am (AEST)
Event Details
Enrol to the next Create and Manage Net[work]s course to take your business relationships to the next level (and beyond).
Workshop Details: 
The course is split over x4 half days with pre and post work for each session.
08/04/2014 from 8:30 AM to 12:30 PM

29/04/2014 from 8:30 AM to 12:30 PM

13/05/2014 from 8:30 AM to 12:30 PM

27/05/2014 from 8:30 AM to 12:30 PM

---



Approach:
An expert networking trainer will lead the participants through the techniques learnt to create a personalised strategy for future networking and network management. Our workshops are practical, interactive and strategy based to ensure behavioural change is achieved.
---
Enrolment Fee: $1345 (incl GST) or take advantage of the Early Bird rate of $996 (incl GST).
Enrolment includes x4 half days workshop attendance, training manual, handouts and catering PLUS:
Three (x3) 1:1 30 minute phone mentoring sessions with the trainer to help embed your strategy implementation [VALUE $1050.00]
A copy of Julia Palmer's book '

BUZZ

 - inspiration to attract, leverage & retain profitable business relationships [VALUE $20.00]
Access to ongoing resources and templates [priceless]
---
3-month C&M Net[work]s Program Outline: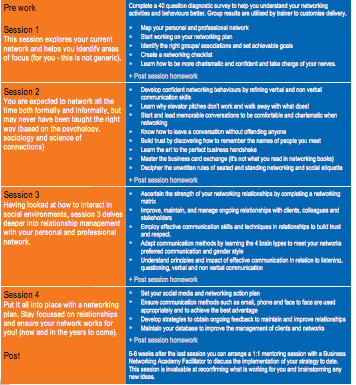 Outcomes:
In our experience, people who have a networking strategy tend to gain much more from events and all opportunities they are presented with to network. By being more proactive in creating relationships, they then have stronger, more solid networks to rely upon. Thus their ability to manage their network and work towards mutually beneficial goals is amplified.
More motivated to grow their network

Excited about representing the company in their bosses absence (apposed to feeling shy or apprehensive)

Getting more effective networking results

And 100% agreed that they now have a strategy to communicate within their networks!
"The program very successfully "peels" away the layering and any stigma connected to networking. It has helped me gain a greater understanding and appreciation of this important learnt skill and its application professionally and personally. I have acquired great tools and techniques which I will apply back-on-the-job. Good networking skills can really give you and your organisation a competitive edge; this program helps you achieve just that!" Linkage Australia
Please visit our website for more testimonials 
& please contact us if you have any questions ot want to chat further 
When & Where

Cliftons
Level 13,
60 Margaret St
Sydney CBD , NSW 2000
Australia

Tuesday, 8 April 2014 at 8:30 am (AEST)
Add to my calendar
Organiser
The Business Networking Academy is led by Julia Palmer.
Julia has facilitated and attended thousands of events globally - in nearly every industry and with every job title. Oil and Gas, Pharmaceuticals, Finance, Manufacturing... the list is endless. She has a very unique understanding of the creation and management of networking relationships and loves sharing advice and anecdotes to assist others.
The Business Networking Academy helps you and your employees improve networking skills and make the most of every business encounter with your professional and personal network. Instead of teaching generic networking 'tips-and-tricks' or using a 'one-size-fits-all' approach, we believe that every person learns in his or her own way, and each has unique characteristics. To develop effective networking skills you require a much more personal and structured system. We focus on improving the way people communicate and connect by harnessing their own natural style, and aligning it with proven strategies that guide them.
The Business Networking Academy offer a blended approach that combines in-house and public face-to-face training, e-learning modules, online tools and one on one mentoring sessions. This carefully integrated method ensures learning is embedded and behavioural change is achieved. 
www.businessnetworkingacademy.com.au