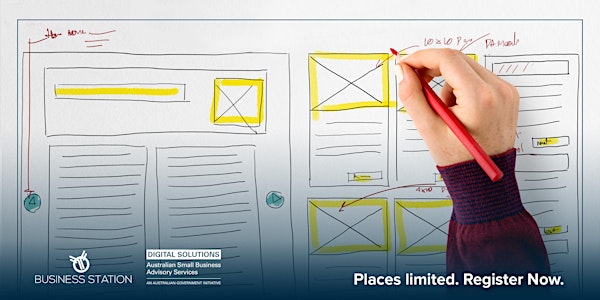 Create Linkedin Banner, Carousel Post & Video with Canva by Marianne [2OW]
Sales Have Ended
Registrations are closed
Thank you for your registration to our ASBAS Digital Solutions Event.
Sales Have Ended
Registrations are closed
Thank you for your registration to our ASBAS Digital Solutions Event.
Step-by-step approach to create post images, profile video (it's not what you're probably thinking), banner and carousel posts using Canva.
About this event
PLEASE NOTE: To register for this event you must be a business (0-19 employees)  and provide your ABN. 
This session will be recorded and sent to everyone who has registered. Register now!
Level : Beginner
Date/Time:
Monday, 29 November 2021
WA: 10:00 AM to 12:00 PM (AWST)
NT: 11:30 AM to 01:30 PM (ACST)
QLD: 12:00 PM to 02:00 PM (AEST)
You don't have to be a graphic designer, Canva or a LinkedIn expert to look professional and on brand.
Come along to this interactive workshop where Marianne will show you how to spruce up your LinkedIn profile by creating branded content to help your biz or personal brand stand out not only on LinkedIn but all platforms and industry profiles.
We will cover creating:
post images
profile video - gives people a sense of who you are (where your profile photo resides)
carousel post (scroll through like a presentation)
banner image
There will be time to work on your own designs and get feedback.
You will need a laptop or desktop to work on for this workshop (not a tablet or phone) and a mouse as it makes designing much easier!
This workshop is brought to you by Business Station and AusIndustry under the Digital Solutions Program.
ABOUT PRESENTER
Marianne is an independent Canva Expert, Certified Trainer, Marketing Strategist, Social Media Educator specialising in Reputation, Digital Communication, Branding and Visual Imagery.
Her strength and passion has always been helping others to shine, long before social media was even a thing!
With an international corporate background over 3 decades, Marianne draws on her experience in marketing/PR, management and strategic planning to assist individuals to communicate their values, vision and voice so they stand out from the crowd. Marianne has been running her own business since 2005 and her husband's music & design business since 1993 and understands the challenges faced by small business owners, professionals and creatives.
We learn by doing!
Marianne is one of the original group of Canva beta testers worldwide and uses the app extensively for her business, local and international community livelihood projects, designing for clients and training. Marianne adores Canva and is well placed to show you how to turn your ideas into creative, stylish designs showcasing your expertise that will have you singing your brand message and showcasing your talent 24/7.
~~~~~
"As a LinkedIn trainer and content creator I have been using Canva for a while, but I had only touched the surface. Working with Marianne Rom, a leading Canva trainer, opened up to the possibilities that this design software brings. I discovered ways to easily manage my brand, create branded content, organise my work, access some very cool features and save time, without needing a designer! If you need to create content for LinkedIn, social media, email marketing, the web or even print, book a session with Marianne through the Digital Solutions Program to improve your productivity and content strategy using Canva. Marianne is easy to work with, adapts her training to your level and understands how to train. Thanks so much for sharing your expertise!" --- Jo Saunders, Wildfire Social Marketing
"The training I had was customized to my needs and Marianne Rom was very patient with me. Thank you so much. I highly recommend Social Ediquette. Thank you so much Marianne Rom. You were a great teacher!
May Situ. Zoomee Bikes"
#canva #learncanva #graphicdesigntools #linkedin #branding #canvatraining #canvatips #canvaworkshop
About Digital Solutions - Australian Small Business Advisory Services
Digital Solutions is one of the most generously supported digital transformation programs for small business by the Commonwealth Government. This iteration of the program has been run by Business Station in QLD, WA and NT for three years and has had a significant positive impact on the small business community.
This event will give you the chance to learn about the details of the program, what's on offer and who can access the free or highly subsidised support, training and resources! Perhaps you will find them beneficial for yourselves, your network or your clients.
To better understand what's on offer, we will encourage each attendee to register themselves to the program before the event, or otherwise by attending this workshop, you will be registered.
Important – Participating businesses must be aware that this information will be provided to the Commonwealth Department of Industry, Science, Energy and Resources for program evaluation and reporting purposes; and businesses may be approached by a representative from the Department to complete a survey on the services provided.
Organiser of Create Linkedin Banner, Carousel Post & Video with Canva by Marianne [2OW]
BUSINESS STATION
Business Station is a not-for-profit organisation providing small business services across Australia.
Business Station is run by an energetic bunch of professionals who are passionate about empowering Australian businesses. The core purpose of Business Station is to help small businesses thrive. We facilitate, encourage and promote economic development across WA, QLD and NT by enabling and supporting the establishment, growth and ultimate success of new and small businesses. To find out more about our amazing team of superhumans, visit one of our spaces or explore our programs.
Our visions is to see business owners be successful, individuals flourish and communities grow.
 Visit www.businessstation.com.au for more information.
Aspiring and current business owners are invited to follow Business Station on Facebook, Twitter and LinkedIn @BizStationInc