Sales Have Ended
Registrations are closed
Tickets sales for the digi.spark hackathon are closed. If you would like to contact us about being on a waitlist please contact denis@idexchange.me
Sales Have Ended
Registrations are closed
Tickets sales for the digi.spark hackathon are closed. If you would like to contact us about being on a waitlist please contact denis@idexchange.me
Description

Data is raining down on Australia, and you can be the first to work with leading technology firms to create market ready apps for when the new Consumer Data Right comes into law.
The big city institutions will be throwing loads of resources at cranking out new consumer focused App's by empowering personal data. But what about the little guys?
We're after 50 of our brightest developers and innovators to help us bring the power of personal data and private sharing to communities in regional Australia that don't always have the technical resources of the big end of town.
Contestants are jump started with the power of secure, private sharing and data compliance capabilities already baked into the digi.me Consent Access platform to work with while using finance, social and other data types.
We need App developers (individuals or teams) from start-ups and innovation groups as well as entrepreneurs and students to come together with one mission; To improve the lives of people living in regional communities by empowering them to securely share their personal data with regional operators and beyond.
What's driving #digi.spark?
Creating Jobs for NSW means making sure our regional centres and communities are offered the same leading-edge products and opportunities as city dwellers. With some big changes ahead around the introduction of the Consumer Data Right Bill, it's important that Regional NSW is not left behind.
Get your hands on advanced platforms
Digi.me's unique personal data sharing platform assures Cyber Security, Privacy and Consent technology are inbuilt key factors so you can get your ideas to market literally in days. Learn More
Alibaba Cloud is partnering with digi.me and ID Exchange to bring this event to life.
Alibaba Cloud provides solutions that lead the market in international performance and usability, cloud security, and advanced R&D technology. As of May 2018, Alibaba Cloud is one of only six vendors featured in Gartner's Magic Quadrant for Cloud Infrastructure as a Service, Worldwide. Learn more.
Register now
You'll need to pre-register to get your hands on SDK's and data samples.
Meet-ups and Webinars will be published two weeks week prior so you can sharpen your digi.me skills and understand the format of the competition.
Get fired up with an invite to the digi.spark launch event on Friday evening (October 26th), then hack across the weekend at UTS Broadway with plenty of food, drink and swag provided. We'll have industry luminaries and mentors on deck to keep you inspired.
If you join as an individual, you'll be paired up with a team with diverse skills. If you form a team, make sure you have an iOS or Andriod /React Native developer and designer as part of your crew.
In the meantime, you can check out the digi.me platform for some early inspiration, pictured below is one app that resulted from an earlier Hackathon. Iceland hackathon
The Judges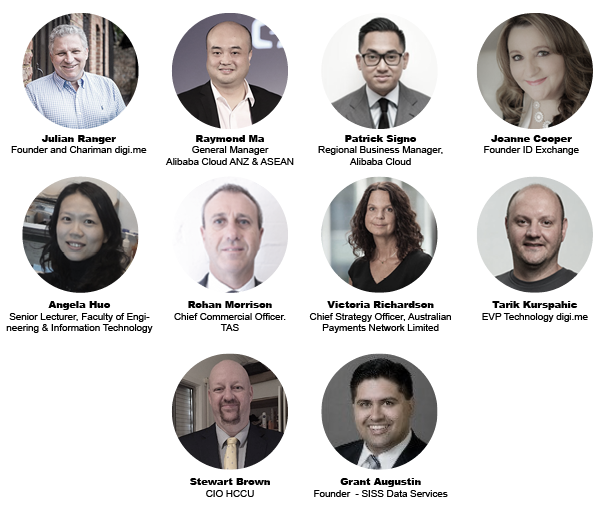 Judging Criteria
Creativity – Are you building something that no one has seen before? (0-5 points)

Simplicity – Can you explain the value proposition in 2 sentences or less? (0-5 points)

Impactfulness – How impactful can this idea be? (0-5 points); and
Design – Quality of design (0-5 points).
Prizes:
GRAND PRIZE:
Trip for 4 to attend Alibaba Cloud Computing Conference China September 2019
Flights and tickets up to $7000 value (SEPT 2019)
$10,000 Alibaba Cloud Credits
digi.me mentorship to develop your app
SECOND PRIZE:
4 x MYSTERY airfares to regional NSW (cash value $2000)
$5,000 Alibaba Cloud Credits
THIRD PRIZE:
$500 worth of MOVIE PASSES (CASH VALUE $500)
$2,500 Ali Cloud Credits
SPOT PRIZES:

5 x Sphero Mini App-Enabled Robotic Balls
3 x Ryze Tello Drone
6 x Sony MDRZX110NC Noise Cancelling Headphones
PROGRAM
Friday 26th October
18.00 #digisparkhack kick-off drinks and team forming.
University of Technology SydneyLevel 6, Building 11, 81 Broadway, Ultimo, Sydney, NSW 2007
Welcome
Briefing
Theme objective timing and rules
Brainstorming
Team Forming
Team names and Objectives
20.00 Ends
Sat 27th October
9.00am Breakfast
9.30 Teams start
11.30 First iteration presentation - 3 mins per team - work in progress
12.00 Break for lunch
13.00 Restart
16.00 Second iteration presentation - 5 mins per team - completion planning for next day
18.30 Dinner/chat
20.00 Ends
Sun 28th October
9.00 Breakfast
9.30 Start
12.30 Final Iteration presentation - present working app - strict 10 minutes presentation
13.30 Lunch while Judges deliberate
14.30 Awards, presentation and close
Rules
We know some rules are meant to be broken, but you should probably stick by these:
​
1. Fresh Code
We all start coding at the same time. This is done to keep things fair. No one is allowed to come in and build on top of previous projects. It's cool to work on designs beforehand, digital mockups, open source frameworks, and anything else available to everyone, but keep things within fair limits.

2. Code Review
Winning teams will be subject to a code-review at some point following the event or immediately before winning. This is to ensure that all code used is in fact fresh.

3. Ownership and IP
Teams have full ownership of everything they build at our events and are free to do with it as they wish.

4. Team Size
Teams of up to 5 humans are allowed. You may have up to one person work remotely.

5. DEMO your Hack
Presentation criteria will soon be released.

6. Have a damn good time!
E&OE