Learn techniques of the ready-to-wear luxury fashion industry to make a pattern from an existing jacket in a 3-day masterclass.
About this Event
Do you have a favourite jacket that you'd love to make a copy of? Or a jacket you wish had longer sleeves or just a bit more room in the bust?
In this three-day class you will learn the techniques used in the fashion industry to make a pattern from an existing or vintage garment to create something new without unpicking or cutting up the original.
Alice will show you ways to alter the pattern to suit your measurements and redesign features of the jacket. Then use the pattern you have created to make a toile and test the pattern and fit.
Skill Level:
Suitable for people who have used commercial patterns before and would like to further their skills to creating their own patterns, and people who would like to become professional pattern cutters.
Class Size:
This class is limited to only 4 people, so you will receive high quality personalised teaching. If you book and cannot attend, please notify us immediately, as there is a waiting list.
Thursday 4, Friday 5, Saturday 6 March (10am-4pm) at Bukeshla in Fremantle.
Day One: Take a close look at the jacket details and the fit of the jacket. Learn how to trace each piece as you move from front to back bodice, sleeve and collar.
Day Two: Transfer to paper and look at how they fit together. Create a professional pattern and learn the tricks for perfect flow through between pieces, constructing vents and pockets, position the buttons/holes, straight hems and where to ease, stretch and mould for a superior finish.
Day Three: Learn to check the pattern and sew a toile of the jacket to check the fit.
Your workshop package includes:
Booklet on tracing a pattern from an existing garment
Transparent fabric
Calico for moulding and tracing
Fabric pens
Pattern paper
Tailoring canvas
Threads and pins
Morning & afternoon tea
What to bring – students to provide:
Your loved jacket
Sewing machine
Mannequin
Rulers, pacer pencil with leads, coloured pens, tracing wheel
Scissors for cutting fabric and cutting paper
Your lunch (or lunch money).
Some extra equipment will be available. Please inform us on booking if you require any of these items.
Scroll down for FAQ.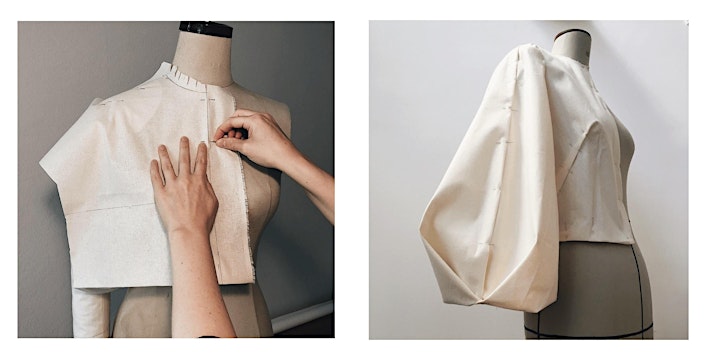 FAQs
Ticket prices:
Full price tickets are $620 +GST for the full three days of the workshop. Please note: Eventbrite ticketing fees are additional.
Will there be more classes?
Subject to demand, COVID-19, and Alice's availability, yes, we intend to run more classes, possibly in May and later in 2021.
When to arrive:
Please arrive at 9:30am for registration, morning tea and to give yourself adequate time to bring in your equipment and to settle. (Please don't arrive before this time.)
What are my transport/parking options for getting to and from the event?
On street parking is limited.
Paid all day parking is available at Wilson Parking, just 2 minutes walk, cnr South Tce & Alma St. Cheaper if you book online.
A 15 minute walk from Fremantle train station.
Is the venue Accessible?
There are stairs to the first floor where the workshop will take place. Contact us or the venue if you have any queries.
Photography
Yes, you can take phone photos during the workshops, but if you publish or post to social media you must credit Alice Cliff (@paperclothcut), Maker & Smith (@maker_and_smith) and Bukeshla (@bukeshla).
By enrolling in a class you automatically give permission to be photographed. Photos may be used by Maker & Smith and Alice Cliff for promotional purposes. If you'd prefer not to permit, please advise the Maker & Smith representative at the event.
What are the COVID-19 precautions?
We will operate according to the Western Australian guidelines at the time. The workshop takes place in a large, ventilated room to provide plenty of space for physical distancing; hand sanitiser will be on hand and please bring your own mask, if you feel the need to wear one. We ask that you do not attend if you are ill and, if this is the case, we will negotiate fair and reasonable terms.
If COVID-19 impacts the presentation of a workshop, we will notify you of the postponed dates, and will negotiate fair and reasonable terms . If Maker & Smith has to cancel a workshop a full refund will be made and reasonable advance notice will be given.