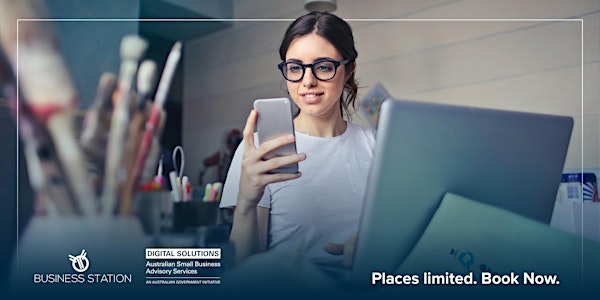 Create a paid Re-targeting Campaign for Facebook & Instagram by Renee[2OW]
Sales Have Ended
Registrations are closed
Thank you for your registration to our ASBAS Digital Solutions Event.
Sales Have Ended
Registrations are closed
Thank you for your registration to our ASBAS Digital Solutions Event.
How does retargeting on Facebook help your business?
About this event
PLEASE NOTE: To register for this event you must be a business (0-19 employees)  and provide your ABN. 
This session will be recorded and sent to everyone who has registered. Register now!
Level : Advanced
Date/Time:
Wednesday, 22 December 2021
WA: 08:00 AM to 10:00 AM (AWST)
NT: 09:30 AM to 11:30 AM (ACST)
QLD: 10:00 AM to 12:00 PM (AEST)
Retargeting starts with finding people who have engaged with your business either in person OR online. In this workshop we will:
Understand what retargeting ads are and how they work
Check if your Facebook pixel is installed and track your website traffic
Find people who have engaged with your business
Talk about the type of content that matters to the people who are looking at your business
Deliver Facebook and/or Instagram ads to people who have already engaged with your business
Analyse how your ads are performing
This workshop is brought to you by Business Station and AusIndustry under the Digital Solutions Program.
ABOUT PRESENTER
Social Butterfly Marketing founder Renee Dembowski is an innovative trailblazer in the exciting world of social media. With fresh ideas and a penchant for predicting the next big thing, Renee has successfully transformed a flair for social media strategy into an award-winning enterprise. In 2017, Renee was the first person in Australia to be awarded the Diploma of Social Media Marketing and is now an industry-recognised trainer. In addition to delivering the Diploma, Renee is the Queensland Ambassador for the Social Media Marketing Institute Australasia.
#facebookmarketing #facebookads #instagramads #instagrammarketing #socialmediaads #socialmediatraining
About Digital Solutions - Australian Small Business Advisory Services
Digital Solutions is one of the most generously supported digital transformation programs for small business by the Commonwealth Government. This iteration of the program has been run by Business Station in QLD, WA and NT for three years and has had a significant positive impact on the small business community.
This event will give you the chance to learn about the details of the program, what's on offer and who can access the free or highly subsidised support, training and resources! Perhaps you will find them beneficial for yourselves, your network or your clients.
To better understand what's on offer, we will encourage each attendee to register themselves to the program before the event, or otherwise by attending this workshop, you will be registered.
Important – Participating businesses must be aware that this information will be provided to the Commonwealth Department of Industry, Science, Energy and Resources for program evaluation and reporting purposes; and businesses may be approached by a representative from the Department to complete a survey on the services provided.
Organiser of Create a paid Re-targeting Campaign for Facebook & Instagram by Renee[2OW]
BUSINESS STATION
Business Station is a not-for-profit organisation providing small business services across Australia.
Business Station is run by an energetic bunch of professionals who are passionate about empowering Australian businesses. The core purpose of Business Station is to help small businesses thrive. We facilitate, encourage and promote economic development across WA, QLD and NT by enabling and supporting the establishment, growth and ultimate success of new and small businesses. To find out more about our amazing team of superhumans, visit one of our spaces or explore our programs.
Our visions is to see business owners be successful, individuals flourish and communities grow.
 Visit www.businessstation.com.au for more information.
Aspiring and current business owners are invited to follow Business Station on Facebook, Twitter and LinkedIn @BizStationInc