CRADLE Seminar Series: Rola Ajjawi on Assessing Work-Integrated Learning
Sales Have Ended
Registrations are closed
Sorry, but registrations for this event have ended. To find out more about upcoming CRADLE events, visit our blog, www.blogs.deakin.edu.au/cradle
Sales Have Ended
Registrations are closed
Sorry, but registrations for this event have ended. To find out more about upcoming CRADLE events, visit our blog, www.blogs.deakin.edu.au/cradle
Description
Reframing alignment and authenticity in the assessment of work-integrated learning
A/Prof. Rola Ajjawi, CRADLE, Deakin University
Work-integrated learning (WIL) is common in university courses; however, assessment remains challenging as WIL takes place outside the university setting and involves external parties. Join CRADLE's A/Prof. Rola Ajjawi as she discusses how WIL assessment might be reframed to promote alignment and authenticity.
While WIL is common in university courses, assessment of WIL is complex as it involves parties and settings external to the university. It can be particularly problematic because of difficulties in aligning learning activities during placements with what is, or what can be, assessed by the university.
This seminar features a recently completed ACEN-funded research project exploring alignment and authenticity in WIL assessment. The research examines the relationship between students' placement experiences and the accompanying assessments, considering both contexts where activities are tightly coupled with the curriculum and those where they are not. It draws on a qualitative analysis of student interviews and drawings by the interviewees discussing their WIL experiences, supplemented with analysis of placement guides. Findings highlight that students' perceptions of authenticity of assessment were undermined by misalignments between the three key stakeholders – the student, the university, and industry. The seminar will conclude with discussions and recommendations for a reframing of WIL assessment to promote alignment and authenticity.
After Rola's presentation, join us for afternoon tea to continue the conversation around alignment and authenticity in WIL assessment.

This seminar will be available across all Deakin campuses via Skype for Business (please select your location via the ticketing options for room details), and will also be accessible to all non-Deakin locations online or over the phone (please select this ticketing option for further details).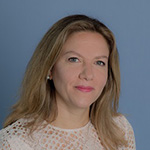 Rola Ajjawi is Associate Professor in Educational Research at the Centre for Research in Assessment and Digital Learning (CRADLE) at Deakin University. She leads a program of research centred on workplace learning with an interest in assessment and feedback. Rola has over 80 publications including peer-review journal articles, book chapters and books. She is Deputy Editor of the journal Medical Education and co-edited a recent book on developing students' evaluative judgement in higher education.