CRADLE Seminar Series: Margaret Bearman on Learning Design for Online
Sales Have Ended
Registrations are closed
Sorry, but registrations for this event have ended. To find out more about upcoming CRADLE events, visit our blog, www.blogs.deakin.edu.au/cradle
Sales Have Ended
Registrations are closed
Sorry, but registrations for this event have ended. To find out more about upcoming CRADLE events, visit our blog, www.blogs.deakin.edu.au/cradle
Description
Degrees @ FutureLearn: Lessons about learning design in online environments

Associate Professor Margaret Bearman, CRADLE, Deakin University
Learning design can play a significant role in students' learning experiences, and is particularly critical in an online learning context; however, university educators may find it difficult to design for online experience. Join CRADLE's A/Prof. Margaret Bearman as she shares lessons about learning design in online environments from the Degrees @ FutureLearn project, along with possible implications for assessment and feedback.
Learning design is particularly critical in online education, as teaching processes are mediated by structured technological signals. However, university educators do not consider themselves as designers (Bennett, Agostinho & Lockyer 2017) and may struggle to design for online experiences. 'Design patterns' (Laurillard 2013) can be used to capture key activities to support educators, with the added benefit of students experiencing a familiar sequence of interactive tasks.
The Degrees @ FutureLearn project provides a valuable case study of an institutional approach to learning design. A range of data, including interviews, surveys and enrolment data, illustrates the relationship between learning design and learning experience. The overall design appeared to substantively improve retention rates. However, specific design patterns both enhanced and constrained learning. For example, the stepwise design of short sequenced pieces was welcomed by some students, enabling them to move logically through the material, whereas others felt it reduced the challenge of the learning experience. We discuss possible means of designing around the constraints in order to enhance student learning into the future. Implications for assessment and feedback will also be explored.
After Margaret's presentation, join us for afternoon tea to continue the learning design conversation.
This seminar will be available across all Deakin campuses via VMP (please select your location via the ticketing options for room details), and will also be accessible to all non-Deakin locations via VMP (please select this ticketing option for further details).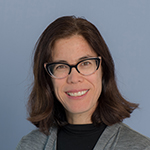 Margaret Bearman is an Associate Professor (Research) within the Centre for Research in Assessment and Digital Learning (CRADLE), Deakin University. Over the course of her career in health professional and higher education, Margaret has written over 70 publications and received over $7.5 million in research and development funding. Her work as an educator and researcher has been recognised nationally, including awards from the Office for Learning and Teaching and Simulation Australasia. Margaret's interests include: assessment design; work-based feedback; simulation and digital technologies; sociomateriality; and educational workforce development. She is currently leading the CRADLE team in editing a book, Re-imagining university assessment in a digital world.

For further information, please contact us at cradle@deakin.edu.au.
Bennett, S., Agostinho, S., & Lockyer, L. (2017). The process of designing for learning: understanding university teachers' design work. Educational Technology Research and Development, 65(1), 125-145.
Laurillard, D. (2013). Teaching as a design science: Building pedagogical patterns for learning and technology. Routledge.