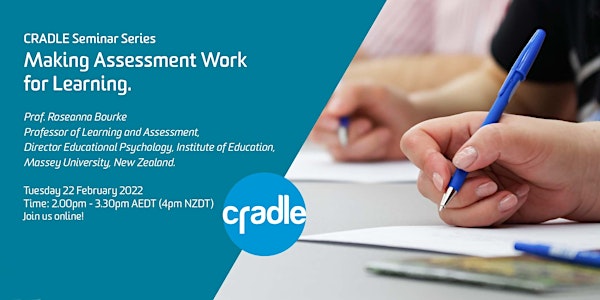 CRADLE Seminar Series: Making Assessment Work for Learning
Sales Have Ended
Registrations are closed
Sorry, but registrations for this event have ended. To find out more about upcoming CRADLE events, visit our blog, www.blogs.deakin.edu.au/cradle
Join us for a seminar by Prof. Roseanna Bourke, Massey University, on Making Assessment Work for Learning
About this event
Lifelong learning requires a person to have strong self-assessment skills if they are to plan for their own learning, and to self-assess that learning in work and life settings beyond the formal higher education setting. To encourage self-assessment for learning, tertiary educators need to break the circuit of students' reliance on traditional assessment methods by creating opportunities to share the control and power of assessment. By doing this, educators encourage learners to become more critical and self-reflective with an ability to assess their own learning long after the course has ended. In this seminar, I explore how to steer undergraduate and postgraduate students away from simply keeping their eye on the grade and the marking criteria, towards a focus on their learning, understanding and application of knowledge.
My fundamental aim as a tertiary educator is to increase students' positive experiences of assessment that support their meaningful growth and learning. The concept of collaborative partnership in assessment is one means to achieve this end. However it challenges standard university policies, given it shares power over assessment. Arguably this contests typical Western understandings of expert knowledge and assessment, particularly if the partnership truly represents the diversity of knowledge and experience that students bring to the partnership. This seminar explores examples of assessment partnerships, and the resultant intended and unintended consequences for policy, practice, and student experience.
Assessment methods that enable students to 'access' their learning, rather than focusing on being able to simply 'assess' their learning are presented. Strategies that include ipsative assessment, self-assessment, student development of criteria, ePortfolios,'give back' assessments, YouTube assessment methods are explored.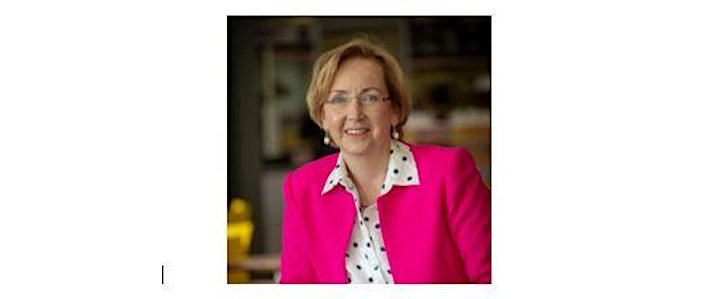 Prof. Roseanna Bourke is Professor of Learning and Assessment and the Director of the Educational Psychology programme at the Institute of Education, Massey University, New Zealand. Roseanna is a registered psychologist and started her career as a classroom teacher, now having worked in the tertiary sector for 30 years. In that time she also worked for 3 years in the Ministry of Education as the national professional practice manager. Her research explores the dynamic interplay between learning and assessment, how people learn in inclusive formal and informal education settings, and the significant role of self- and ipsative assessment for individual identity and learning. Roseanna has a focus on sustainable assessment, student voice, children's rights, and applied professional ethics. Her recent books include an edited collection 'Radical Collegiality Through Student Voice' (Springer, 2018), and 'Ethical and Inclusive Research with Children' (Routledge, 2018). Roseanna's most recent research involved working with children on their experiences of learning within their respective home 'bubbles' during the 2020 COVID-19 lockdown period in Aotearoa New Zealand. Roseanna is an Associate Editor of the International Journal of Student Voice, and is on the Editorial Board of a number of journals, including Teaching in Higher Education and International Journal of Research & Method in Education.
To find out more about Roseanna's research, please visit:
Twitter: @robopn
Find out more about CRADLE