CRADLE Seminar Series: Dr Ernesto Panadero - How can we promote self-regulated learning via classroom assessment? A closer look to self and peer assessment.

Wednesday, 7 September 2016 from 2:00 pm to 3:30 pm (AEST)
Event Details
Centre for Research in Assessment and Digital Learning (CRADLE) – Seminar Series, in conjunction with the centre for Research for Educational Impact (REDI)
Dr Ernesto Panadero, Visiting Honorary Professor with Deakin University
"How can we promote self-regulated learning via classroom assessment? A closer look to self- and peer assessment."
This presentation will explore self-regulated learning (SRL). More specifically, its definition, one of the most used models (Zimmerman) and how do self-regulated learning processes work. SRL will be connected to classroom assessment practices that can enhance students' self-regulatory processes, with a special attention to self and peer assessment. The latest empirical advances of these two instructional and learning strategies will be presented with a focus in how to implement them in classroom to enhance SRL.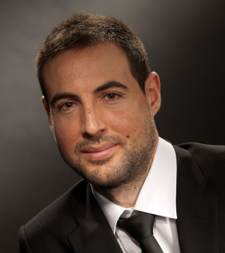 Dr Panadero was appointed as an Honorary Professor at Deakin University in January 2016. During his academic visitation with CRADLE during September and October 2016, Dr Ernesto Panadero will be working with REDI and CRADLE staff on collaborative projects; giving seminars at Burwood and Melbourne City Centre, as well as being an intrinsic part of the CRADLE International Symposium in October.
Ernesto is an outstanding researcher who is funded at the Universidad Autónoma de Madrid by the Ramón y Cajal excellence program for research. This is a national program more competitive than an ARC DECRA. He has an excellent publication record in top quality journals in English. He is the convenor of the Special Interest Group 1 of the European Association for Research on Learning and Instruction, which is the major research association for assessment internationally. His research interests are Assessment (Classroom assessment, formative assessment, assessment for learning), Self-assessment (Cognitive, motivational and emotional aspects), Peer assessment (Accuracy and interpersonal variables), Self-regulated learning and Socially shared regulated learning (Collaborative learning and CSCL).
More information on Dr Panadero can be found here: http://www.ernestopanadero.es/
Places are limited so register early!
For further information, please contact CRADLE's Research Manager, Dr Helen Walker at cradle@deakin.edu.au
Event Details:
Date and Time: Wednesday 7 September, 2016 - 2pm-3.30pm
Location: Burwood, BC Building, Level 2, Council Room
Deakin University Locations via *VMP DVCE CRADLE (36913@deakin.edu.au):
Melbourne City Centre, 550 Bourke St, Melbourne, Level 4, Deakin Prime Meeting Room 1

Waterfront, Meeting Room AD5.005

Waurn Ponds, Meeting Room DD2.119 SENS REACH

Warrnambool, Meeting Room A3.41

 
When & Where

BC Building, Level 2, Council Room

Deakin University
Burwood, Vic
Australia

Wednesday, 7 September 2016 from 2:00 pm to 3:30 pm (AEST)
Add to my calendar
Organiser
The Centre for Research in Assessment and Digital Learning (CRADLE) investigates improvements in higher education assessment in the context of a rapidly expanding digital environment.