CRADLE Seminar Series - Associate Professor Abelardo Pardo, University of Sydney

Monday, 29 May 2017 from 10:00 am to 11:30 am (AEST)
Event Details
Centre for Research in Assessment and Digital Learning
CRADLE Seminar Series: 29 May 2017
Associate Professor Abelardo Pardo,
School of Electrical and Information Engineering,
The University of Sydney
Title: 'Connecting data with student support actions at scale'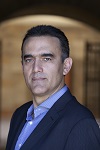 Higher education institutions have been collecting detailed data sets about how students learn. However, this information has been used to a great extent for administrative purposes. Integrating the use of these detailed data sets with elements of instructional designs such as assessments, feedback or generic student support actions is still an emerging area.  In this talk we will examine the elements required for this integration; the new scenarios emerging as a consequence of this data availability; and some ideas to scale its use for large student cohorts.
Abelardo Pardo, PhD (Computer Science) University of Colorado, SFHEA, is an Associate Professor in the School of Electrical and Information Engineering, and an Honorary Associate with the Faculty of Education and Social Work, The University of Sydney; and a Research Fellow with the University of Texas at Arlington.
Associate Professor Abelardo Pardo specialises in technology enhanced learning with emphasis on learning and behavioural analytics, computer supported collaborative learning, and personalization of learning experiences. He is a member of the executive committee of the Society for Learning Analytics Research. In his (scarce) spare time, he maintains the blog T2T. Techies meet Teachers, which focuses on issues related to technology when used in learning experiences. His research is driven by his belief that people and communities can all benefit from technology to improve the way they learn. He's developing computer applications that can sense and provide personalised feedback on the way we carry out everyday tasks and activities, leading to improvements in areas from education and business to health and general wellbeing.
Abelardo received The university of Sydney's Faculty of Engineering and Information Technologies Dean's Award for Outstanding Teaching in 2015 and has recently delivered the keynote presentation at the Australian Learning Analytics Summer Institute. Adelaide, 27 November 2016 and the keynote presentation at the Australian Association for Institution Research SIG Forum. Title: "The role of institutional data in Learning Analytics". Adelaide, June 2016
Abelardo can be contacted via abelardo.pardo@sydney.edu.au  http://sydney.edu.au/engineering/people/abelardo.pardo.php
Places are limited, so register early!
For further information, please contact CRADLE's Research Manager, Dr Helen Walker h.walker@deakin.edu.au or 03 9244 5448
Event Details: Monday 29 May 2017, 10am-11.30am Location: Level 12, Tower 2, Collins Square, 727 Collins Street, Melbourne Room: To be advised on the day
Deakin University Locations via *VMP DVCE CRADLE 36913
Waterfront, Meeting Room AD2.308
Waurn Ponds, SENS Meeting Room DD2.119
Warrnambool, Meeting Room A.3.41
Burwood, Training Room BC7.103  
For dialling in from outside: • URI dialling: 36913@deakin.edu.au • IP Dialling: Dial 139.132.19.31 wait for prompt, then select ##36913# • ISDN and telephone (mobile and landline) direct dialling: (+613) 52236913 • To connect using Deakin Web Guest , click the link (or copy it into your calendar or email invitation): https://guest.vidconf.deakin.edu.au:9443/call/36913@vidconf.deakin.edu.au

Share this event on Facebook and Twitter
We hope you can make it!
Cheers, Centre for Research in Assessment and Digital Learning
When & Where
Deakin Downtown, Tower 2, Level 12, 727 Collins Street, Melbourne 3008

Australia

Monday, 29 May 2017 from 10:00 am to 11:30 am (AEST)
Add to my calendar
Organiser
The Centre for Research in Assessment and Digital Learning (CRADLE) investigates improvements in higher education assessment in the context of a rapidly expanding digital environment.