CRADLE Seminar Series 2017 - Dr Bhavani Sridharan, CRADLE Fellowship holder
Description
Does the use of summative assessment in collaborative group assessment inhibit good judgement?
Dr Bhavani Sridharan, Lecturer in Higher Education, Learning Innovations, Faculty of Business and Law
The accuracy and consistency of peer marking, particularly when students have the power to reward (or penalise) during formative and summative assessment regimes, is largely unknown. The objective of this study is to evaluate students' ability and behaviour in marking their peers in a collaborative group assessment context both when the mark is counted and not counted towards their final grade. Formative and summative assessment data were obtained from 98 participants in anonymous self and peer assessment of team members' contributions to a group assessment in business courses.
The findings indicate that students are capable of accurately and consistently judging their peers' performance to a large extent, especially in the formative evaluation of process component of group work context. However, the findings suggest significant peer grading bias when peer marks contribute to final grades. Overall, findings suggest students are reluctant to honestly assess their peers when they realise their actions can penalise non-contributing students. This raises questions about the appropriateness of using peer marks for summative assessment purposes. To overcome the problems identified, this paper proposes a number of measures to guide educators in effectively embedding summative peer assessment in a group assessment context.
---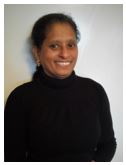 Dr. Sridharan is a Lecturer in Higher Education in the Faculty of Business and Law, Deakin University (Learning Innovations).
Under her CRADLE Fellowship, Dr. Sridharan will be contributing to scholarship and research around assessment, feedback and cognate areas in higher education. Recently, her focus has been developing and researching innovative authentic assessment and feedback paradigms. Dr. Sridharan's research interests include assessment and feedback, online learning, constructive learning, and assurance of learning.
Dr. Sridharan has also received a number of awards, including the Massey University Women's Award, during her time as a lecturer at New Zealand's Massey University, for the development of a framework supporting pedagogy-embedded e-learning technology. She has also successfully gained research grants, including from the Academy of Business Research Fund (Massey University) as the co-applicant on a collaborative research project developing a knowledge management system supporting web-based learning.
For further information, please contact CRADLE's Research Manager, Dr Helen Walker h.walker@deakin.edu.au or 03 9244 5448
---
Event Details: Wednesday 27 September 2017, 10.30am-12.00pm
Location: Level 12, Tower 2, Collins Square, 727 Collins Street, Melbourne
Room: To be advised on the day, see Level 12 Reception
Audio: Please mute your VMP microphones during the seminar to reduce non-verbal feedback noise, and un-mute at question time.
Additional Rooms:
Waterfront D2.103

Waurn Ponds DD2.119

Warrnambool D1.30

Burwood BC7.102
Deakin University Locations via *VMP DVCE CRADLE 36913
For dialling in externally to the University:
• URI dialling: 36913@deakin.edu.au
• IP Dialling: Dial 139.132.19.31 wait for prompt, then select ##36913#
• ISDN and telephone (mobile and landline) direct dialling: (+613) 52236913
• To connect using Deakin Web Guest , click the link (or copy it into your calendar or email invitation): https://guest.vidconf.deakin.edu.au:9443/call/36913@vidconf.deakin.edu.au