CRADLE Double Seminar - Dr Jessica To and Qiyun Judy Zhu, University of Hong Kong - Chinese students' engagement, self-assessment and peer review

Monday, 4 December 2017 from 10:00 am to 12:00 pm (AEDT)
Event Details
Seminar 1 - 10am: The role of peers in mediating first-year undergraduates' self-assessment processes
Jessica To, Faculty of Education, University of Hong Kong
Notwithstanding the strong theoretical connection between peer involvement and self-assessment, this topic is under-explored in empirical studies. Drawing on the data from 11 first-year undergraduates from four faculties, this seminar discusses the role of peers in mediating self-assessment processes. The research question is "How does peer involvement mediate the self-assessment processes of first-year undergraduates?" The data collection methods journal writing, follow-up interviews; and classroom observations and data were analysed according to Zimmerman's (2000) self-regulated learning model. The analysis focused on the way peers helped first-year undergraduates handle the cognitive, meta-cognitive and social-affective demands during self-assessment. Findings indicated multiple impacts of peer involvement on self-assessment processes. In the forethought phase, peer discussion on assignment requirements enabled students to realise alternative task approaches and to clarify key issues before seeking teacher assistance. In the performance phase, reading peer drafts motivated them to outperform more capable peers and stimulated reflections on strategy use. In the self-reflection phase, peer review sharpened individuals' evaluative capabilities and reinforced their understanding of domain knowledge. The challenges of involving peers in self-assessment are also discussed.
Dr Jessica To is a post-doctoral fellow. Her research interests include assessment feedback, exemplar use, self-assessment and issues related to the implementation of formative assessment in higher education. She has presented her work in international conferences such as EARLI and AARE and has published in Assessment and Evaluation in Higher Education, Journal of Further and Higher Education and Research in Post-compulsory Education. 
Morning tea: 10.45am-11am
Seminar 2 - 11am: Chinese students' engagement in asynchronous online cross-cultural peer review through the lens of self-regulated learning and feedback triangle
Qiyun Zhu, Faculty of Education, University of Hong Kong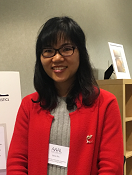 Framed by the theories of feedback triangle and self-regulated learning (SRL), this seminar details my study which examines Chinese undergraduates' engagement in an asynchronous online cross-cultural peer review activity. A mixed-method approach was employed to investigate 15 pairs of Chinese and American undergraduates' interaction. T-test of written dialogic interaction indicated no significant difference between the SRL actions of Chinese and Americans. Chinese students also reported substantial benefits and generally positive perceptions in their reflective journals. Teacher and student interviews revealed structural factors promoting Chinese students' engagement in the interaction. This talk summarises how the cross-cultural peer review was managed and structured in terms of task design, teacher guidance and monitoring, and the configuration of peer review. In theory, the study accentuates teacher scaffolding in self-regulatory cognitive and metacognitive processes. Methodologically, the coding scheme opens new research directions in peer feedback research to investigate how different SRL processes function to support effective learning in social and multicultural contexts. Pedagogically, the coding scheme with an emphasis on SRL could be adapted to promote student engagement in peer review.
Qiyun Zhu is a PhD candidate and a lecturer in English language education at Guangdong University of Foreign Studies, China. Her doctoral project focuses on Chinese undergraduates' perceptions and engagement in peer feedback in academic writing courses in culturally homogeneous and heterogeneous groupings.

For further information, please contact CRADLE's Research Manager, Dr Helen Walker h.walker@deakin.edu.au or 03 9244 5448

---
Note: If you are unable to make it in the day, please contact cradle@deakin,.edu.au, Audio: Please mute your VMP microphones during the seminar to reduce non-verbal feedback noise, and un-mute at question time.

Event Details: Monday 4 December 2017, 10.00am-12.00pm
Location: Level 12, Tower 2, Collins Square, 727 Collins Street, Melbourne
Room: To be advised on the day, see Level 12 Reception
Additional Rooms:
Waterfront D2.103

Waurn Ponds DD2.119

Warrnambool D1.30

Burwood BC7.102
Deakin University Locations via *VMP DVCE CRADLE 36913
For dialling in externally to the University:
• URI dialling: 36913@deakin.edu.au
• IP Dialling: Dial 139.132.19.31 wait for prompt, then select ##36913#
• ISDN and telephone (mobile and landline) direct dialling: (+613) 52236913
• To connect using Deakin Web Guest , click the link (or copy it into your calendar or email invitation): https://guest.vidconf.deakin.edu.au:9443/call/36913@vidconf.deakin.edu.au
When & Where

Deakin University, Deakin Downtown
Level 12, Tower 2, 727 Collins Street,
Melbourne, Vic 3008
Australia

Monday, 4 December 2017 from 10:00 am to 12:00 pm (AEDT)
Add to my calendar
Organiser
The Centre for Research in Assessment and Digital Learning (CRADLE) investigates improvements in higher education assessment in the context of a rapidly expanding digital environment.