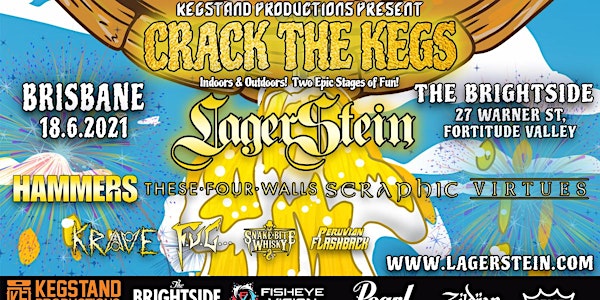 Location
The Brightside Brisbane
27 Warner Street
Fortitude Valley
Brisbane, QLD 4006
Australia
Kegstand Productions present CRACK THE KEGS - Brisbane
About this event
Featuring: Lagerstein, Witchgrinder, Hammers, Triple Kill and Snake Bite Whiskey
It's time to party! Kegstand Productions are BACK! To celebrate the glorious return of live music in our home city, Brisbane, we're putting on an interstate fiesta - 'Crack the Kegs'! With Brisbane's Party Pirates, Lagerstein headlining, Melbourne's Witchgrinder supporting the show, and the likes of Hammers, Triple Kill and Snake Bite Whiskey warming up the stage, it guarantees beers, fun times and partying galore!
'Crack the Kegs' exists because we are on a mission to create the best nights in the country, and we couldn't miss out on the chance to put on a KILLER party with some of Australia's best heavy acts. In true Kegstand fashion, one or two acts was not going to be enough - this is a full-force five-band show headed by the Party Pirates themselves, Lagerstein!
Mother Junkst, Violinist from Lagerstein let us know that "Everytime we come on the road we're looking to take our show to the next level... now with a lineup like this, and the cities best outdoor stage, this will be one damn good rumtastic night. So if you like having fun, join us at The Brightside in Brisbane on 18 June 2021!
MORE ON LAGERSTEIN:
"One moment you'll be in a wall of death, and the next you'll be sitting with the captain, drinking rum out of a glass duck, and singing about the wench that got away!"
- Moshville Times
"Mixing hilarious pirate shenanigans with rock and folk metal, the pirate crew hailing from Brisbane are known for their legendary stage show, which brings a house party to the heavy metal show."
- The Rock Pit
ABOUT KEGSTAND PRODUCTIONS:
Kegstand Productions are a bunch of Aussie party animals, and promoters from Brisbane, Australia. This team of five love to party and they've dedicated themselves to putting on the world's best, most unique parties. As a full-force party making team, Kegstand have their sights set on creating memorable events and are yet to disappoint an audience thus far!