Description
GET READY FOR A GREAT CAREER IN ACCOUNTING
Seed Training Group proudly presents CPA Australia Tour and Talk hosted by CPA Australia.
If you're looking to build an exciting career based on professional Accounting skills that could take you across the globe in a diverse range of roles and want to learn more about how to become a CPA, the CPA Australia Tour and Talk is for you!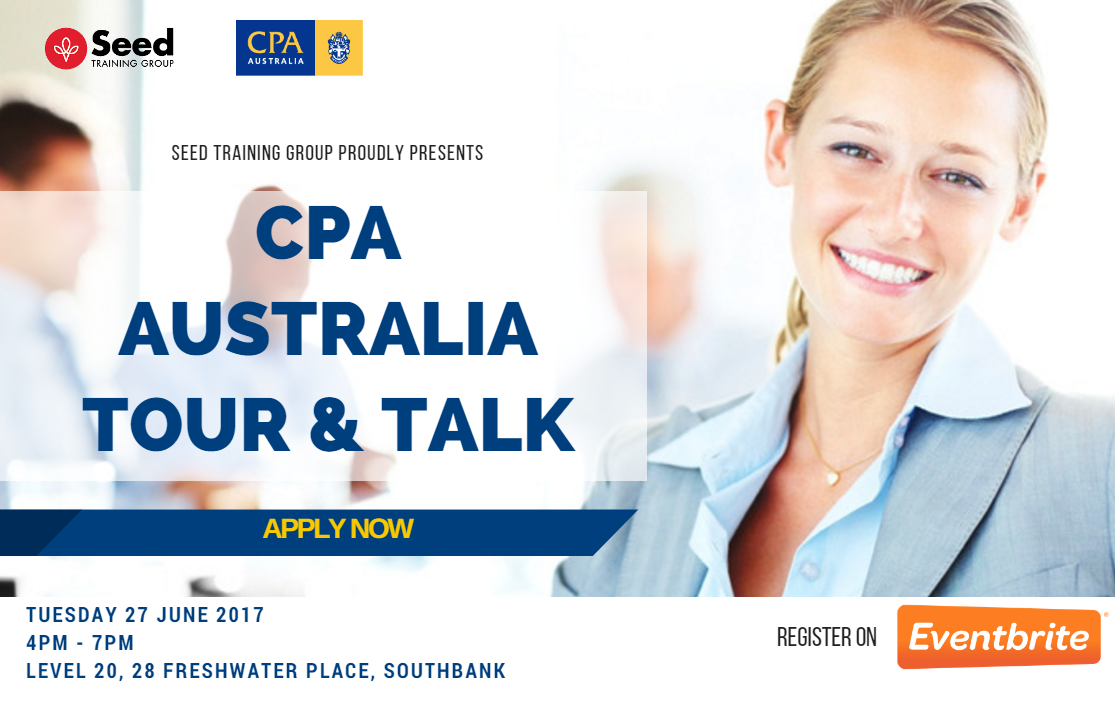 Event Details
Date: Tuesday, 27th of June 2017
Time: 4pm - 7pm
Location: Level 20, 28 Freshwater Place, Southbank
Dress Code: Business Attire
You will get to:
Tour the CPA Australia Office

Network with the CPA Australia Staff Members

Attend the "Become a CPA" Information Session

Get Tips on Resume Writing and Interview Skills
Become a CPA Information Session
After the tour, you will get to learn how a professional accountancy qualification can help you get your first job and kick-start your career.
This session is designed to help you discover how becoming a CPA can benefit you and support your career goals.
At the session, you will learn more about the CPA Program, the course structure and practical experience requirements. CPA Australia staff will be available to assist you individually with specific queries and help you with your supporting documents and the application process.
Note that only 30 applicants will be selected for the CPA Australia Tour.
To apply, please fill out the registration form and if you are successful we will send you a confirmation email by the 20th of June.
To learn more about CPA Australia, please visit its official website.
And if you want to find out about our upcoming events, please like our Facebook Page - https://www.facebook.com/SeedTG/
Note:
*Only open to individuals who hold or currently doing an accredited certification in Accounting, Commerce or Business.
By registering you accept Seed Training Group and CPA Australia's Terms and Conditions and agree to be opted in for communications.